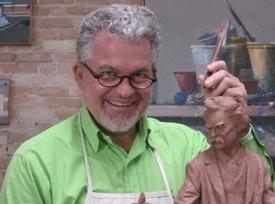 Keynote Speaker: Gary Lee Price
An internationally renowned sculptor, Gary Lee Price lives and works in Springville, Utah, where he and his wife, Lanea have raised a family of five boys. Uplifting others, helping others, and joining hands with others in brotherhood and sisterhood are essential parts of his life. Perhaps the unexpected and tragic loss of his parents when he was age six and subsequent abuse anchored him with the importance of endurance, of positive relationships, and of the need to see and depict humanity in a positive light and on an upward journey.
Gary says, "My passion for art and my belief that art empowers and lifts the human spirit have only grown stronger throughout my life. I have been blessed with many generous and selfless mentors, and my dream is to pass on those gifts to others." He muses, "I hope I can assist the world in visualizing a place where fences and boundaries, both real and imagined, are non-existent; a place where bias and prejudice are long forgotten; and finally, a place where acts of kindness, mutual respect, and love are everyday happenings."
Gary Lee Price's work can be found worldwide:
The Hong KongCentral Library
Springville Museum of Art, Springville, Utah
NuSkin International Building, Provo, Utah
United Methodist Church, Brentwood, Tennessee
Culver Military Academy, Culver, Indiana
American Community of Schools, Surrey England
Westside Preparatory School, Chicago, Illinois
LDS Museum of Church History and Art, Salt Lake City, Utah
Birmingham Botanical Gardens, Birmingham, Alabama
Galleria Paseo Mall, Puerto Rico
Bluegrass Airport, Lexington, Kentucky
Neverland Ranch, Los Olivios, California
University of California Berkeley
Many more places of private and public gatherings 
He is currently commissioned to create a 300 foot "Statue of Responsibility" (http://www.sorfoundation.org) to be installed on the west coast of the United States. See and learn more about Gary's work on his website:  http://www.garyleeprice.com 
Breakout Presenters - listed alphabetically
Diane Asay has taught in the Art Education Department at Brigham Young University for over 18 years. She has her own publishing company, Art Visuals, that produces art-related teaching aids for public schools. She has produced timelines on both world and  American  art, as well as sets of posters on Modern and Postmodern art, women and African-American artists, and the cultures of Africa, China, Japan, India and the Islam. Her latest publication is a set on Latino and Latin American art and culture. When she has time, she loves to do watercolor paintings, dabble with pastels, and create stained glass works.

Visual Art 3-D: "Everything Else" Without a Kiln

Explore various 3-D media like Wiki Stik, Balsa Foam, Model Magic, Playdoh (w/make-your-own recipes), modeling clay, air-dry clay, wire, posterboard, pipe cleaners and more. We'll create Latino 3-D art forms such as retablos and altar pieces.

Julia Ashworth received her Bachelor of Arts degree in Theatre Education from Brigham Young University in 1996 after which she began working as the performing arts department coordinator and theatre teacher at American Fork High School. She received her Master of Arts in Educational Theatre in 2000 from NYU's Steinhart School of Education where she worked as a graduate assistant for the Program in Educational Theatre and as the coordinator of professional activities at the historic off-Broadway Provincetown Playhouse in Greenwich Village. She has worked as a teaching artist and director in various New York City public schools and particularly appreciates her involvement with The Young Women's Leadership School, on Broadway. While in New York she also enjoyed acting as the performing arts program director for The Children's Aid Society's after-school programming. Since returning to Utah she has enjoyed teaching Theatre Education at BYU,and is excited to create original theatre programs and productions with local public schools. Julia hopes to one day run her own Educational Theatre organization.

Grades K-2: "What is Community?"
When we think of ways the arts sculpt our lives it is inevitable that we come back to the idea of community, for art without community does not exist, it cannot live. Community can be a complex concept if not treated with care and given time for exploration. This workshop will do just that - participants will explore ways to define and describe community and individual connections to it with their own students through theatre and improvisation skills.

Grades 3-6: "Who am I in my Community?" 
Once an understanding of what community is has been gained, it is necessary to explore the different roles we play in our communities-an understanding of these roles helps develop a sense of self and purpose. This workshop will use theatre activities and games to help participants investigate answers to the question, "who am I in my community?" for their students and to explore ways for them to become a more active participant in their communities once that question is answered.

Edwin G. Austin, Jr., has been associated with Brigham Young University since 1985 as Artistic Director of the BYU International Folk Dance Ensemble. As Artistic Director, Mr. Austin choreographs American and International works which are included in the ensemble's core repertoire. He also has choreographed for groups throughout the United States, Canada and in the People's Republic of China. Each year he produces Christmas Around the World; a performance showcasing international dance styles involving a cast of more than 200 performers.

In 2002, Austin had the distinct honor of choreographing for Light of the World, a production presented by The Church of Jesus Christ of Latter-day Saints for those visiting Utah during the 2002 Winter Olympic Games. In addition, his group was selected to perform in the Opening Ceremonies and was also featured in performances at the Medal Plaza. He presently serves on the board of directors for NFO and the Utah Dance Educator's Organization (UDEO), and as an adjudicator of world dance forms at the Llangollen International Music Eisteddfod in Wales.

He and his wife, Vickie, have three sons, one daughter-in-law, and one handsome grandson.

Dancing in Other People's Shoes
What can we learn about people around the world when we dance their dances? Dances from around the world build community in your classroom, and build bridges to social studies as we get to know the music and history of other countries.

Lisa Kirkwood Bean wears two hats: one as Elementary Drama Specialist for Nebo School District's 26 elementary schools, the other as long-time instructor for BYU's Theatre and Media Arts Department . In 1996, at the request of the David O. McKay School of Education, Lisa co-developed TMA 352: Drama in the Elementary Classroom— a required course for pre-service teachers. The course provides foundational knowledge of basic drama techniques to use in teaching K-6 core subjects, as well as the state's drama core curriculum.

Lisa's elementary school directing credits include James and the Giant Peach, The Tempest and The Candy Bomber at Wasatch Elementary in Provo. She also served as Artistic Director for the Pleasant Grove Youth Theatre, directing productions of Once on This Island, Tom Sawyer, The Chinese Emperor's New Clothes and African Tales. As drama coach for Meridian Middle School, Dr. Bean's students garnered Superior ratings in the Utah Shakespearean/SUU High School Competition in Cedar City. Her reader's theatre adaptation of The Long Road—From Vermont to Carthage is published by LDS Distribution. Lisa interned as Assistant Director at The Hartman Theatre in Stamford, Connecticut. She recently presented at the 2008 Arts Networking Conference sponsored by the Utah State Office of Education.

Lisa is a member of the Utah Storytelling Guild, speaks a little French, and is the proud mom of three wonderful teens.

Literacy and Puppetry (for the Non-puppeteer): Find out how simple, quick-to-make puppets enliven the classroom, engage the students and promote a host of literacy activities (plus science, social studies, more), K-6.

Jeri Crosby, M.A. has 26 years of experience teaching music to preschool through college students. She has designed and implemented a variety of successful school music programs, mentored teachers, and conducted research in pedagogy and the effects of music on literacy and the learning environment. She has also taught English, math and life skills. As a musician, composer and music educator, she has enjoyed sharing her passion for music and creating curriculum that focuses on building musicianship through positive experiences, projects and curricular connections.

Jeri truly enjoys her work as Nebo School District's Elementary Music Specialist, where she has the opportunity to mentor and collaborate with classroom teachers, music teachers and music technicians. Before coming to Nebo District, she taught in Kane County Schools for 17 years, after which she worked as music specialist and director of curriculum, mentoring and assessment for Freedom Academy in Provo, Utah for four years. Jeri has taught "Music for the Elementary Teacher" for both BYU and SUU and presented workshops in college, district, state and national settings. She has written and implemented seven grants and created music education materials for orchestra, class guitar, class piano, and general music. She has also composed and arranged choir and orchestral music for students, community and church, written a violin book, and composed a commissioned piece for symphony orchestra. 
Jeri and her best friend/husband live in Springville, Utah, and they especially enjoy spending time with their three sons, three daughters and 15 grandchildren.

Sound Science
This hands-on workshop will provide teachers with experiences, ideas and materials for teaching the science of sound with a musical twist. Using "sound" principles, this integrated unit will enable teachers to weave science, music, and literacy objectives while engaging students in scientific, collaborative and creative processes.   

Debora Escalante completed a B.A. and M.A. in Theatre at BYU and has spent most of the last thirty years teaching and directing children and adults of all ages in Arkansas, California and Utah. She completed a Ph.D. in Instructional Technology from USU where her research focused on the development of models for K-12 curriculum correlation and i ntegration, and educator supply and demand studies; she has been working with the BYU Elementary Arts Education Initiative in the BYU-Public School Partnership for three years.

Use the new Elementary Fine Arts Core  to connect to your students and guide them to connect with the arts, other subject areas, themselves and their world. In this class we will get to know the new core and how to use it to develop lessons, integrate multiple subject areas and map student learning and the curriculum over the year.

BTS Arts Learning Program Preview 
All BTS specialists are required to attend this session.
Get set for the year ahead so you can make the most of this conference and the new school year.

Nolan Goodwin brings extensive experience in dance and movement to the Fine Arts curriculum staff. He is a graduate of BYU with a bachelor's degree in Theater Education, and a Master of Arts in Physical Education/Dance.
He has been a member of the Fine Arts Faculty of BYU-Hawaii teaching modern dance and directing their performance group "Showcase Hawaii". He also taught at BYU, and directed the "Young Ambassadors" and "Living Legends" performing groups. He has danced with the BYU Ballroom Dance Co. and Dancer's Company.
A great majority of Nolan's experience has been in Musical Theater. Some of his lead roles include: Frank Butler in Annie Get Your Gun, Billy Bigelow in Carousel and Don Quixote in Man of La Mancha. He has worked for the National Endowment for the Arts as an "Artist in Schools" teaching movement to elementary school students.
He is father of 5 children and grandfather of 4. In his spare time he works for Timpview High School as an assistant coach in the football program, and in the spring he is the head boys track coach.

Getting Beyond Kooties
5th and 6th graders can build social competence and etiquette skills as they learn and participate in Social Dance. Come learn some basic dance steps and classroom management techniques for successful dance instruction and hosting dance activities for upper grades.

Melanie Herrmann received her B.S. and M.S. degrees in Early Childhood Education from Brigham Young University. She has taught preschool, Kindergarten, ESL, and Resource. For 16 years she has served as a representative for the Council for Professional Early Childhood Recognition based in Washington DC. Her hope is to meet the needs of the whole child by teaching early literacy through the arts and play experiences. With the help of 45 kindergarteners, a music educator, a fine arts and a vocal major she has developed an engaging, systematic early literacy program using music, art and movement that teaches young children to read in a fun and developmentally appropriate way. She is the founder/president of All of Me Literacy, LLC.

Happy Learning—Happy Child! Using the Arts to Teach Early Literacy
How do teachers/educators/parents appropriately meet the early literacy needs of young children while also meeting the demands of NCLB? Share in Melanie's journey from stay-at-home Mom to kindergarten teacher. Her researched-based answer to guilt free, joyful instruction is to teach reading the way young children learn—through music, movement, and sensory play experiences-- thus opening the door to reading for even the most reluctant of learners. Results? No child is left behind. Happy learning—happy child!

Johanna Hofmeister, educator, trainer, presenter, coach, has worked with a specialized focus on English Learners in grades K-12 throughout California and Utah for the past nine years. She holds a Bilingual Cross-cultural Language and Academic Development credential, along with a supplementary authorization in Spanish. Johanna has taught in elementary and secondary settings, including English Language Development K-6 and 9-12, mainstream K-1, High School Spanish, and ESL abroad. She currently serves as a School Support Team member for Ogden City School District and USOE, providing professional development, modeling lessons, and conducting school appraisals.

Effective Instruction for English Learners in the Art Classroom focuses on effective methods for teaching content-specific vocabulary. Several strategies for increasing student engagement will be explicitly taught and modeled. Bring your teaching expertise and creativity for an interactive session designed to enhance your arts instruction.

Dr. Jerry L. Jaccard feels like the luckiest man in the world to have been taught, influenced and molded by K-12 children and youth for the past 40 years! He still enjoys making music with children several times a week while also being a full-time faculty member at BYU, where he is coordinator of the Elementary Music Education Program and Director of the InterMuse Academy. Dr. Jaccard directs the elementary music specialist curriculum and staff development, and co-directs and teaches in the Provo City Schools. He is a Fellow of the Oxford Round Table on Public Policy in Arts and Sciences Education, a member of the OAKE National Teacher Education Committee, serves as Vice-President of the International Kodaly Society, and is a member of the Board of Directors of the Willems International Music Education Association in Lyon France. He is frequently invited to collaborate, lecture, and present nationally and internationally (Australia, Canada, China, England, Finland, France, Hungary, Japan, Korea, Malaysia, Mexico, Poland, Russia, Switzerland, The Philippines). Jerry is the 2007 recipient of the Senator Reed Smoot Educational Service Award.

Molding the Musician Within
Healthy, tuneful singing is literally child's play! These sessions will explore learner-centered ways to develop good classroom singing, useful "starter" songs and singing games, and making musical curriculum connections.

 

Courtney Johnson is a 6th grade teacher at Spanish Oaks Elementary School in Nebo School District. Dancing with Virginia Tanner and Pearl Wagstaff for 15 years, she learned to appreciate the art of self expression. As a teacher, Courtney desired to create that same creative expression through writing and film making. She believes that multi media has the power to enable students' artistic expression in unique powerful ways. "Everyone has a story to tell" so why not capture a child's voice before it changes? Why not grab hold of that amazing oral language before students sound like everyone else? Courtney is a pilot, enjoyed being on the "Hooked on Aerobics" television show years ago, is a published author, earned her Masters of Education in 2007 and currently is in an administration program.

Sculpting Meaning: Teaching Students to Find and Create Meaning Through Digital Storytelling
Participants will receive hands-on training so they may apply skills of importing voice, music, pictures, and movies into a movie project. If possible, bring scanned pictures from a fun picture book to make a "Reading Rainbow" movie of that story for your students to enjoy for years to come. Music will be provided, however, if you have a selection of your own that would be great too. Your images may be on CD or flash drive format. We can even pull pictures off line. Did we mention, be prepared to have fun? Believe me, we will.

Doug Jones is currently the Online Resources and Professional Development Specialist with the Utah State Office of Education. He also works with the Utah Education Network as a Content Specialist in the Instructional Services division and remains involved with the Integrating Technology and Curriculum workshop series which he started fifteen years ago. Doug has worked in the fields of education and professional development for more than twenty-five years. Activities include research and evaluation, marketing and public relations, grant writing, project management, and professional development instruction at the K-12 and college levels. He has a Bachelor's degree in communication from the University of Utah and a Master's degree in educational administration from the same institution.

Building Your Own Electronic Professional Portfolio
Need to showcase your artistry as a teacher? Learn to put your student work, lesson plans, and other documentation of what happens in your classroom together in your personal portfolio of work.

Susan Kenney is a professor of music education at Brigham Young University. She has had training in ETM, Orff, Kodaly, and Dalcroze, and specializes in preschool music education. She served as national chair of MENC's society for General Music and as a member of the national editorial board for the Music Educators Journal. Professor Kenney has presented workshops across the United States and in Russia, Ukraine and Italy. She has been a classroom teacher, elementary music specialist, private piano teacher, and director of children's choirs. The mother of two children and grandmother of two boys, she lives in Alpine with her husband Scott.

Sculpting with Sound: Using Classroom Instruments as an Expression of Self
These sessions will explore the use of autoharp, ukulele, and percussion instruments in the upper grade classrooms. In addition to helping children learn to play a chording instrument, fundamental music understanding will be discovered in interesting, meaningful ways. Lessons will reach into the history of American music, including blues and jazz. Because of the depth of learning involved, teachers are expected to attend all sections of this class.

Dr. Nancy Brockbank Livingston is director of the Brigham Young University/Public School Partnership Balanced Literacy Project and an associate professor of Elementary Education at Brigham Young University, where she received her doctorate in Educational Administration. Dr. Livingston has an M.Ed. in Reading Education from the University of Utah. She has been an adjunct professor at the University of Utah, Utah State University, and Westminster College. Dr. Livingston has received numerous awards honoring her excellence in teaching, her most recent being the McKay School of Education/Benjamin Cluff, Jr. Award for Distinguished Educator in 2007.

Bring Reading to Life using Reader's Theatre
Learn to use your, and your student's voices to focus attention on the meaning of literature. This class introduces many new concepts which serve to improve oral reading, rate of fluency and expression. Experience a more meaningful and enjoyable alternative to mechanical word calling and sight reading in a manner which includes students of all academic abilities.

 

Jenifer Peterson is currently a 6th grade teacher at Spanish Oaks Elementary School in Spanish Fork, UT. She taught 4th Grade for four years and this is now in her second year of teaching 6th Grade. She graduated from BYU with a BS in Elementary Education and later received a MS Degree in Teaching Using Technology in the Classroom. She became a teacher because she loves learning and enjoy sharing that knowledge with others, especially with children who are learning concepts for the first time. Jenifer states,"I love what I do!"

Sculpting Meaning: Teaching Students to Find and Create Meaning Through Digital Storytelling
Participants will receive hands-on training so they may apply skills of importing voice, music, pictures, and movies into a movie project. If possible, bring scanned pictures from a fun picture book to make a "Reading Rainbow" movie of that story for your students to enjoy for years to come. Music will be provided, however, if you have a selection of your own that would be great too. Your images may be on CD or flash drive format. We can even pull pictures off line. Did we mention, be prepared to have fun? Believe me, we will.

Christine Sorensen has been creating art as long as she can remember with whatever she can get her hands on. Her current passion is restoring vintage pieces of furniture into funky works of art. It is her creative idea of recycling. From pottery to painting, her art has been displayed and sold nationwide.

Christine has taught art at all grade levels from Kindergarten through college and currently teaches Art Education courses at Brigham Young University. She professes that each and every age level is her absolute favorite and still cannot believe that you get paid for having so much fun.

Christine received her BA in Art Education from BYU and is in the final stretch of receiving her MA from BYU as well.

3-D Without a Kiln
Learn how to create soft sculptures with knit gloves and left-over socks, paper sculptures, puppets and pop-up books.
 

Jana Shumway graduated from Brigham Young University in Dance Education in 1988. While she attended BYU she performed with the Young Ambassadors and The Dancer's Company. At graduation she received the Outstanding Dance Major award and was the Valedictorian. Following her graduation she was the dance specialist at the Waterford School for ten years. She returned to school and completed her Master of Arts in 2001, with an emphasis on dance in elementary education. Following her completion of her MA she taught at Brigham Young University for seven years, teaching modern dance technique, improvisation, composition and teaching elementary teachers how to teach dance in the schools. She currently is the dance specialist at William Penn Elementary as part of the Beverly Taylor Sorenson Grant.

Carving out Space and Time for Dance in your School Day
Do you want more dance teaching resources? – more skill in teaching and integrating dance with other subjects?– or more evidence of the benefits that dance education provides for your students? Or do you already have the desire, resources, and skills to teach dance but never can carve out the space or time? In this workshop we will tackle the most common roadblocks to providing comprehensive, sequential and integrated dance experience for your students. We will look at using alternative spaces and show you how to teach meaningful dance lessons right in your own classroom. We will suggest three easy ways to integrate dance with other subjects that dilutes neither one yet enriches both. We will explore specific strategies for teaching in, through and about dance at your grade level as well as identify proven ways to adapt lessons for other grades. New teaching skills will be shaped. Lesson plans and other resources will be shared. If you never considered dance before – this is the time to carve a path to the dance Arts Express workshop and shape some new ideas and skills that will help you bring more personally meaningful and educational dance experiences to your students.

Rebecca (Becky) graduated from BYU in 1976 with a bachelor's in Elementary Education. Since leaving BYU she has taught K-6th grade in Kent, Ohio and Orlando, Florida. She enjoys using the arts and likes to teach in a way that introduces students to the real-life use of the skill being learned. Becky has won three Disney Teacherrific Awards for her creative teaching methods and was awarded an Excellence in Economics award from the University of Central Florida for a marketing unit she created and taught. Her "Anti-smoking" rap was aired on public radio during The Great American Smoke-Ou and she is now involved in writing and teaching her Academics through Music program.

Academics through Music
Through the use of music, lyrics and movement, students PreK-6 learn and retain math and reading skills. Come have fun as you learn new activities, songs and movements you can take back to your classroom.

Tom Wood has lived and loved in Utah just about his whole life. While getting his degrees in art to become a studio artist he drifted into Art Education and discovered a passion that has spiraled into a career. During his career he worked as a middle, junior, and high school art teacher, adjunct professor, elementary arts specialist, Visual Arts Consultant for the State of Utah, and woven throughout his educational career Tom has worked as a commercial artist, illustrator, animation layout artist, portraitist, caricaturist, and studio artist. He retired two years ago but couldn't quite escape the work and was hired into a Visual Arts Specialist position at Nebo School District where he currently works.

Graphic Novels: Visual Art Spooled Out Through Time
The format of Graphic Novels gives Visual Art an opportunity to weave itself into time. Sequencing provides barriers and springboards in time. Typography almost becomes a character itself as it is visually as expressive as it is literally informative. This class will explore these possibilities as it creates an art project in the Graphic Novel format.