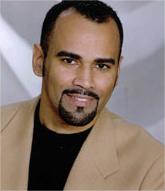 Keynote Speaker: Erik Cork
Keynote Address: "Rap, Rhythm & Rhyme: Rebuilding the Writing Foundation"
Erik Cork is a nationally recognized writing consultant. He is the creator of the lively workshop entitled Rap, Rhythm & Rhyme: Rebuilding the Writing Foundation, as well as the founder of International Write Now, Inc. He is a former writing instructor for the University of Houston's BRIDGE and MESET (Minority Enrichment Summer Engineering Training) programs, as well as a former writer-in-residence for the nationally–acclaimed WITS (Writers-In-The-Schools) organization.
Mr. Cork has conducted writing workshops for more than 300,000 students, parents and professional educators, representing over 250 school districts and universities throughout the United States and beyond. He has presented seminars showcasing a wealth of English/Language Arts essential skills at major educational conferences, including the National Association for Supervision and Curriculum Development (ASCD), the National Association for Elementary School Principals (NAESP), the Texas Teachers of English to Speakers of Other Languages (TEX-TESOL), the National Alliance of Black School Educators (NABSE), the Association of Compensatory Educators of Texas (ACET), the Virginia Elementary Principal's Association and the Texas Middle School Association (TMSA). Mr. Cork was given the prestigious honor of being a featured speaker for the annual Asa G. Hilliard, III, EdD Seminar held at the National Black Child Development Institute (NBCDI) conference in Washington, D.C. He has conducted writing workshops for students attending schools located in the shadow of some of America's historical landmarks, including Mount Rushmore and Niagara Falls. In August of 2003, he served as a guest faculty member at Harvard University's Graduate School of Education Summer Principals' Institute. Most recently, Mr. Cork was invited to facilitate student workshops and a professional development symposium in London, England.
Mr. Cork is a protégé of prolific Houston playwright Thomas Meloncon. He is affiliated with the Master Teacher Network of the New York-based International Center for Leadership in Education, founded by author, lecturer, and education reform pioneer Dr. Willard Daggett. Mr. Cork is also an Associate with Texas Southern University's Center for Effective Pedagogy for African American Learners (CPAL), and a frequent presenter with the Ohio-based Visionary Leaders Institute (VLI). He was appointed to serve on a national 'Musication' committee, chaired and organized by world-renowned musician and peacemaker, Stevie Wonder. As a former feature editor for Houston Style magazine, Mr. Cork published interviews he conducted with Susan Taylor, editor-in-chief of Essence Magazine, as well as actress/talk show healer and living legend Oprah Winfrey. Constantly an advocate for children, Mr. Cork was named Community Volunteer of the Year by the Fort Bend School District of Texas.
Click the video below to watch highlights from the 2012 Arts Express Conference!