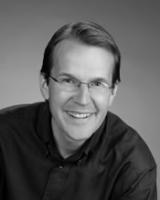 Keynote Speaker: Michael Bahr
Keynote Address: "Full STEAM Ahead:  Harnessing the natural power of play through integrated curriculum"
Through academic historical narrative, classroom anecdotes and on-feet activities, Bahr will illustrate how the arts are a fundamental part of science, math and engineering instruction. Play is the natural way we all learn, from Newton to Einstein and the dreamers of tomorrow. 
Michael Bahr has been called "Peter Pan, the Pied Piper and the Energizer Bunny, all rolled into one". He is the education director of the Utah Shakespeare Festival. He has a degree in Theatre Arts at Southern Utah University, and has spent fifteen years as a theatre teacher at public high schools in California and Utah. He has received numerous awards for excellence in education.
As education director, Michael directly oversees year-round programming for teachers and students of all ages. These programs include the Shakespeare-in-the-Schools Tour, bringing 30,000 Rocky Mountain area students a professional Shakespeare production each spring. He also manages the Shakespeare Competition, an event hosting 3,000 students from 100 schools throughout Utah, Nevada, Arizona, Idaho, and California in competitions with acting, dance, and music. He serves as director and producer of Playmakers, a youth theatre ensemble, which performs three productions for children a year. The Festival's outreach programs include teacher education workshops.  
Michael is actively involved in multiple governing boards creating such programs as The Wooden O Symposium, an international academic conference held each summer at the Utah Shakespeare Festival. He is also a leading member of the Utah State Office of Education POPS (Professional Outreach Program in the Schools) committee.
In addition to providing student and educator workshops at schools across Utah, Michael has spoken numerous times to the Utah legislature about arts advocacy. In 2009 he was called to testify before the United States Congress about the economic impact of the arts in rural areas.
Michael has directed over 100 community and university productions, acted on the Utah Shakespeare Festival stage, and founded the Old Barn Community Theatre, as well as the Cedar City Theatre Company. He is highly involved with Southern Utah University where he teaches as an adjunct faculty member in the Elementary Education Department and serves on the boards of the Center for Innovative Education, and the emerging Center for Shakespeare Studies.
A graduate of Richfield High School, Michael has been a passionate advocate for the arts in rural Utah. The oldest of seven children, he is the son of Don and Vonda Bahr of Provo, Utah.
He is the husband of Kristin Michie Bahr, manager of Mountainwest Books. Together they have painted sets, sewn costumes and Kris's wedding dress has been seen on stage for many productions. They share their passion for books, film, theatre and life with their four children, Britannia, Jordyn, Jessika and Benjamin. They live in Enoch, Utah where one of their greatest joys is opening their home to teenagers for Oscar parties, water fights and intelligent conversation.
Click the video below to watch highlights from the 2014 Arts Express Conference!