July 18, 2016
450 educators met to learn more about how arts in the classroom can create meaningful experiences for students
450 educators met to learn more about how arts in the classroom can create meaningful experiences for students
Most students probably wouldn't guess that their teachers could be found dancing, designing a tapa cloth, or participating in a drum circle this summer. At the recent Arts Express Conference, 450 educators from across the BYU–Public School Partnership did all those things and more.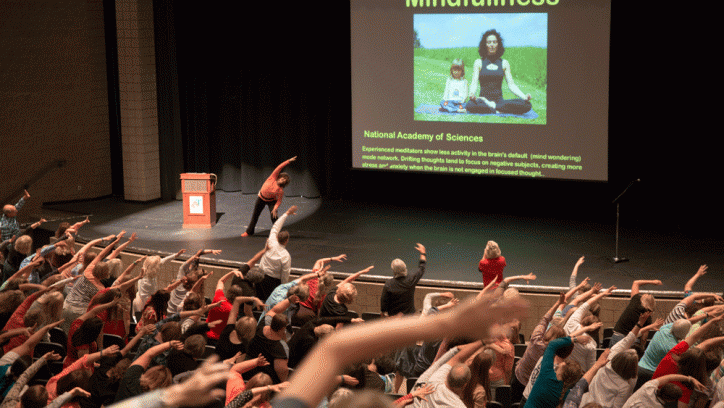 Each year the Arts Reaching and Teaching in Schools (ARTS) Partnership hosts a two-day, hands-on conference for educators that focuses on integrating the arts into the curriculum. This year's conference was held at Timberline Middle School in Alpine, Utah. The theme was "Creating a Story for the Arts," and it emphasized creating meaning through participation in the arts.
After a warm welcome from ARTS Partnership director Cally Flox, Carrie Ekins took the stage to warm up the crowd. Ekins is a "Drums Alive" instructor. "Drums Alive" is a program that combines aerobic exercise with music, drumming, and educational concepts and ideas.
Ekins got the crowd on their feet in a series of activities. Laughter filled the auditorium as participants tried to follow Ekins's clapping patterns, keep balance as they jumped from foot to foot, and move their arms and legs in different patterns.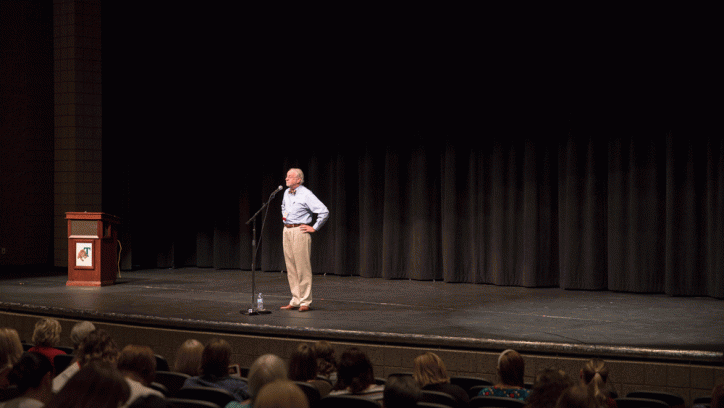 After Ekins wowed the room, storyteller Donald Davis took the microphone. He entranced the audience with stories of his childhood and the adventures he had in school. To him, school was a place of magic.
In particular Davis found adventure and magic in his elementary school auditorium. It was there that he saw Preston the magician, Cowboy Bob and his trick horse, and Rubinov the violin master at work. When his mother expressed concern that these shows weren't teaching him anything, his father reminded her that it was about learning to dream and see the possibilities.
"That's when I understood what the arts were about," Davis said.
Even within the classroom, skilled teachers taught Davis the joy of learning. His fourth-grade teacher, Miss Daisy, believed that even when you have to teach standards within a box, "you don't have to have a boring box."
Miss Daisy took Davis's class on a tour of the world. They didn't sit down and do arithmetic, but they did need to calculate how far they were travelling each day and how many pounds of food they needed. They were never given a list of vocabulary words, but they needed to learn the names of the places they were traveling to, the foods and the artifacts they would see, and the people from each place.
"That's just what you need to do if you're going around the world," Davis said.
Miss Daisy knew that the students needed to be interested in what they were doing in order to be learning. Despite never using the words arithmetic, spelling, or geography, she managed to teach them all three and more.
"You learn more by doing things than by talking about things," Miss Daisy used to say, according to Davis.
Davis's eighth-grade teacher, Mr. Haupt, also took a unique approach to teaching. His class learned to manage bank accounts, play chess, and make stock investments. He surprised his class by saying that the whole year would be spent studying art. In response to the student's blank stares, Mr. Haupt said something that stuck with Davis and changed the way he saw the arts.
"Art is anything that takes your mind to a place where your body can't go right now," Mr. Haupt said. "And if I can't make it art—whether it's science, arithmetic, or history—I should not be standing in this classroom."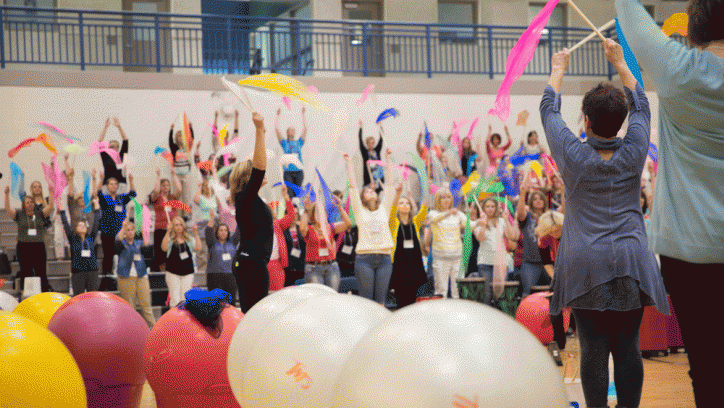 When Davis finished, there was roaring applause from the attendees who had been delighted by his stories and were prouder than ever to be able to touch students' lives as so many teachers had touched Davis's.
That afternoon, after diverse break-out sessions, all participants reassembled and Ekins continued the unconventional convention of educators by leading them in a drum circle. The gymnasium shook with the sounds of drums, shakers, tambourines, and cow bells as hundreds of participants gave their all to the performance. Ekins pointed out the unifying and liberating effect the drums had on the group that afternoon.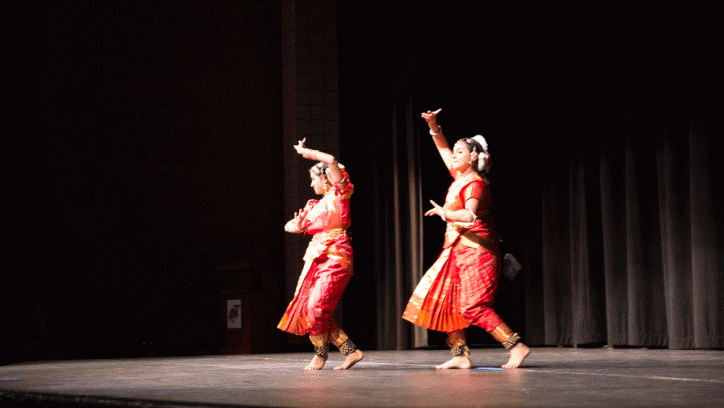 The next morning, attendees were treated to a performance of Bharata Natyam, a 3000-year-old East Indian dance style. The flowing movements and evocative facial expressions captured the audience.
Following the dancing, comic artist and curriculum designer Richard Jenkins took the floor to show the educators how they could use comics and ideas from comics in their classrooms to help students understand how stories, art, and composition can work together. He even gave examples of how comics had helped students learn graphing and scientific compounds.
Through the inspiring keynotes and the many breakout sessions, participants at the conference learned how drums, dance, words, comics, and many other art forms can create meaningful stories and add hands-on art education to children in the classroom.
The BYU-PSP is a partnership between BYU and the Alpine, Wasatch County, Jordan, Provo City, and Nebo school districts and is housed in the Center for Improvement of Teacher Education and Schooling in the McKay School of Education. The ARTS Partnership is a facet of the BYU-PSP that centers on arts education.
Writer: Kirsten Clancy
Contact: Cynthia Glad (801) 422-1922