Instructional Coaching Academy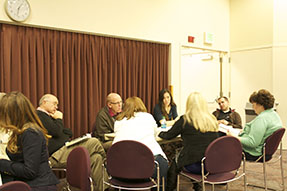 The yearlong Instructional Coaching Academy (ICA) was designed to develop educators coaching and instructional skills. Educators from each of the BYU–Public School Partnership districts along with university personnel receive training using the work of Jim Knight of the University of Kansas, one of the leading researchers and proponents of instructional coaching in the country.
Knight's work was chosen because it relies on principles that can be adapted to support an individual district's philosophical or instructional approach. Principles addressing how an effective coach operates include equality, choice, voice, reflection, dialogue, application, and reciprocity. Other ICA content addresses what to coach: behavior management, content knowledge, instructional strategies, and formative assessment.
Purpose and Goal
Participants are expected to demonstrate the knowledge and skills necessary to assist teachers in increasing student achievement. Direct benefits of instructional coaching include the following:
Providing individualized job-embedded professional development
Supporting all teachers, regardless of career status, in using best instructional practices
Strengthening content knowledge and instructional skills
Aligning with district and school goals
Meetings and Activities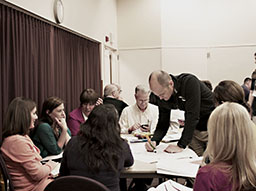 Participants work in various team building and professional development activities that introduce them to strategies for improving teachers' classroom management, content knowledge, instructional methods, and student assessment. To foster deep learning and collegial relationships, participants attend four two-day sessions spaced throughout the school year, preparing for each by completing readings and other assignments:
Session 1. Rationale, Definitions, and Partnership
Session 2. Components of Coaching (half-day presentation by Jim Knight)
Session 3. Effective Teaching Practices
Session 4. Leadership, Refinement, and Mutual Understanding
Leadership
The ICA steering committee consists of a representative from CITES and an administrator from the McKay School, along with a district office administrator and an instructional coach from each partnership district. The coaches primarily facilitate learning activities in the academy.