Maturing Genres: Teen to New Adult Books
Winter 2016
Read Time: 5 minutes

The innovative and creative things that are happening in the field of literature, in the creative art that is literature, are happening in children's and young adult books," said Rachel Wadham, juvenile collections librarian in the Harold B. Lee Library.
"One of the things I really love about it is just the immense creativity of the authors," Wadham said. "They are the ones pushing the boundaries, they are the ones inventing new genres and new formats, and they are the ones pushing the envelope with themes and ideas."
Developing Categories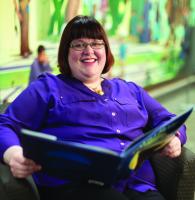 What was once a small niche for beginning readers has expanded into a very popular market full of exciting reads. Picture books have been available for young children since the 1600s, but in the past few decades children's literature has quickly become a big field and a big business, according to Wadham.
As late as the 1980s, books were broadly divided into the categories of adult or children's literature, but in the 1990s "young adult books" became its own labeled category. In the past few years the "new adult" category has emerged for readers ages 16 to 23—many of whom have disposable income and can be tempted to spend it on a good book. Wadham noted that today the majority of books for non-adult audiences target ages 12 to 21, and the protagonists in books are age 11 or older.
BYU's library includes close to 100,000 titles in the children's literature area, with strong representation in all categories. Because the library is used primarily for academic purposes, Wadham seldom buys more than one copy of a book but offers a wide variety to library patrons.
Shifting Genres
The popular genres have changed over time too. In the 1960s and '70s the most popular genre was science fiction and fantasy, ranging from dense, high fantasy to less intense encounters, Wadham explained. But in the 1980s and '90s, realistic fiction became more viable as the MTV generation expressed its interest in portraying everyday life.
"The thing that changed all that was, of course, Harry Potter," said Wadham. "It was huge." Starting when the first volume was published in 1997, the wizard books reshaped the field of children's literature. They revived the public's interest in reading science fiction and fantasy and thus rekindled the publishers' interest in producing it. The later books in the Harry Potter series had more mature content aligned with the age of the maturing initial readers. "They were essentially young adult books," she said. This expanded the young adult field as readers looked for similar material, which quickly followed.
Wadham said that because of Harry Potter there are now more books in the historical fantasy genre. Some are set in a medieval time context with kings and queens but not on our earth. Sometimes magic is involved and sometimes merely an imaginary setting. More paranormal fantasy is being written, with vampires, werewolves, and ghosts. Also more fantastical worlds and works are being based on fairy tales and superheroes. Graphic novels, which have a strong superhero heritage, are becoming very popular. Wadham said that right now darkness is also a big topic. She believes there is a place for tough themes in young adult literature because they help youth to deal with some tough societal issues. But keep it age appropriate, she cautioned.
Wadham and other members of the BYU community who work with children's literature offer an online publication, Children's Book and Media Review (byucbmr.com), with descriptions and recommendations to help parents, BYU students, and classroom teachers select books and other media that will be ideal for their purposes.
Listen for Wadham on the radio show Worlds Awaiting. She will host the upcoming weekly show on literacy to be broadcast by BYU Radio. She will be talking with scholars and authors and will offer discussions of topics in children's literacy.
Children's literature, young adult books, and now new adult books offer an infinite variety of possibilities in this boundary-pushing field. Keep reading so you don't miss out!
Book Recommendations from Rachel Wadham