Read Time: 2.5 Minutes
The voices of tribal people and members of other cultural groups were the center of this year's 16th annual BYU Arts Express Conference—two days of inspiring workshops, messages, and performances from guest speakers and artists. About 500 elementary school teachers from across Utah learned about the integration of arts in their classrooms.
Arts Express, supported by funding from the
Image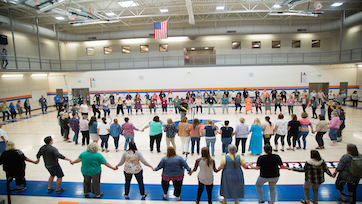 National Endowment for the Arts, began in 2007 and has quickly become one of the largest arts integration conferences in the western United States, said Cally Flox, founding director of the BYU ARTS Partnership. This year's conference was held June 7 and 8 in Saratoga Springs, Utah.
The theme for this year's conference was "Every Child, Every Art, Every Voice" with an emphasis on promoting multicultural voices through all six art forms—dance, drama, media arts, literary arts, music and visual arts. Lesson plans featuring Native American art forms have been created in partnership with a tribal nation.
Image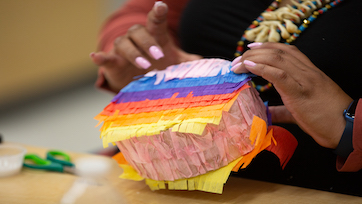 Visual and performing artists from across the country presented workshops: constructing Mexican piñatas, for example, as well as watercolor painting with yucca brushes, using books to create an "arts toolbox," and sharing stories through Native American song and dance.
Arts Express organizers ensured that multicultural voices were effectively portrayed during this conference, to provide confidence-building examples educators need as they seek to amplify indigenous voices in the classroom.
"Everything comes back to 'Every Child, Every Voice,'" said Alyssa Dixon, BYU ARTS Partnership program coordinator. "That is the motivator behind everything we do. We want every child in Utah to have the opportunity for quality arts integration in their education." 
Attendees came away with a greater understanding
Image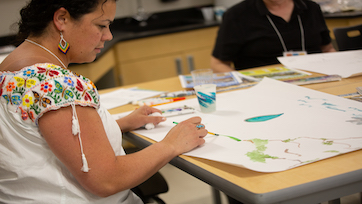 of not only how to integrate the arts more fully into their classroom, but also how to create opportunities for each student to use the arts to find their unique voice.
"It was a wonderful experience filled with culture, fun activities and great new ideas to use in my classroom," said first-time attendee Jannelle Wride, a kindergarten teacher in Alpine School District. "I will definitely be back!"
Writer: Amy Cook
Contact: Cindy Glad