How do you preserve chalk? And why would you want to? These are questions that Buddy Richards, Chair of Educational Leadership and Foundations, can answer for anyone willing to spend an hour. The listener will come away fascinated and inspired.
Karl G. Maeser is credited with being the spiritual architect of the Brigham Young Academy and Brigham Young University. It has been said that what Brigham Young did for the settlement of the West, Karl Maesar did for education in the West. Richards grew to love Karl Maeser after learning about him through studying the history of grading. While engaged in this study Richards read all the minutes from general BYU faculty meetings from 1875 to 1951. One of the results was increased admiration for Maeser and his philosophies of education.
"I was amazed at how many adored Brother Maeser," explains Professor Richards. "One non-Latter-day Saint student, who later became a judge, was quoted as saying that the person who affected his life most, other than his father, was Karl G. Maeser. Maeser was a remarkable person."
Richards explains that Maeser taught that there were two approaches to discipline: compulsory or "Thou shalt," as Maeser was known to say, and emulation or "Come Follow Me." Maeser was in favor of emulation, always teaching that you cannot teach what you have not received and that teachers should not do for students what they can do for themselves.
As an educator, Maeser was famous for his "sayings". On November 9, 1900, Karl G. Maeser visited Maeser Elementary located in Provo at 150 South 500 East and, in his beautiful penmanship wrote four of his insightful sayings on the era's form of a chalkboard. Maeser died three months later.
The four sayings, which are listed below, capture Maeser's wisdom, dedication to learning, and devotion to God.
Image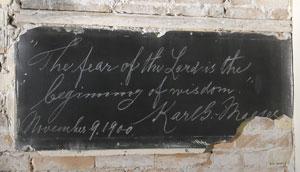 The fear of the Lord is the beginning of wisdom.
This life is one great object lesson to practice on the principles of immortality and eternal life.
Man grows with his higher aims.
Let naught that is unholy ever enter here.
One hundred years later three of the four boards had miraculously survived. But, because of declining enrollment and financial challenges, the Provo School Board felt compelled to sell Maeser School. The building remained vacant for years and it appeared that the landmark would become a victim of the wrecking ball. Then, Provo Housing Authority developed a plan to refurbish the building for senior citizen housing. Doug Carlson, executive director of the Provo City Housing held a celebration in September of 2004 to announce plans to save the building. Richards attended the ceremony and asked Doug Carlson what he planned to do with the boards and sayings. "He basically told me if I had a good purpose for them they were mine. That was exciting," recalls Richards.
The pertinent question then became; how do you preserve chalk-written sayings on 100-year-old boards that are really a black slate-textured paint on top of brick?
Conservators from all over the country were contacted, but they only scratched their heads and offered to brainstorm. Richards decided to explore the possibilities himself, using his own and other colleagues' ingenuity. Important facts to know about Richards at this point include his digging his own basement-after his house was built, making his daughter's wedding dress to match a family heirloom, but only after rewiring his grandmother's sewing machine on which the garment was sewn. "I am a do-it-yourselfer from way back," Richards modestly admits.
Image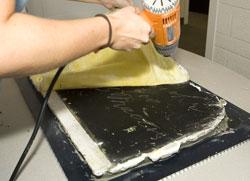 To begin his quest of saving and preserving the boards and Maeser's sayings, Richards secured the help of former mission friend and BYU colleague, Reed Miller, who is also a former artistic director of exhibits for The Church of Jesus Christ of Latter-day Saints. Miller saw the value of preserving the boards, in addition to their potential to be used in an upcoming exhibit entitled Education in Zion to be displayed in the new Joseph F. Smith building. Miller is serving as artistic director for that exhibit.
In December 2004, after months of discovery, investigation, planning, and thought, Richards and Miller began to work with help from students Molly Cannon, Damon Johnson, and McKay School professor Scott Ferrin. They started lightly spraying 10 coats of a thinned mixture of soluvar over the chalk writing. Soluvar is a sealant artist's use. The hope was that it would preserve the chalk without dissolving it. "The idea was to stabilize the surface and make it strong enough to stay together while moving the sayings from the brick," explained Richards.
After the 10 coats of sealant were applied and had dried, further discussions with experts in San Francisco suggested making sheets of cheesecloth and beeswax and ironing them onto the boards. This provided enough support to allow the "board" to be cut away from the brick.
Image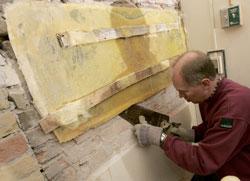 But the innovators weren't finished. A brace had to be developed to support the boards in their vertical as well as horizontal positions during the transfer to a safe structure. The first one wasn't braced sufficiently, and cracked. "It was heartbreaking," remembers Richards. However, the second brace worked and the project went forward-very quickly.
"Once we got going, it was only days," says Richards. By January 25 the boards were all cut, preserved, and moved to safe storage.
Undoubtedly with a sigh of relief, Richards explains, "We also had a great backup plan. We knew if we messed up, it would be awful." Plan B was a form of gold sizing like that used for gold leafing. Prior to applying the sealant, a crew had taken up-close and in-depth pictures. If the preservation measures had failed, the process to gold leaf would have been done, only using chalk. "The result would have looked identical," says Richards.
Last September, the beeswax and cheesecloth covering on the chalkboards was ironed to warm and soften it, and then gently peeled off. A back sealant was applied, making the boards ready to hang. The soluvar sealant on the front stays on the boards as a protector.
Commended for his innovative work, Richards simply explains with a smile, "We tried to do our homework."
On October 17, 2005, the boards were officially handed to BYU in a signing ceremony held in the L. Tom Perry Special Collections' room of the Harold B. Lee Library. Doug Carlson of the Provo City Housing Authority signed papers giving ownership of the Maeser chalkboards to BYU. Receiving the Maeser gift was Gordon Daines from University Archives. Also present were Buddy Richards and Reed Miller. While two of the boards will be used in the exhibit in the Joseph Smith building, it is anticipated that the remaining board will be hung in the McKay building. The specific location of each board has not been decided.