Read Time: 5 minutes
Image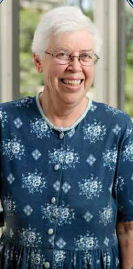 Myrna Fietkau had been retired from teaching for just a few years when her father—also an educator—passed away and left her an inheritance. "I thought, 'What am I going to do with this that is really going to make a difference?"'
It had been more than 40 years since Myrna—after graduating from Utah State University at the age of 21—had walked into her first classroom in a school in Layton, Utah. Nearly all of the 32 students in her class were the children of Hill Air Force Base employees, so kids would move in and out of her class in the middle of the year without warning—compelling Myrna to adjust and readjust her lessons for students of different abilities.
"I would stay until five or six every night, and then I would bring work home. It was a real challenge," Myrna remembered. "My mom and dad were educators too, and they were good supporters. I just remember them saying, 'Not every year is going to be like this.' At the end of the year I only had five of my original students."
The next year Myrna had a relatively normal second-grade class at a different school. But when that year ended, because the school had more second-grade teachers than were needed, she was told that she would need to change her teaching emphasis or find another school. Myrna said, "I talked to a teacher who told me, 'Being a learning-disabilities teacher is much easier.'"
That advice ultimately proved false—teaching students with learning disabilities "wasn't easier; it was just different"—but it led Myrna to the McKay School of Education to earn a learning-disabilities teaching certificate. Her time at BYU was brief, but the education she gained under professors Betty D. Harrison and Edith B. Bauer would be invaluable throughout her career. "The classes at BYU were small," she said. "The teachers were good to work with, and there was always someone there willing to help.''
After leaving BYU, Myrna began working one-on-one with learning-disabilities students. She wasn't assigned to lunch or recess duty, but she didn't have a class picture or a devoted group of youngsters to say good-bye to at the end of the school year either. "With learning disabilities, you only see the children who are having problems," she said. "It was a good challenge, and it was fun to see the progress they made. You would see this light click on and think, 'Oh yes, hurray!"'
Still, she missed the regular rhythm of the classroom, so after 14 years she took a spot as a first-grade teacher and remained there until her retirement in 2005. Myrna loved being a teacher and spending her summers traveling the globe, but she was also intimately familiar with the challenges teachers face—the administration, students, parents, and outside pressures.
"I always think that if you are going into education, good for you," she said. "Look what teachers are up against now: cell phones and the internet. They have to deal with so much more than I did."
By the time she received the inheritance from her father, Myrna had already included BYU in her estate planning. But she wanted to do something more, something that would have a visible effect while she was alive. She set up an endowment at BYU that would bless an education student with a scholarship every year.
"I met one of the scholarship recipients over the phone," she said. "She was delightful, and it was really fun for me to talk with her."
Even after 37 years of devoting her time, talents, and creativity in the classroom, Myrna continues to give through her charitable donation—a legacy that will last for many years to come. "The scholarship," she said, "is just a great way to give back and help some deserving person who needs it."