Read Time: 12 minutes
Dean Prater Retires After a Career Dedicated to Special Needs Children
A Well-Made Cross Stitch
A well-made cross-stitch is a work of art. Each piece is based on a detailed and carefully followed plan for each thread and stitch that takes many hours to complete. The freedom of cross-stitch lies in the possibilities: what colors to use, what patterns to follow, and what images to create. As in life, there are infinite ways for the small choices made from moment to moment—the stitches, if you will—to grow into a beautiful, finished piece.
McKay School dean Mary Anne Prater is retiring. Her career has been a tapestry of service to special needs children, their families, and their educators. Her work with children's literature has made a true difference in how the world views people with disabilities. Her administrative service, overseeing one of the largest teacher preparation programs in the nation, has provided guidance and leadership.
"I still call myself a reluctant dean," she said. "I have never sought leadership positions, but they keep getting placed in my lap. I don't mind leading out, but out of necessity your personal needs and goals change to the needs and goals of and for the organization you are leading. It is a sacrifice faculty make when asked to serve in administration."
Threading a Career
The first pattern Prater chose for her life was becoming a music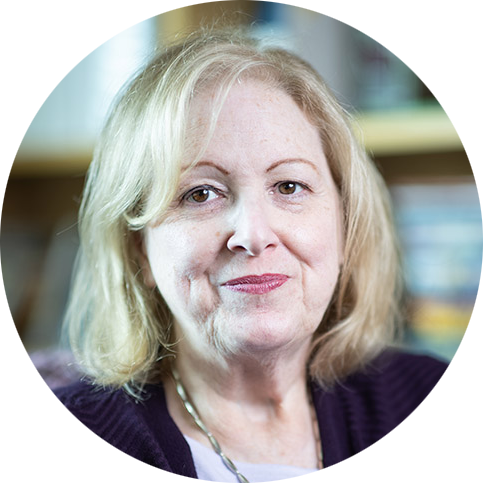 teacher. She graduated with a bachelor's degree in music education from the University of Utah, where her mother was a faculty member. Soon, however, a master's degree in special education and a newfound appreciation for children's literature emerged in the design. After earning that second degree, Prater taught in Utah's Jordan School District for several years. The desire for more education took her first to Arizona State University and then to Utah State University, where she earned her PhD in special education with an emphasis in instructional technology and educational administration.
"I learned to cross-stitch from a fellow doctoral student who used it to relax from studying," Prater said. "I found it relaxed me, as well as drew my attention away from studying all the time!" In many of Prater's pieces, the color purple, about which she is famously passionate, appears prominently. This art became mixed with her love of academics, and soon her office boasted a collection of cross-stitched seals of the universities with which she has been associated.
Her first academic position was at Southern Illinois University at Carbondale. After three years, she moved to the University of Hawai'i at Mānoa. Much of her research and publishing focused on improving behavior and self-management techniques for children and adolescents with disabilities. She also published on better involvement of parents in the special education process. She spent 11 years on Oahu, becoming a full professor. After achieving that distinguished rank, Prater's pattern switched again as she began to be pulled into administrative roles. She served as department chair of special education for four years and as an associate dean for two years.
Weaving Inclusion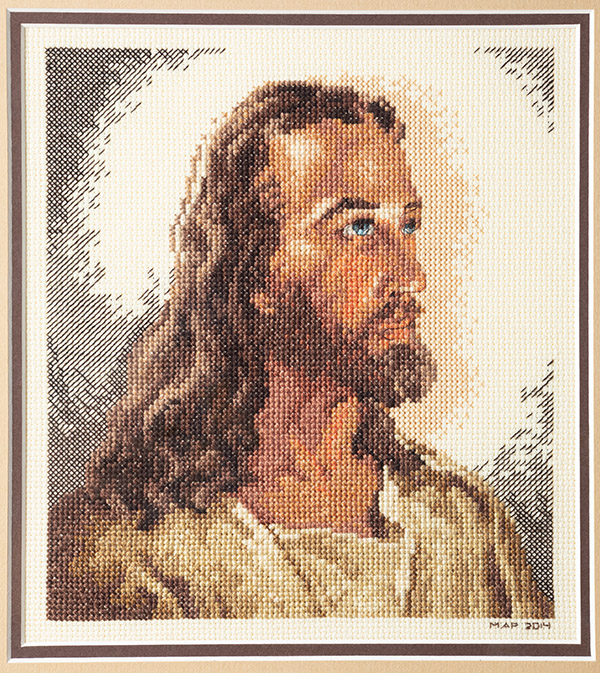 During her years in Hawai'i, Prater began to do more work with children's literature, adding significant color and vibrancy to the pattern of her life. At a conference there in 1999, she presented an analysis of the portrayal of intellectual disabilities in children's and young adult literature. That started a conversation with Tina Taylor, who would later serve as an associate dean with her in the McKay School, and Sharon Cramer of Buffalo State University. The three women agreed that people with special needs are underrepresented, and sometimes misrepresented, in children's literature. They began coordinating with the Division on Autism and Developmental Disabilities of the Council for Exceptional Children to create an award for accurate and constructive portrayal of people with disabilities.
Today, the international Dolly Gray Children's Literature Award acknowledges authors, illustrators, and publishers for authentic portrayal of individuals with developmental disabilities. Awards have been given biennially for English-language books since 2000 to encourage publication of more literature that includes characters with developmental disabilities.
Beautiful new sections were emerging in Prater's pattern, but further shifts were on the way—including a move from Mānoa to Y Mountain. "While I was a department chair in Hawai'i, I needed someone to teach a summer course," Prater remembered. "I thought of Richard Young, who had been one of my professors at Utah State. While he was there in Hawai'i, he spoke with me about the possibility of my coming to BYU. This conversation led to many more conversations, and, before I knew it, I was back in Utah. The timing was right, given that I was anxious to return to my family, particularly to my aging parents."
Stitching BYU Blue
Leaving the Aloha State, Prater joined the McKay School's Counseling Psychology and Special Education Department in 2001. Once there, she continued with intensive research and publishing academic papers and books, many done with McKay School colleagues. She began service as department chair in 2002 and continued until 2011.
Prater was asked to serve on the search committee to replace outgoing dean Richard Young. It wasn't long before the committee realized they already had who they needed in her. She began her tenure as dean on July 1, 2013.
"Never in a million years did I see myself as a faculty member at BYU, let alone a dean here," Prater recalled.
Waiting in the dean's office were many heavy issues. Prater helped organize a new office to conduct campus-wide accreditation of teacher-preparation programs. Her work often centered around establishing standards, processes, and fairness. A fan of a strong meeting agenda, she shared her favorite formats. She tackled the nationwide teacher shortage and worked to get good people of diverse backgrounds involved in the McKay School as students, faculty, and staff. She oversaw student experiences in China and other locales. She built unity in the McKay School with yearly themes and an emphasis on communication.
Yet amidst the exacting expectations of this new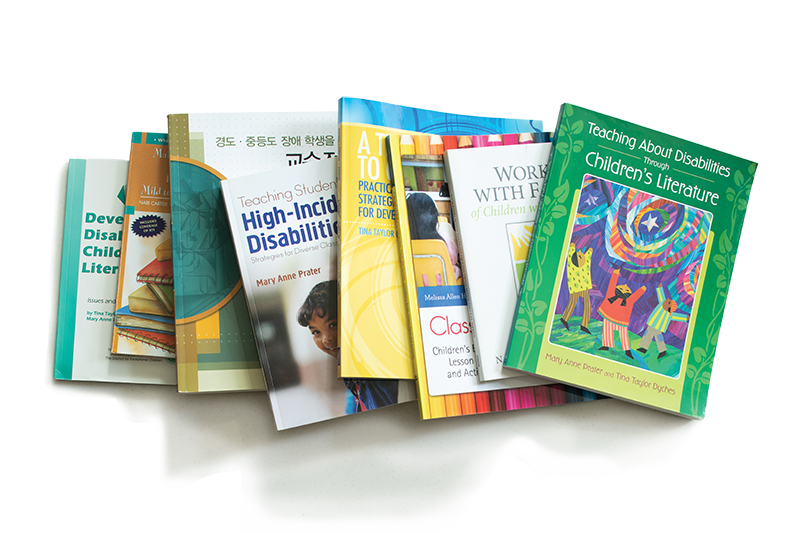 pattern in her life, Prater still took a bit of time for her own research. Her highly productive academic career has included writing or cowriting eight books and 112 refereed journal articles, to date. She has also delivered more than 100 scholarly presentations.
In 2014, Prater began curating an online database of children's books that portray characters with disabilities. It is housed in the IRIS Center at Vanderbilt University. "I add about 50 to 60 books every year. In 2020, however, I had more time to read, so I submitted 100 books. So I think there are about 400 on the list," she said. This list was accessed more than 10,000 times in 2020.
Among many other honors, Prater was selected by BYU's Harold B. Lee Library for the distinction of delivering the 2014 Alice Louise Reynolds Women-in-Scholarship Lecture for her contributions to improving the portrayal of people with disabilities. She served as the 2015 national president of the Teacher Education Division of the Council for Exceptional Children. More than 2,300 members strong, the organization sets standards and supports the preparation of special education teachers across the country.
Recently, adding a significant change to her life's pattern, Prater tied the knot. "The way she announced her engagement was pretty fun," recalled assistant to the dean Jeanna Nichols. "Everyone in the dean's office was awaiting her arrival for a Monday morning meeting when we all received a picture of Mary Anne in a wedding dress. The email said something like, 'We can talk about this at our meeting if you'd like.'" Surprised colleagues peeked out of offices, and Nichols officially added that item of business to the agenda.
Prater married Bill Doty on September 23, 2017. Celebrating with her favorite color at the reception, the bride wore a purple sash and the groom had a purple-striped tie. The two-tiered cake had dark purple frosting roses and silver beads. Prater became an instant stepmother to five children and step-grandmother to nine (now going on 12).
It is this new tapestry, now complete with family, that excites Prater most about the coming years. She is eager to spend more time with her family and to serve a mission with her husband. Dean Prater will be missed in the McKay School, but those in her circle are certain to see a new work of art emerge as she continues to joyfully stitch at the cloth of her life.
Books Written or Co-Written by Mary Anne Prater
Developmental Disability in Children's Literature: Issues and Bibliography (2000)
Teaching Strategies for Students with Mild to Moderate Disabilities (2007)
Teaching About Disabilities Through Children's Literature (2008)
What Every Teacher Should Know About Making Accommodations and Adaptations for Students with Mild to Moderate Disabilities (2009)
Working with Families of Children with Special Needs (2011)
A Teacher's Guide to Communicating with Parents (2011)
Classroom Bullying Prevention (2013)
Teaching Students with High Incidence Disabilities (2017)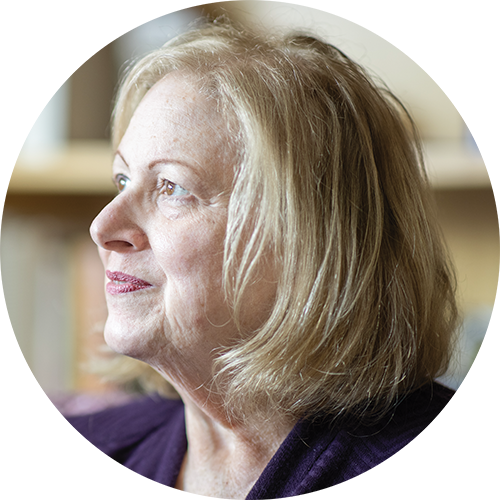 Prater once planned to retire in the summer of 2020. But willing to lend stability to the McKay School during the chaos of the pandemic, she graciously offered to extend for another year. We send her off with much gratitude for her service.
Written by Cynthia Glad
Photography by Bradley Slade