Read Time: 4 minutes
Image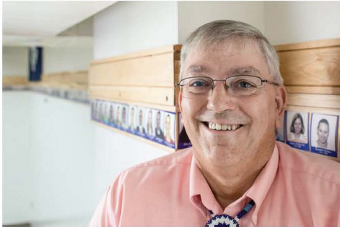 BYU physics teaching professor Duane Merrell is a master teacher and mentor, with more than three decades of teaching—high school and college—under his belt. When asked what he is most proud of, his response is telling. It was not being one of 16 educators in the country selected as a physics master teacher leader, getting the Utah Governor's Medal for Science and Technology, or receiving the U.S. Presidential Award for Science Teachers. His immediate answer was, "These kids. I hope it has always been about them."
In his workshop classroom Merrell has a line of custom trim along the walls to insert photos of each student he has mentored since he started at BYU in 2005 (236 students to date). He can point to each face and tell their story. Recently outgrowing the length of three walls, he had another line of trim installed to accommodate the growing numbers of students he has helped prepare to be teachers. "I don't want them to be surprised when they walk into teaching school the first day—even though they are going to be," Merrell said. "Regardless of what I do, they are going to be surprised at how difficult, in some cases, this job is—given 30 or 40 kids in the classroom and making decisions that affect those kids' learning."
Merrell teaches in a way that is concrete. His lessons focus on practical application and demonstration of principles rather than simply spoon-feeding students information for them to regurgitate on a bubble sheet. For example, one of his lessons is called "Mission to Mars," in which students have to protect a fragile egg through launch and landing, teaching them engineering and impulse momentum through experience. "We model almost all of our teaching with activities that students can do," he said.
Even after class is finished, Merrell doesn't stop being a teacher. He assists budding teachers in finding work after graduation and offers advice and equipment whenever asked. Dylan Lyman, a former student and a physics teacher himself at Copper Hills High School in West Jordan, Utah, said, "I regularly told Merrell that I wasn't going to teach. He would just smile and tell me, 'We will see!"' Lyman continued, "As I have taught in the years since then, Duane is still available whenever I need or want him. He is a dear friend now and someone I regularly go to for advice about my job—sometimes more than I go to my own coworkers."
Merrell wants to make a difference in the lives of students, and that clear desire impacts those learning from him, inspiring them to do the same for others. Merrell does this in his classroom with instructive lessons and creative projects and after as well with advice and support to those he is inspired to teach. "I am really lucky that good kids come to BYU," Merrell said. "I am even luckier that they choose to be teachers. I just like to help where I can."
Written by Kevin Haws