Got a scholarship? If you're in BYU McKay School the odds are good you do.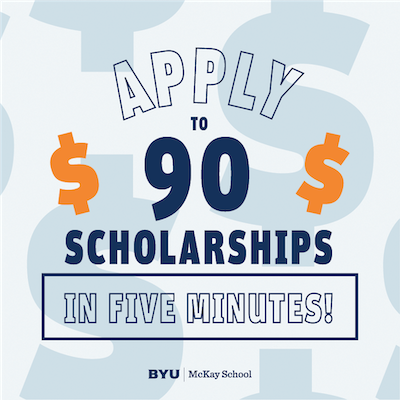 This year all undergraduate BYU education students who invested a few minutes to apply and met the eligibility criteria were awarded full tuition for Fall 2021 and Winter 2022 semesters. That made for 614 happy students. Applicants received these scholarships from the university, another department at BYU, or from BYU McKay School.
While there are no guarantees funds will be available to cover all applicants every school year, the McKay School encourages all students to apply for McKay School scholarships. Thanks to the simplicity of the scholarship application process, undergraduate students can apply online for 90 scholarships in under five minutes. The website also has information on additional scholarships that use separate applications.
"We hope to see many more students apply for McKay School scholarships," said Richard Osguthorpe, dean of the McKay School of Education. "The 614 students who received full tuition are seeing the benefits of their efforts. But there were hundreds of undergraduate students who did not apply. We are so very blessed by our generous donors who see the vision for supporting our students. Now it's time to see more student lives blessed!"
Scholarship applications open in November and must be submitted by March 1. To qualify, students must be admitted into an undergraduate McKay School major (ECE, ELED, SPED, PETE, or COMD). There are scholarships covering financial need or academic performance, which include specific majors, first generation college students, single parents, and more. All financial need scholarships require students to submit FAFSA by January 20. Information about specific qualifications and eligibility requirements can be found on the McKay School scholarship site.
Students, faculty, and administrators are grateful to those who have graciously donated to the McKay School scholarship fund. If you or someone you know is interested in donating to various McKay Schools scholarships, more information about that process can be found here.
Keep an eye out for details of when the application will open, and remember to apply before March 1.
Writer: Savannah Kimzey
Contact: Cindy Glad