Read Time: 2 minutes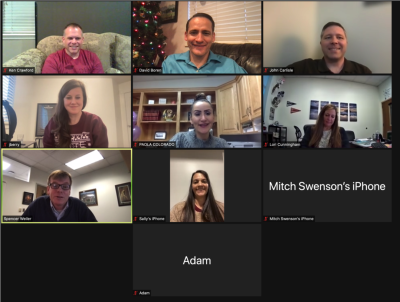 To help alumni continue to pursue professional excellence after graduation, the Educational Leadership and Foundations Department has begun hosting remote gatherings that provide EdLF alumni with an opportunity to reconnect with their alma mater, come together with fellow graduates, and pursue lifelong learning.
The first gathering, which took place in November, was held to "invite our graduates to participate in informal, hour-long conversations around subjects that they identified as topics of interest," says faculty member Spencer Weiler, PhD. The first topic of interest was "Teacher's Speech in the Age of Social Media," and the discussion flowed according to the interests and needs of the attendees.
Department chair Pam Hallam, EdD, and faculty member Brian Bowles, EdD, led the discussion by introducing a Utah state newsletter that covered recent legal cases in education, including any educator license surrenders, revocations, and suspensions that occurred over the last six months. According to Weiler, this led to a "rich conversation" that "continued to provide professional development and support for our graduates."
Weiler expressed his excitement at the prospect of continuing the alumni gatherings. "The EdLF goal is to provide this forum where people can come together, reconnect, and continue their growth. This is a starting point, and we look forward to it growing in the future."
Future alumni gatherings will be held in February and April 2022 and will focus on "Pursuing a Doctoral Degree" and "Effective Professional Development," respectively.
Writer: Alysha Rummler