Read Time: 8 minutes
DANIEL CROSBY, Class of 2008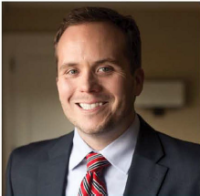 Daniel Crosby, counseling psychology alumnus, has found his place in behavioral finance. He is coauthor of a New York Times best seller and has been named one of the "12 Thinkers to Watch" by Monster.com, labeled a "Financial Blogger You Should Be Reading" by AARP, and placed in the "Top 40 Under 40" by InvestmentNews.
Crosby has shared research, findings, and experiences in TEDx talks and dozens of industry conferences each year and has authored three books and coauthored a fourth. The book he coauthored with Charles Widger, Personal Benchmark: Integrating Behavioral Finance and Investment Management, is a New York Times best seller. His latest book, The Laws of Wealth: Psychology and the Secret to Investing Success, was recently named the best investment book of 2016 and is currently being translated into other languages.
"My professional success is partially a function of luck, but the part that is in my power owes to thinking expansively about what I could do with my degree," Crosby said. "Far too often students fall into easy paths when considering how to market themselves and use their degree."
Crosby earned his bachelor's degree in psychology in 2003 and then returned to BYU and earned a doctorate in counseling psychology in 2008 from the Department of Counseling Psychology and Special Education. He also studied at Emory University in Atlanta, Georgia, in a postdoctoral internship.
Crosby's professional career began as an organizational psychologist. In this role he primarily conducted preemployment psychological assessments of potential bankers. He administered half-day exams that included lengthy interviews, IQ tests, and assessments of the congruence between a candidate's personality and the requirements of the job.
It was while he was working with bankers that he learned of a field called behavioral finance—the intersection of investment management and psychology. As the son of a financial advisor, he was intrigued with this field and set out to learn more about it. He immediately knew he had found his calling.
"I see financial markets as a giant inkblot test against which the collective fear, greed, and exuberance of the masses play out. Nothing could be more fascinating," said Crosby. Now well into his behavioral financial career, he is the founder and president of Nocturne Capital, where he does original research on stock market sentiment. He is not only a psychologist but also a behavior finance expert and asset manager.
"Managing money is more about controlling personal biases and thinking critically than anything else," said Crosby. He discovered that the concepts he learned in the counseling psychology program are transferable to other fields. While in the program, he learned to let go of defensiveness, question his assumptions, and make hard choices—all of which are directly applicable to work he is engaged in today. He said, "I hope that I am proof that taking a nontraditional path can be rewarding."
Crosby and his wife, Karina, live in Alpharetta, Georgia, with their three children.
KARA ALDEN, Class of 2015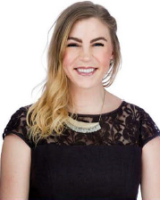 "My class is run by the scholars—the students," said Kara Alden, McKay School alumna, class of 2015. "I constantly ask
myself, 'Can I have a scholar teach or say this?' I spend maybe 10 to 15 percent of my time in direct instruction and the remainder as a facilitator for the scholars teaching scholars."
Alden believes in creating an independent learning environment for her fourth-grade students in which they can feel a sense of ownership for their education. She also tries to prepare them for future challenges. Her students present strategies, tutor each other, and create math rules and conjectures. Alden acknowledged that it has taken a lot of hard work, but at the end of the school year they have become independent, well-spoken, and confident.
Academy is a charter school that draws many of its students from low-income families. Faculty and staff are dedicated to helping their students overcome the achievement gap that has historically kept many such students from attending college. Alden feels that she has become part of that purpose and loves working in a school where she feels she makes a huge difference.
"My degree in elementary education with an art education minor gave me a look at what high-level education looks like. Through my program I volunteered, observed, student-taught, and interned with at least 10 different schools and saw many master educators. I grew a vision for what I needed to master to become a powerful teacher. In my opinion, one of the most important aspects of excellence is never-ending study, reflection, and change," Alden reported.
From her experiences in the McKay School and her internship in Washington, DC, she also learned the importance of flexibility and creativity. "I think one of the keys to happiness is change. You will be able to learn more and be a more interesting person if you allow new ideas into your life, your views to be challenged, and your mind to be changed!"
Placing a greater focus on the complexity of the individual and finding ways to diversify and teach to individual needs is something that Alden appreciates. "I love that there is a greater focus on the arts in the classroom. My kids get to dance and make art and music every week," she said.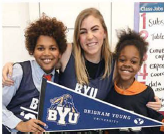 Alden loves children; she jokes that her best friends are all 10 years old. And she loves learning. "You can't be a teacher without first being a learner," she said.
For the 2016-17 school year, Alden received the Excellence in Education: Teacher Growth Award at Success Academy. She was recognized for keeping her curriculum effective and challenging as she moved from teaching first to fourth grade.
"I was truly honored by this award," said Alden. "I do feel like I have made significant growth as a teacher. Teaching can be such a thankless profession; sometimes we don't get acknowledged and recognized by the other adults we work with. It felt deeply fulfilling to be recognized at the adult level for all the hard work I have poured into my scholars' education."
Despite the long hours and relentless work, Alden concluded that her current class is full of truly amazing and talented kids. In her own words, "I have the best job in the world."