Read Time: 5.5 minutes
From Student to Teacher in a Pandemic
For Carolyn Petersen, finding a job was tough after graduating from the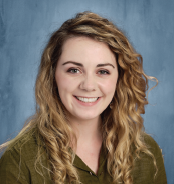 McKay School in elementary education in December 2019. However, her professor Teresa Leavitt wasn't about to give up. "She was like, 'I'm going to get this girl a job if it kills me,'" Petersen said.
After applying for jobs from California to Boston, Petersen's education paid off: she is now a third-grade teacher at Challenge Charter School in Glendale, Arizona. Despite her stressful postgraduation experiences, Petersen said, "I like it here. It turned out okay."
In 2020–2021, Petersen taught both remote and in-person students. Over time, many of the online students rejoined the classroom, which was an "adventure," as Petersen phrased it. Sometimes students changed the dynamic by switching to in-person attendance; other times when Petersen needed to spend extra time with her online students, she then looked up to find a chaotic classroom needing her attention.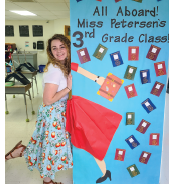 Multiple groups supported Petersen's unique first year of teaching. The organization Two Screens for Teachers gave her a second computer monitor so she could see her online students and her lesson materials at the same time.
Fellow teachers and school administrators also helped. The third-grade teachers in Petersen's school plan many of their lessons together, keep an eye on the class of any teacher who needs a break, and share extra materials.
Although pandemic teaching has been difficult for her as a first-year teacher, she exclaimed, "I feel like I can tackle any obstacle from here on out!"
Alumna Receives Her District's Top Honor
After 36 years of teaching, alumna Cynthia Stewart Pearson recently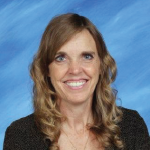 received Utah's Granite Education Foundation Excel Award. This award honors excellence in teaching and is a testament to the dedicated service that Pearson has provided her students and district throughout her career.
Pearson graduated from the McKay School in 1984 with a bachelor's degree in elementary education. In 2011 she earned a master's degree in education from Southern Utah University.
For Pearson, teaching is a "wonderful adventure." She crafts her teaching to reflect her own personality and to nurture the personalities of her students. Pearson fosters interest by creating assignments that help students understand concepts in memorable ways. While teaching a sixth-grade unit on the French Revolution, Pearson transformed her classroom into 18th-century France for a day. Students role-played French peasants and clergymen while Pearson took on the role of Marie Antoinette. Pearson told her students that she "dreamed of being a princess, but being a classroom teacher was almost as good because it made [her] a queen!"
After 36 years in the classroom, Pearson has learned that she needs a good work-life balance. She cherishes spending holidays and summers with her family. This award-winning educator's most important advice for new teachers? "Live a balanced life and give time to your family, your career, and yourself."
Bringing Science to Life Across the South Pacific
Pago Pago Afualo's educational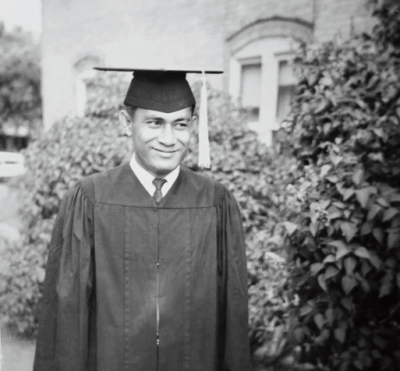 journey started with a literal voyage—a steamboat trip from American Samoa to Hawaii. And his journey has continued for decades and has crisscrossed the South Pacific.
Afualo was part of the very first class at Brigham Young University–Hawaii. After earning an associate's degree, Afualo transferred to Brigham Young University in 1957 to study education. Afualo graduated in 1961 from the BYU College of Education, which would become the David O. McKay School of Education.
Afualo first taught science at a Church-owned college in Western Samoa. Three years later he moved to Hawaii, teaching science at several schools—including Kahuku High School—for most of his career. He later taught three more years in American Samoa.
Afualo has a passion for the experimental aspect of science. Even at age 92, he can remember the student experiment groups he formed and the day one student burned her hand with sulfuric acid. "We would do experiments day in and day out," Afualo said. In later years, former students fondly recalled Afualo standing in front of his class and joking, "Hmmm, I wonder what would happen if we mixed this chemical with this chemical?"
Now retired, Afualo still enjoys designing experiments. He lives in Hawaii and likes cultivating fruit trees, riding his scooter around town, and watching general conference talks. His educational journey took him across the sea many times, but he never lost track of his love for teaching.