Read Time: 10 minutes
EMERITUS
D. Cecil Clark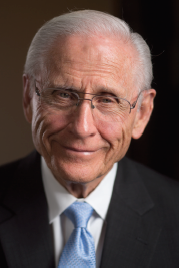 Runners are philosophical: "There is no finish line!" Gliding into retirement is no different, only a shifting of gears. Traveling the world, attending plays and concerts, mowing the lawn, visiting the doctor, learning from grandchildren, serving missions—fulfilling all; yet one misses the grind, the everydayness, conferencing with colleagues, that moment in a classroom. C. S. Lewis once said, "The cross comes before the crown and tomorrow is a Monday morning."
From a family lineage of physicians, I defaulted to psychology as a BYU undergraduate. Having found my niche, with BS and MS degrees in hand, I dreamily entered Stanford's PhD program in educational measurement and evaluation. Four wonderful years of ignorance reducing, mind expanding. The rigors of academia. I loved them! Parchment in hand, naïvely self-assured, I joined the faculty at the University of Washington, a shiny assistant professor. "Climb the professorial ladder—conduct experiments, publish, present!" I did. Credentials, rank, accolades accumulated over those nine years. A call from BYU. Arriving in Levis, sandals, and sporting a beard (the '60s were days of student unrest), a cultural shock: "Oh, Brother Clark, we wear white shirts and ties here at BYU. And the beard!"
Given my training (or lack of it), the then College of Education was never quite sure where to place me, nor was I. Over the next 27 years I burrowed into one department after another: the original McKay Institute, Elementary Education, Secondary Education, Teacher Education, and Instructional Science. Heroes appeared before me in each department, men and women dedicated, competent, and ever patient with my restlessness. True friendships developed.
Finally, my passions centered on the preservice and  in-service development of teachers—and remain so today, but in different contexts. My latest book, The Teacher Within, attests to a hopeless enamorment with the complexity of teaching—indeed, how the inner self inescapably bursts through every aspect of one's behavior in the classroom. After years of preoccupation with methodology, I have concluded that good teaching, above all else, is rooted in relationships. And why is it, after a lifetime of learning to teach, loving to teach, stripping away diluted agendas, becoming vulnerable before students, I find myself—Education Week tenure used up—sitting in the pasture with only cows to listen?
Happily, and I hope productively, I spend my days building our family's relationships, nudging teacher training and cultural change at the MTC (How do we "train" missionaries to effectively serve in the year 2025?), working as a sealer in the Provo Temple, adapting to my incurable disease of running (jogging more slowly), and impersonating the average golfer. Life is good. Teaching remains in my bones. I'm on the lookout for a Sunday School class.
ALUMNI
Jacqueline Kirkman White
Class of 1980

"Most teachers truly give their all to their students, sacrificing much in order to do so," said White. She fell in love with the Latin people and culture while serving in the Venezuela Caracas Mission, and it has influenced her life ever since. She originally planned to teach for only a year after her mission, but she is still teaching in California today. White's knowledge of and fluency in Spanish has been beneficial to her and to her students. She earned her master's degree in bilingual education from California State University, Dominguez Hills. Currently she teaches at a transitional kindergarten level, a relatively new program in California that focuses on social-emotional learning as well as letters, sounds, and numbers in the year prior to kindergarten. In addition, she and her husband, Robert, a retired math teacher, serve as missionaries for the BYU–Idaho Pathway program, which helps adults start or return to college. White wouldn't trade all the hard work, knowing it has made a huge difference in preparing students for life and creating joy for learning.
Chris Crippen
Class of 1999

Crippen currently is the director of Y-Serve, a BYU program that provides opportunities for students to serve in the community. His focus in life has been to serve students. His desire to teach came from the example of his father, who was a high school teacher. But it was on his mission in Washington that he decided he wanted to teach elementary-age children. The missionaries volunteered in schools to help with reading and other activities. Crippen noticed how the kids flocked to him and was told by the teacher that many of the boys didn't have dads and loved having a male role model. This experience gave him direction. Crippen graduated and taught elementary school for 15 years. He went on to serve as the assistant director and then director of a charter school. He earned his master's degree in curriculum and instruction from Azusa Pacific University in California and his educational administration license from Southern Utah University. Crippen is an avid athlete, having played on the BYU–Hawaii volleyball team, and he later was an assistant coach at the BYU volleyball camp. He and his wife, Sherelda, are the parents of eight children.
BEYOND THE CLASSROOM
Christopher Layton Clark
Class of 2012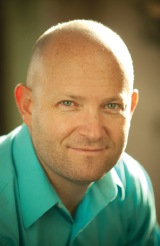 Clark is the 2016–17 recipient of the Wilson S. Sorensen Lifetime Achievement Award from the Utah Valley University Alumni Association. Earlier this year he received the Kennedy Center American College Theater Gold Medallion "for excellence in teaching and producing theatre." His résumé is long and impressive. He is not only accomplished, creative, and intelligent but also witty, intense, and caring. He is known in Utah—especially in the Utah theater and art community—as an actor, director, producer, teacher, and mentor. His experience, training, and influence extends nationally and internationally.
The theater was Clark's passion when he entered BYU with a theater scholarship. However, following his return from an LDS mission in Finland, he changed his major to English. He felt it was a more practical choice for supporting a family. He earned his bachelor's degree in 2000, but the passion for theater remained, so he and his young family moved to England, where he earned an MFA in directing Shakespeare from the University of Exeter in 2002. In 2012 Clark earned a doctorate from the McKay School's Department of Educational Leadership and Foundations. He now serves as department chair of Theatrical Arts for Stage and Screen at Utah Valley University.
Students and actors love working with Clark because of his knowledge and insights into acting and directing and because they know he is interested in their personal growth and success.
Clark continues to learn. He has had extensive training with university and theater groups around the United States, including the Steppenwolf Theatre Company and Second City in Chicago. His international training includes the Globe Theatre in London, the Royal Shakespeare Company, and Theatre Biomechanics in Austria and Italy.
His range as an actor on the stage includes drama, comedy, musicals, and improvisation.
Clark's clever humor is injected in the shows he directs. One can always expect some unexpected quirks or elements in his productions. His long list of directing and producing includes numerous shows at the Hale Center theaters in Orem and West Valley, SCERA Shell Outdoor Theatre, Sundance Summer Theatre, BYU, UVU, and the Edinburgh Festival Fringe, a festival that is part of the annual UVU theatre semester abroad program to London and Scotland that Clark has led for the last 10 years.
In 2013 Clark directed Vincent in Brixton, which won six awards at the Kennedy Center American College Theater Festival. Among those awards were Outstanding Production of 2013 and Outstanding Director of a Play.
In a BYU theater class, Clark was playing the devil when he met Lisa Valentine (Class of 2000), who was playing a chicken. They fell in love and married. Lisa is also a teacher, actress, producer, writer, and director. Their family cast consists of five children.