Read Time: 3 minutes
Image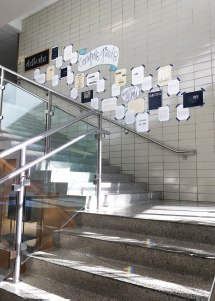 Advice from McKay alumni to graduating seniors was posted on the McKay School walls during graduation. Practical suggestions from experienced professionals were added to congratulations and best wishes for success to these future educators. Read more advice from alumni at  education.byu.edu/news/alumni-to-alumni.
Rebecca Butters, '92
Find an experienced teacher to talk to.
Have a life outside of school.
"Steal" lessons and ideas until you have your own style.
It's okay to say, "Oops, teacher mistake!"
Lori Steadman, '91
Keep your education current: 
Take classes.
Volunteer in your field.
Talk with professionals regularly.
Elaine Lowder, '54
Be proud of your degree. Make the most of every opportunity to mention BYU because it carries a name that is recognized throughout the country.
Barbara Raymond, '77
We have the blessing of unlocking the door of potential in each student! Enjoy the journey of that process!
Lynnette Risk, '89
Substitute! You can encounter different:
management skills.
materials organization.
approaches to curriculum.
time management skills.
uses of small groups.
room setups.
Aubrey Rowan, '15
There is an entire world of schools, districts, and clinics looking for individuals with a bachelor's degree in communication disorders.
Robert Devine, '80
Practice interviewing.
David Squires, '58, '74
Brainstorming will transform the obvious.
Plan lessons that involve students at all times.
Students must be teachers as well as students.
Individual units of instruction allow each student to explore, examine, and express personal insight.
Matthew Windsor, '94
There's opposition in all things. Keep at it! Heavenly Father needs qualified, devoted teachers to help teach His children. The second year is easier than the first, and the third much easier than the first or second. Hang in there—you can do it!
Paul K. Edmunds, '63, '65
Three key characteristics most wealthy people possess:
Risk-taking
Creativity
Perseverance
Pearl Hicks, '96
When our love is evident to our students, great things happen.
Breanna Asbell Gibby, '15
Be open to new ideas but have confidence to try your own ideas.
Darren Hardy, '95, '00
Be flexible.
Doug Pussey, '80, '96
Have fun teaching
Hang with positive thinkers
Engage students' minds rather than "disciplining and managing" them.
Debbie Wahlin, '82
Learn
from every student, every teacher.
what works, what to leave behind.
that everyone has a story.
there's always a silver lining.