Read Time: 22 minutes
"If ye are prepared ye shall not fear."
Melissa heath, McKay School professor and nationally certified school psychologist said, "School safety, a major concern for students, parents, and school staff, is also a key issue for state and federal legislators who develop educational guidelines and standards."
Educators strategize to provide their students with a positive, interesting, and safe environment in which to learn. But many things can't be controlled. Unexpected things happen, emergencies arise, disasters occur, and educators have to respond. With forethought and planning, fear, panic, and anxiety can be reduced and unexpected situations can be managed.
Heath commented that although many programs have been created and lend support, it is the local unit that is responsible for formulating or adapting a safety plan according to their needs and resources and carrying out that plan.
We have all been through a fire drill—a practice instituted in schools more than 160 years ago. Because schools have had a plan and have practiced it, lives have been saved. In the 1950s, with the threat of a nuclear attack, students practiced "duck and cover." The Emergency Broadcast System was initiated in the United States to inform the nation of any serious national crisis. It has been replaced with the Emergency Alert System, which also includes notices of dangerous weather conditions. There are many emergency plans and support systems in place.
School preparation involves knowing the students, school, community, and area, as well as any potential situations that may arise. Emergency preparation includes not only planning within the school but also planning in cooperation with parents, the community, and the state. Start the conversation.
Be Informed
Learn as much as you can and prepare.
What possible situations can impact your school (such as natural disasters, terrorist attacks, or school violence)?'
How will you be notified of an emergency or disaster?
What supplies are needed for different scenarios?
What resources are available to create a useful plan?
Have A Plan
Tailor the plan to meet your school's needs and the needs of the students.
What are the responsibilities of various members in the school community?
What accommodations are there for students with special needs (e.g., a buddy system)?
What resources are needed? What resources are available?
How will you coordinate your school efforts with local police, fire, and other community responders?
How will you communicate with parents during an emergency?
Follow Up
Know how to recognize and respond to the trauma students may experience after a crisis.
Heath explained that disasters, crises, or traumatic events can vary in intensity and duration, and the impact they may have on a student is individual and dependent on how the student perceives it. Most students are quite resilient, whereas others are more vulnerable. Children's mental and emotional needs should be considered after a traumatic event. Loss triggers grief, and children need to work through it, because grief accumulates.
Heath created a guide for those dealing with children in the school after a crisis or tragedy.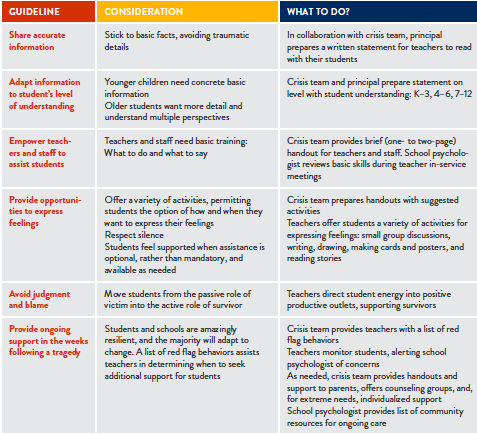 What follows are experiences, stories, and ideas of how some educators are keeping students safe while they are at school.
Tornado!
A "tornado watch" means a tornado is possible: be prepared.
A "tornado warning" means a tornado is imminent: take cover.
by Shannon Binkley, Teacher
Lincoln Public Schools, Lincoln, Nebraska
Class of 1995
Rain, thunder, swirling clouds, and lightning shattered the otherwise peaceful school day. Ensconced safely inside the school, students continued their lessons. The meteorologist had passed along the "tornado watch" alert an hour ago. That didn't faze the lifelong midwesterners.
However, when siren screams penetrated the air, the mood in the classrooms shifted. Inside and outside the building, the shrieks warned of the coming tornado. At teacher instruction, students upstairs began the descent to the main level while teachers closed down classrooms, shut off lights, and locked doors. Students from upstairs joined students in downstairs classrooms, sitting as far as possible from the windows with their faces to the wall. Hands and arms covered heads as teachers rushed to move tables over the students, providing what feeble layer of protection they could to their students.
Only after counting all students did the teachers themselves take cover, crouching on the floor alongside their students. A tornado touched the ground, and the next several minutes were crucial for survival. Students were too afraid to scream, and they knew they needed to remain quiet to be able to hear further adult instructions.
Tornadoes are among the deadliest forces on the earth today. Nature's fury unleashed with little to no warning can decimate entire towns and move houses, cars, and trees miles in varied directions. With advanced preparation, vigilant officials and cooperative students and staff can calmly execute protocols set forth and reviewed frequently. The storm will come, and the school will be ready.
Modern-day advances in meteorological technology give us more warning today than in the past. Caused by fluctuating air pressures, tornadoes are unpredictable, making them an unmitigated risk of the midwestern United States. Flying debris thrown by gale-force winds and hail the size of golf balls cause massive damage. Those in Tornado Alley remain ever vigilant.
As required by state and local governmental agencies and regulated by school districts, schools perform tornado drills three
times a year. Usually scheduled during the spring in preparation for the severe storm season, the drills ensure that protocols are followed to protect students and staff in the event of these deadly storms. Teachers learn to maintain calm composure as they practice safety precautions with their students.
Thanks to these drills and the weekly test of the emergency alarm system at 10:15 on Wednesday mornings, panic rarely sets in. Students and staff alike have learned to move quietly, safely, and efficiently to their areas of shelter. With dedicated precision, the plan is executed, and the students and staff remain safe. Following rehearsed procedures will bring the best possible outcome in the face of disaster.
Even more prevalent is the continued benefit of these drills. When students join the "real world," they are prepared for tornadoes and understand the general protocols to stay safe in such emergencies. While the threat is real, those living in areas affected by tornadoes are calmer in their response. As a result of their tornado education, they learn to watch the weather patterns, and they process emergency procedures subconsciously.
Fifteen minutes after the alert, the sirens stopped. A voice came over the loudspeaker, saying, "Thank you, everyone, for moving quickly to your tornado shelter area. The warning has stopped. The tornado is no longer on the ground. Please return to your classrooms."
Students stood up and began to visit with each other as they returned to their classrooms. Teachers counted students as they reentered rooms and then picked up where the lessons had left off. The school day continued.
Whiteout at Ridgeline
Be prepared and be flexible.
Interview with Ken Higgins, Principal
Ridgeline Elementary School, Highland, Utah
A fast-moving storm with two inches of snow was predicted. At 3:30 p.m. buses arrived at Ridgeline Elementary School in Highland, Utah, to take students home. By 3:45 p.m. the storm was a hard-hitting blizzard stalled over the school and the surrounding area. It stayed there for the next six hours. Principal Ken Higgins remembers February 13, 2008, like he remembers the Kennedy assassination or the day of the space shuttle Challenger disaster.
Higgins didn't have the authority to recall the school buses; that was the district's mandate. He was concerned about the safety of all the students, especially those who lived on South Mountain. Seven buses left the school but were recalled when the district transportation personnel learned of the severity of the storm. Two buses returned immediately, five buses much later, and one went missing for two and a half hours, stuck on the road and unable to communicate.
Higgins immediately called the district officials to ask them not to shut off the heat or lights in the building until further notice. Office phones, most cell phones, and bus radios were jammed. Parents wanted to know where their children were. The office was overwhelmed when some parents made it through the storm to pick up their children. To ensure that every child was accounted for, students were grouped into families with siblings going to the classroom of the youngest child. Parents could then sign their family out using a blue form, along with any additional children they were transporting. An identical white form was used for checking out from the office. The phone situation was solved by having children call home with the classroom phones. Teachers kept families updated through emails.
Two weeks before there had been strong winds and a whiteout as the morning kindergarteners were about to board the bus. It was decided that they should remain at school until conditions improved. The children were hungry, so the school provided a snack. At 3:30 p.m., with improved conditions, the kindergarteners went home with the rest of the students. As the same thing had happened again a week later, Higgins had made the decision to stock extra food and water. Consequently, on February 13 there were 1,000 peanut butter and jelly sandwiches in the freezer and 1,000 bottles of water stored at Ridgeline.
On that whiteout night, strangers came to the school seeking shelter and were given refuge in the library. The Lehi and Draper police departments, Highland City, parents, and local grocery stores provided assistance and supplies. By 9:00 p.m. it was evident that everyone would stay through the night. The last bus finally pulled in at 9:30 p.m. Teachers were not asked to stay, but all except one did. Higgins said, "The attitude of the teachers was great. They kept the parents informed. They made the kids feel like they were having a sleepover party." That night Ridgeline Elementary accommodated 161 students and adults.
After the ten o'clock news reported that the storm had passed and students would be staying the night at the school, the phones started ringing again, with students ask-ing if they could return to the school and spend the night. It was not a good idea.
Some slept that night. After a good breakfast in the morning, students were picked up by their parents. School was cancelled that day.
Soon after, a survey was sent to parents asking for their comments and suggestions regarding the event. The suggestions gathered from the survey prompted some changes:
An emergency book was created with essential information, including contact lists of students, district, city, and community personnel.
Students were required to ride their assigned buses.
There is a stockpile of water and frozen food at the school. However, because of peanut allergies, items stocked are things such as cheese sandwiches, cheese nachos, and cereal.
The principal now has authority over buses, along with the district.
Higgins keeps a phone charger in his office.
Hanging on the back of Higgins' office door are jackets and winter coats, a bag with hats, goggles, and waterproof gloves—and, on the floor, winter boots.
What If There Is a Shooting?
Advice for a school setting.
By Scott Ellis Ferrin, JD, EdD McKay School of Education
What do you do when the worst happens? Shots are fired in your school building, and they are continuing. Unfortunately, this is a possible, although not likely, scenario. I have visited schools that have experienced school shootings, and I have presented on this issue in several academic and professional settings. Below are some of my very basic suggestions.
PREPARE
Things to do now:
If the door to your classroom or office has a window, con-sider attaching an opaque drapery or curtain above the window with Velcro or hooks so it can be dropped over the window in an instant, blocking the view of a shooter.
If your classroom door is metal, it can be kept locked but blocked open by a magnet. This allows for easy access, but the magnet can be removed so the door is locked instantly without your needing to go into the hall to lock the door.
Decide how you will react once you have determined that the noise you are hearing is shots being fired; then decide how you will exit your area with your students/colleagues, considering the direction of shots. Mentally running through and then practicing this scenario will increase the likelihood of swift and useful action.
Decide how you wish to defend yourself and others if the time comes that you are in a classroom and it appears an active shooter is going to enter your room. You have choices—what is available in your classroom that can be used for self-defense?
Set some speed-dial numbers on your cell phone aside from 911 that will be useful in an active-shooter situation.
ACTION
In an active-shooter situation, after you become aware of shots being fired:
Your first option is to determine if you and your students can safely exit the building or classroom. Most experts agree that flight, or exiting the building, is the best option if it can be done stealthily and safely. When safely away, notify officials that you and your students are at a secondary safe location.
If you find other people as you are exiting, encourage them to accompany you. In active-shooter situations, individuals often are not aware that shots have been fired.
According to most experts, if you cannot exit safely, the second option is to hide. In a classroom, this means lower-ing the curtain that covers your door's window, removing the magnet that holds the locked door open so it is locked quickly and quietly, and turning out the lights. Next, get everyone away from any line of sight of the active shooter and silence all cell phones. In some events this has included putting students into closets or storage spaces within the classroom. All must be calm, and students may need assistance to understand the need for silence so the room appears unoccupied.
The third option is to fight—or prepare to neutralize the shooter. Most experts say it is most likely that the shooter will methodically enter rooms and attempt to shoot as many individuals as possible. Those who feel they are able should be quietly organized to rush the door with desks, heavy objects, and other items in a decisive impulse en masse. Some teachers keep fire extinguishers, pepper spray, baseball bats, or other items available in their classrooms or on their persons that could be useful in such a situation. If time permits, someone could try to quietly contact 911 to give and receive updates; however, stealth and quiet are lifesavers in this type of situation before a shooter enters a room.
Decide in advance what your own personal stance is regarding a concealed weapon and prepare to follow that personal stance. In many states, concealed weapon permit–holders can have a gun concealed and safely retained on their person within schools. Some of the challenges of bringing your own gun into an active-shooter situation have to do with your own stress response, the perceptual tunneling of your vision when presented with a perceived life-threatening shooter, and the potential for multiple bullets from your firearm to strike other individuals.
When law enforcement teams enter your classroom or area early in an active-shooter situation, do not go up to them and expect assistance. That team's first responsibility is to find and neutralize the shooter. They will not provide first aid or other help until the shooter is located. This is another good reason to ensure that any concealed firearm stays concealed at this point so entering response teams do not mistakenly perceive you as the shooter.
These are just a few basic ways to prepare and act during an active-shooter situation. The aftermath of such an incident brings many other needs, including mental health counseling and emotional support. It is very likely that no one reading these suggestions will ever deal with such a situation, but preparation and routinized responses may help you and the students you cherish to survive.
School and Community Cooperation
Get acquainted with those on your team
By Cort Monroe, Assistant Superintendent of Student Learning
Queen Creek Unified School District, Queen Creek, Arizona
Class of 1999
The Queen Creek Unified School District in Queen Creek, Arizona, prepares for crisis situations in a proactive and collaborative manner. The 6,000-student suburban unified school district has a thorough and current crisis management plan that includes different roles for the crisis management team.
Bomb threats, excessive heat, active shooters, airplane crashes, and many other contingencies are both planned for and used in preparedness drills to keep students and staff safe.
The district follows the National Incident Management System (NIMS), which is a government program that pro-vides information for individuals and organizations on how to be proactive in preparing for and handling various incidents. Within the program is the Incident Command System (ICS), which outlines an approach for coordinating the efforts of responders.
The Safety, Crisis, and Emergency Committee is a joint committee that the district sponsors and that involves officials from the town of Queen Creek along with police officers, firefighters, and school district officials. This collaborative committee meets monthly to discuss different aspects of crisis management, including prevention measures, intervention, appropriate reaction, and mitigation. They also discuss following through on the aftermath of a crisis.
This process of consistent communication and collaboration is pivotal in assisting the school district to work appropriately with our community partners in times of crisis.