Read Time: 4 minutes
Image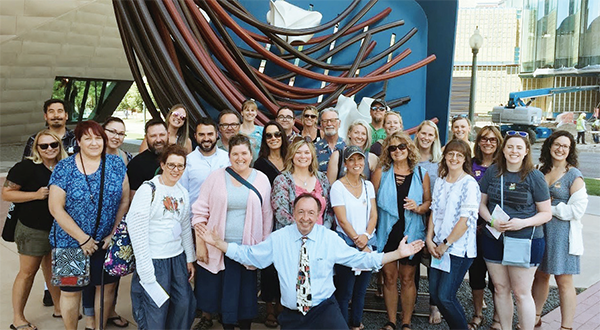 Doug Allen was an artist long before he realized it. And he has made it his mission to help young people see creative potential in themselves. Allen—educator, administrator, teacher of teachers, College Board reader who grades thousands of AP art portfolios, and professional artist himself—is also the latest recipient of the 2020 Sorenson Legacy Award in Arts Administration and of the Lifetime Achievement Award for 2020–21 from the Utah Art Education Association. "I feel honored to be selected for that," Allen said. "I think I was recognized mainly because of the work I have done in the arts for such a long time." 
Growing up in Brigham City, Utah, Allen was drawn to creative pursuits—he once hung a family Christmas tree upside down from the ceiling for the holidays. But he didn't consider becoming an artist until college, where he also trained to teach. 
Allen began his career in Australia. He used a train pass to take his students to art museums and the zoo for live drawing sessions and enjoyed watching creativity spark in the diverse group. "So many in the classes spoke a different language, and they were so much fun," he said. "It was a two-year teaching contract, and I ended up staying four years." 
Allen returned to the United States to teach for many years at Alta High School in Sandy, Utah. He earned a master's degree and an administrative certificate—the last for the salary bump. "But then it just sat there because I loved teaching so much," he said. Eventually, Allen served as a Jordan School District arts administrator and led an inventory of district-owned art during Canyons School District's split from Jordan. "Draper Elementary had a Norman Rockwell! I made sure it was appraised, protected, insured, and under camera." 
After retiring, Allen began work at the Center for the Improvement of Teacher Education and Schooling (CITES), the operational arm of the BYU-Public School Partnership. None of it would have happened, Allen said, if he hadn't been willing to take chances. "Take those opportunities as they come! Those kinds of experiences never leave you," he said. 

Allen also still makes art. He has never limited himself in style, medium, or approach. "I've moved to something smaller-scale: wooden cigar boxes that I've been collecting. I make little paintings on them." That synergy—between creator and concept, between teacher and student, and between one artist and another—drives all that Allen has achieved, all he continues to do, and all his future goals. 
"I've always said that art is a language. With it you are able to transcend other cultures and other languages," he said. "You'll see different ideas develop, but sometimes it's without the spoken word in visual art. I've enjoyed it." 
Photography and Art: Doug Allen