Children's Art Gallery Sparks Interest in Arts Integration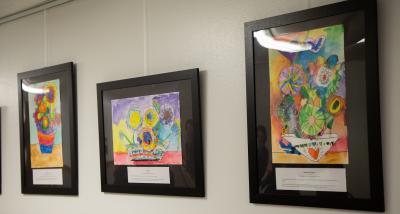 The debut of the latest works to be featured in the David O. McKay School Children's Art Gallery brought young artists and their families to BYU campus. The gallery's rotating, ongoing exhibits showcase how art, science, mathematics, and language arts can coexist in the classroom. These young artists and their art teacher, Charlotte Hawkins (pictured to the left), a BYU McKay School alumna, are learning and teaching art through the BYU ARTS Partnership.
The BYU ARTS Partnership works to ensure that all children receive art instruction as part of their school curriculum. "It's a lot about arts integration, where you're learning other subjects through the arts," says gallery curator Doug Allen. Hawkins identified those subjects as "science, math, and language arts."
More than 300 art specialists like Hawkins work in schools across Utah. BYU provides professional development to 130 of these specialists in disciplines including visual arts, drama, music, and dance.
Each year, new art goes on display in the McKay School gallery from an elementary school within the five BYU–Public School Partnership districts: Alpine, Jordan, Nebo, Provo City, and Wasatch County. This year's art gallery features work from first through sixth graders at Cedar Ridge Elementary School in Utah's Alpine School District. When curating the collection, Allen specifically chose pieces that "looked like they showed a variety of skills and artistic development."
Each young artist used a variety of mediums to create art based on what they have been learning through their grade's core curriculum. First graders painted watercolor flowers to show the effects of sunlight and water on plant growth. Fifth graders mixed paint colors, and used chemicals like rubbing alcohol or vinegar to depict physical and chemical changes in a piece of abstract art. Other grades created collages from recycled paper scraps after learning about Utah ecosystems and made individual artworks based on data they collected after learning about statistics and probability.
Students made their artwork unique by making it personal: One fourth grade student used watercolors to paint a sunset over Lake Powell, a place she visits regularly with her family. Students in her class contrasted light and shadow to showcase the variety of plants and animals found on Utah landscapes.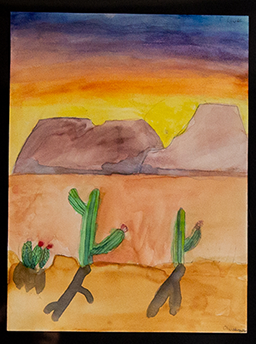 The excitement at this year's grand opening was tangible, which demonstrated the power that art has to bring communities together. Allen and ARTS Partnership program coordinator Alyssa Dixon presented each child with a certificate of recognition as families and friends gathered around for pictures, observed other students' art, and shared treats.
Some of those who attended the event found themselves on BYU campus for the first time and were impressed by the programs and resources offered by the McKay School. One child expressed an interest in attending BYU and the McKay School. It's all an outgrowth of the partnership's goal to help young artists learn self-expression while also gaining a deeper understanding of other subject matter through creativity, which Hawkins says makes a notable difference in their comprehension of other subjects.
The Cedar Ridge artwork will be displayed on the second floor of the McKay Building until the end of this school year, when the partnership will return the now-framed art to the children. Next spring, Dixon says, new artwork will be selected. The goal is that children's art will always be displayed in the McKay School, fueling a love of the arts in generations of teachers.
Writer: Amy Cook
Contact: Cindy Glad
Photography courtesy of Kaden Prows