Read Time: 5 minutes
Teaching, No Greater Career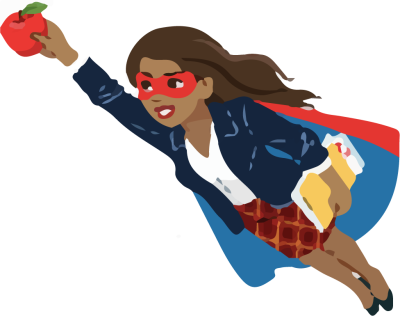 Like many educators, I have an inner heroine that went into the profession because of a desire to make a difference in the
lives of young people. The "teacher as a hero" theme abounds in quotes and posters:
"Real heroes don't wear capes; they teach."
"To the world you may be just a teacher, but to your students you are a hero."
"Teacher? I prefer the term 'Educational Rockstar.'"
Like most teachers, I had countless moments when I felt like a hero and basked in the rewards: personal notes (which I still have), gifts of lotion and can­dles and muffin mixes (which I do not still have), students who wanted to take their picture with me on the last day of school (they made me feel like a celebrity), smiles, jokes, chocolate bars, or a simple "Thanks, that was a great class today."
Despite these rewards, I didn't always feel like a hero when I was in the thick of teaching. The daily pressures of parent emails, classroom management, lesson planning, grades, extracurricu­lar assignments, new initiatives, etc., often left me exhausted and discouraged. Often I felt underappreciated, underpaid, overworked, and even resentful. Negative comments fueled my discontent, and I must admit that sometimes I bought into the dialogue, thinking, "I am a smart person. I should have chosen a better career—something that isn't this hard and pays more."
Now that I am retired (after 25 years), I look back at my days as a teacher with such fondness, and I wish that I had been more proac­tive about promoting education and encouraging young people to choose teaching as a career. Here are my personal top four reasons why there is no better life than the life of a teacher:
Teachers don't always make as much money per year as some professionals, but ben­efits such as health care, gen­erous sick-leave policies, and pensions are incredibly valuable and underrated. My husband and I were both educators, and because we each have a pension, we can enjoy traveling and serv­ing others without the financial worries that many retirees have.
Teaching is a great career for parents who want to be home when their children are home. We not only had every holiday off with our children, but we also enjoyed spending the sum­mer gardening, fishing, camp­ing, watching baseball games, going to the library, and sleep­ing in after staying up late. Yes, I attended a workshop now and then in the summer, but, for the most part, teaching gave us the most irreplace­able benefit of all-time with our own children.
Teachers work with incredibly nice people—other teachers. Over the years we cel­ebrated each other's triumphs and shared each other's burdens. We laughed and played practical jokes, published a cookbook, took students to the 2002 Olympics, played faculty/student football games, and socialized outside of school. My teaching colleagues are to this day some of my dear­est friends.
Working with young people is perhaps the most rewarding reason to choose teaching as your life's work. I may have entered the profes­sion with heroic aspirations, thinking I would bless the lives of students with my passion for learning and my caring heart. But it didn't take me long to real­ize that the students gave me more than I gave them. I learned from their insights, marveled at their resiliency, and was inspired by their random acts of kindness. In countless ways they are my heroes.
It is time we change the dialogue about teaching as a profession. Yes, it is important for educators to be proactive and advocate for positive improve­ments, but it is also important for us to be cheerleaders for education as a career and encourage aspiring teachers. If they could see the end from the beginning, they would run toward that path.
Annette Evans is the Chair of the McKay School of Education Alumni Society, 2018–2019. This is an excerpt from her full article, "Teaching, No Greater Career." 
Written by Annette Evans