Read Time: 2 minutes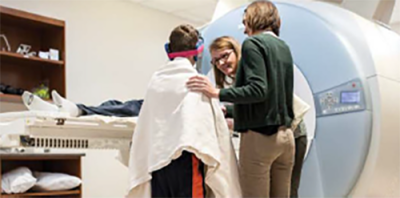 New research from BYU's autism experts is providing clues into the link between aggression and autism-clues the team hopes will eventually lead to more effective intervention. In the study, published in Research in Autism Spectrum Disorders, researchers report a correlation between aggression and brain stem volume in children with autism: the smaller the brain stem, the greater the likelihood of aggression.
This is significant because "the brain stem is really involved in auto­nomic activities—breathing, heart rate, staying awake—so this is evidence that there is something core and basic in this connection between aggression and autism," said BYU clinical psychol­ogy PhD student Kevin Stephenson.
BYU's Autism Connect team was started three years ago in the McKay School. It now includes researchers from other colleges on campus and collaborators beyond BYU. Studying aggression is Autism Connect's "over­arching agenda," said Terisa Gabrielsen, McKay School assistant professor of school psychology, "because it impacts families' quality of life so significantly. If we look long-term at things that affect the family the most, aggression is one of the most disruptive."
In addition to a number of other studies planned or in process, the team is interested in exploring further how the brain stem is connected function­ally to other areas of the brain, "because usually the brain doesn't work from just one area. It is a network of areas that all work together," Stephenson said. "So if one area is disrupted, it is likely that other areas are disrupted as well."