Read Time: 3 Minutes
McKay School Graduate's Teaching Career Spans Both Decades and Oceans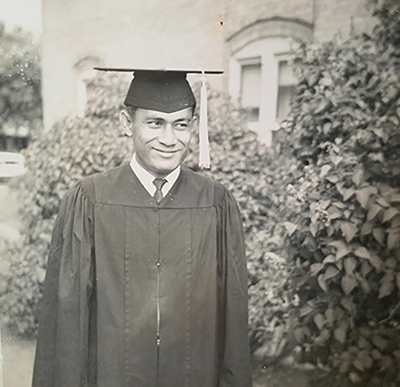 Pago Pago Afualo's educational journey started with a literal voyage—a steamboat trip from American Samoa to Hawai'i. And it continued for multiple decades and crisscrossed the South Pacific.
Afualo moved to Hawai'i as part of the first class at Brigham Young University–Hawai'i, then called the Church College of Hawai'i. After earning an associate's degree, Afualo transferred to Brigham Young University and began studying education in 1957. He has fond memories of his time at BYU, where he served as a member of the Samoan cultural club, which performed across the United States. Afualo graduated in 1961 with a bachelor of science from the BYU College of Education, which would become the David O. McKay School of Education.
Soon after his graduation, Afualo was asked by The Church of Jesus Christ of Latter-day Saints to teach at a church-owned college in Western Samoa. After three years of teaching science in Samoa, Afualo moved to Hawai'i and taught science at a variety of schools in O'ahu before landing a job at Kahuku High School, where he taught for 16 years. But his journeys across the Pacific weren't over yet: he taught science a further three years at a high school in American Samoa.
Afualo has a passion for the experimental aspect of science. Even at the age of 92, he can remember the size of the student groups he formed for experiments and that one of his students burned her hand with sulfuric acid. "We would do experiments day in and day out," Afualo said. "We just liked to do things." Former students recalled how Afualo liked to stand at the front of his class and joke, "Hmmm, I wonder what would happen if we mixed this chemical with this chemical?"
Afualo even brought science home at the end of the day. He has five children, and his daughter, Patricia Macadangdang, remembers being entertained with science. "Because he was a teacher and we were poor, we didn't have a TV at home, so he would bring home the projector and show us movies like Bugs Bunny in Math Land or other learning science movies. . . .We'd be so happy when we'd see him carry the projector in the house."
Now retired, Afualo lives in Hawai'i and enjoys cultivating his fruit trees, riding his scooter around town, and watching general conference talks. He still enjoys thinking of new science experiments he'd like to share with local schools. Afualo's educational journey took him across the sea many times, but he never lost track of his love for both science and teaching.
Writer: Savannah Kimzey
Contact: Cynthia Glad