Read Time: 2 minutes
Partnerships between education colleges and public schools may be the key to revitalizing education systems, and no organization understands this better than the BYU–Public School Partnership. That may be why the partnership recently received the Award for Exemplary Professional Development School Achievement at the annual conference of the National Association for Professional Development Schools (NAPDS) held in February 2020.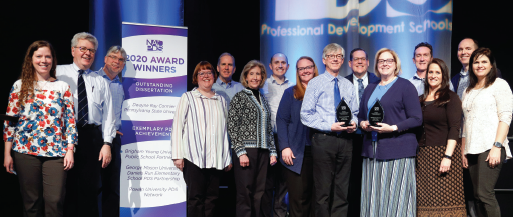 NAPDS is a national organization that advocates for professional development and collaboration between schools, higher education, and the wider community. "The award itself reflects the tremendous growth and history of the partnership," said Gary Seastrand, executive director of the partnership. "To receive this award is an indication that the partnership is atypical and stands out as stellar. This national recognition reflects the deep commitment everyone in the partner-ship shares to elevate learning and to help all succeed."
Formed in 1984, the BYU–Public School Partnership is a collaborative effort to improve public education systems between the David O. McKay School of Education, the arts and sciences colleges at BYU, and five Utah school districts.
According to the NAPDS, the BYU–Public School Partnership was chosen for its proactive initiatives. These initiatives include
the Associates Program, which connects educators to the moral purposes of education
the Instructional Coaching Academy, which improves the professional development practices of educators through evidence-based teaching methods
the BYU ARTS Partnership, which revitalizes learning through the arts in elementary schools with conferences such as ARTS Express and the Learning Edge