By Michael Leonard
Image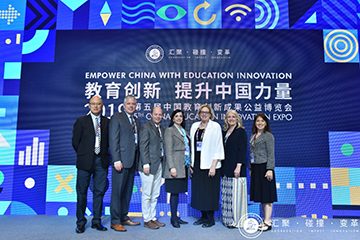 Educators from China and around the world gathered late last month in Zhuhai, China, at the fifth annual China Education Innovation Expo to exchange best practices and collaborate on educating children and teens. The organizers of the event, the China Education Innovation Institute of Beijing Normal University, invited leaders from the David O. McKay School of Education at Brigham Young University and the state of Utah to represent the United States at "America Day." 
The four-day conference attracted more than 21,000 registered participants, including representatives from 80 universities and research institutions, 150+ local government education departments, 2,000+ K–12 schools, 600+ private companies, and nearly 60 nonprofit organizations. In addition to in-person participation, nearly three million people viewed the conference website during the proceedings. 
Image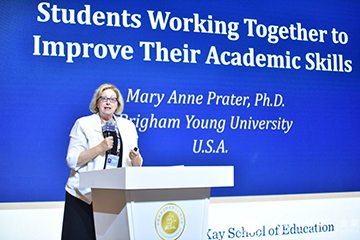 McKay School dean, Professor Mary Anne Prater, presented specific strategies teachers can use to increase student engagement beyond the typical lecture method of teaching commonly found in China. "It's important for teachers to understand the value of students being more actively involved in their learning," she said. "For example, peer tutoring provides greater opportunities for students to practice, receive immediate feedback, learn how to collaborate, and improve their academic performance and behaviors while improving their self-esteem."
In addition to those from China and the United States, presenters also came from Israel, Finland, Canada, France, Italy, India, Norway, Botswana, Netherlands, and Thailand. Domestic and international organizations—such as UNESCO International Education Bureau, the World Education Innovation Summit, and the International Educational Technology Association—had booths in the expo portion of the event. 
BYU's booth featured information about the university, the McKay School of Education, and innovations professors in education are working on through their research and practice. The booth also highlighted the ideal characteristics of a Utah high school graduate. Among the characteristics are critical thinking and problem-solving; creativity and innovation; collaboration and teamwork; honesty, integrity, and responsibility; and hard work and resilience. 
Image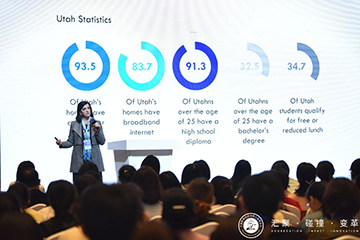 Deputy Superintendent of the Utah State Board of Education Patty Norman, PhD, presented the keynote address at the America Day portion of the conference, leading off the slate of presenters from BYU. Her topic was "Innovations in Education: Digital Teaching and Learning and the Portrait of a Graduate." 
Norman noted the power of bringing countries together to address educational needs. She said, "There is so much we can learn from each other as we collaborate on new and better educational pedagogies and practices. More global collaboration needs to happen to benefit all learners, no matter their national origin or political or social beliefs. I hope the attendees learned something from our presentations representing the United States. I certainly learned from the various presentations I attended by our friends in China and other parts of the world." 
Image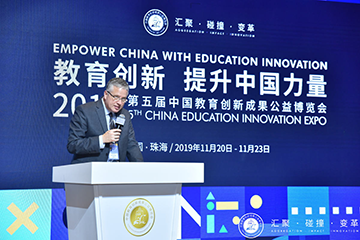 Other presenters from the BYU McKay School of Education included Tina Taylor, PhD, associate dean of education, whose topic was "Making Accommodations and Adaptations for Students Who Struggle to Learn in General Education Classrooms." Pam Hallam, PhD, associate professor and chair of the Educational Leadership and Foundations Department, discussed "Making Change Happen in Schools." And Charles Graham, PhD, professor and chair of the Department of Instructional Psychology and Technology, spoke on "Blended and Personalized Learning in K–12 Education in the U.S." 
The McKay School of Education has a long relationship with education in China, with exchanges dating back to 1986. Adjunct professor Peter Chan, from the school's Instructional Psychology and Technology Department, has played a key role in facilitating collaborations with various Chinese groups, including this most recent trip. He noted that President Dong Qi of Beijing Normal University expressed his strong appreciation for the long friendship their university has with BYU. 
While there, the BYU contingent also visited the Clifford School in Guangzhou, where BYU student teachers experience a semester abroad teaching in K–12 classrooms. The group also visited with officials at Peking University—one of the largest and oldest universities in Beijing—where they explored opportunities for collaboration and enjoyed a traditional Chinese meal together.