Read Time: 12 minutes Snapshots of a Deepening Friendship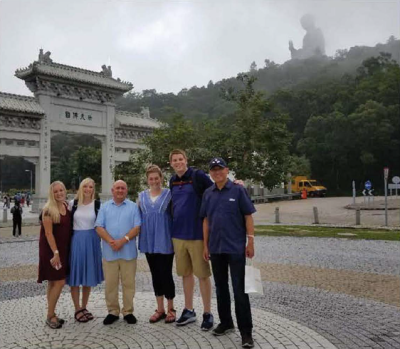 Differences in ideology, armed conflicts, trade wars, and fear have threatened United States­–Sino relationships since at least the beginning of the People's Republic of China in 1949. Diplomatic relationships were not established until 1979 and then made unhurried progress from there. Interactions between the two countries have been increasing, yet cautious.
Slowly the world has been changing. Relationships between the McKay School and the academic community throughout China have been quietly building. For at least 35 years many exchange students and faculty have visited BYU from China, including some from top universities. Some have earned doctoral degrees from McKay School programs and have returned to strong positions in China. The McKay School has established research connections, training conferences, student teaching programs, and administrative intern programs there.
Gradually the Western world, including the McKay School, has come to know China. Collaborative exchanges have facilitated understanding. These connections bless lives and widen the horizons of participating McKay School students and faculty.
Esteemed Early Alumnus
Ruiqing Du was one of the first Chinese citizens to graduate from the McKay School. He came as a visit­ing scholar in 1986, less than 10 years after China had opened to the world and when most still wore Mao jackets and had scarce resources. He returned again to BYU to pursue a PhD in educational leadership and gradu­ated in 1990. He served as president of Xi'an International Studies University from 1998 to 2005. He presided over the school's 50-year anniversary and the planning and early construction of a new campus. He fostered a research relationship with the McKay School that remains strong. The McKay School honored him at Homecoming in 2000.
Student Teachers at Helen Foster Snow School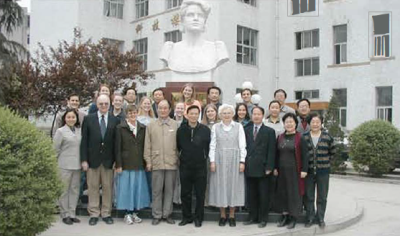 A Utah connection made the Helen Foster Snow School in Xi'an a nat­ural place to start a student teaching program. Utah-born Snow and her husband, Edgar, were journalists who provided American readers with intimate insights into China and the developing Communist party in the 1930s. Up to eight students and supervising faculty participated each semester.
McKay School professor David Boren recalls being a student teacher in 2003: "Living and teaching conditions at the school were fairly primitive,with no air conditioning or heat. It was winter when we arrived, and we taught in winter coats and hats. It was getting hot by the time we left, and the rooms were toasty. We primarily taught English to students from preschool through seniors in high school. We held a daily 'English corner' between classes and taught more about American culture, music, food, dance, schooling, etc.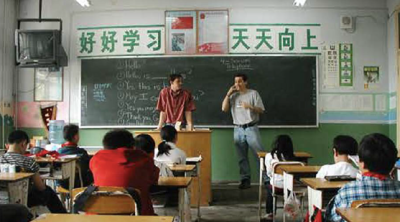 We organized a basketball tournament and a talent show. We did trainings with the teachers on collaboration, group work, and problem-based learning. There was a small branch (we called it a twig) of the Church, made up primarily of BYU student teachers, English teachers from the BYU Kennedy Center, and a few non-Chinese members living in the Xi'an area. We visited Hong Kong and Guilin and did several weekend excursions. We grew very close as a group and really gained a broader perspective about education."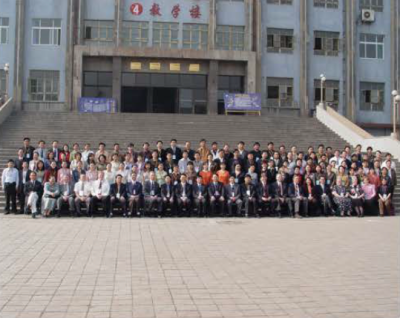 Training Throughout China
In 1998, China native and McKay School instructional psychol­ogy and technology doctoral student Yee Kong Peter Chan, working with Professor Carl Harris, arranged a research and product development agreement between the McKay School and Beijing Normal University (BNU). Chan and peer students created video ethnographies for use throughout China to train teachers in deeper pedagogical issues. Later, the group's action ­research-method videos and conferences became a significant source of teacher-training materials.
Faculty Experts Abroad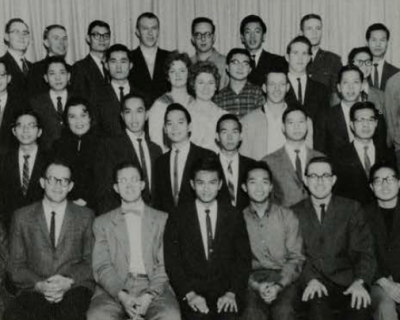 Beginning under the direction of Dean Bob Patterson and continuing with deans Richard Young and Mary Anne Prater, international conferences on teacher education have been sponsored by the McKay School with major universi­ties in China since 2000. Teachers from every province are selected and then train others on methods taught by BYU scholars and others. Assistant dean Al Merkley facilitated McKay School efforts with China from this time until his retirement in 2018.
Many McKay School faculty have presented at confer­ences and collaborated with Chinese colleagues in research­ing and publishing. Professor MacLeans A. Geo-JaJa is recognized as an expert on African development studies in China. He has worked there as a Fulbright Senior Specialist Fellow and Carnegie African Diaspora Fellow. Professor Melissa A. Heath has published six journal articles with fac­ulty at BNU and has also given two presentations at China's first national conference on mental health education.
Clifford Pang and the Clifford International School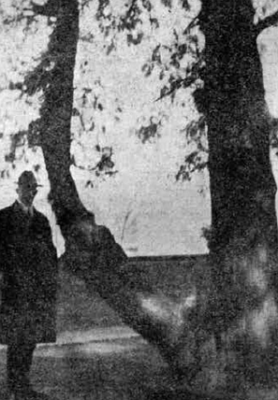 Hong Kong native Clifford Lun Kee Pang began studies at BYU in 1959 and later graduated from Indiana University. He became a real estate entrepreneur, settling in Guangzhou, where he developed the highly regarded Clifford Estates with more than 50,000 housing units. It has its own security force, fire department, transit system, hospital, and other amenities.
A lifelong learner, Pang returned to school in his sixties and earned an MD degree; he then became CEO of his own hos­pital. He is recognized as an honorable citizen of Guangzhou City is a member of the Chinese People's Political Consultative Conference that advises the government on national policies.
Pang has built schools in the community patterned after Western methods of instruction, retaining respect for the principled life of BYU students. He consulted with BYU fac­ulty members as he built his educational philosophy and personally recruited BYU faculty and administrators for his schools, including superintendent and school director Xinyou Zhang, who holds a doctoral degree from the McKay School's Educational Leadership and Foundations Department.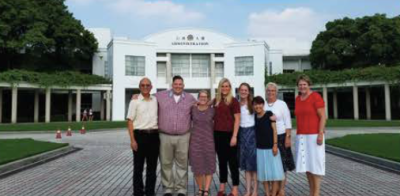 Clifford School, with its own cougar mascot, supports McKay School student teachers and administrative interns. With over 4,500 students from more than 40 nationalities in grades pre–K to 12, this provides a diverse setting in which stu­dents teach content areas in English. Clifford School provides, at no charge, comfortable and secure housing for the students as well as meals for five days of each week.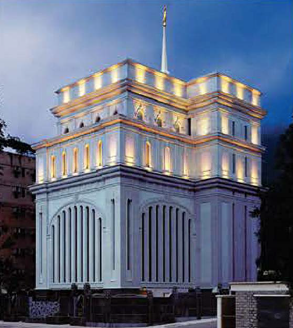 The Church in China
Elders David O. McKay and Hugh J. Cannon visited China as part of a familiariza­tion tour on assignment from the First Presidency. On January 9, 1921, McKay dedi­cated the land for missionary work.
Faculty and students visiting China are careful to comply with relevant laws and regulations. They do not engage in active or passive proselyting among Chinese nation­als. They hold meetings only with other expatriate members and do not disseminate religious materials. Observing these guidelines has helped build a foundation of trust and enables continued meetings as currently allowed.
  Ancestral Links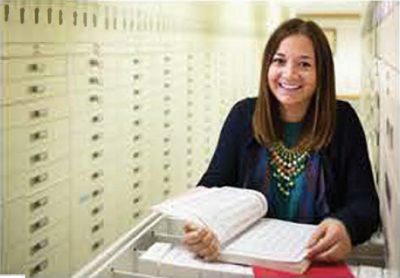 During the summer of 2012, in a rural village surrounded by rice paddies that her ancestors once tended, social studies teaching major Lauren Angarola was literally handed her heritage, thanks to her professor, Yee Kong Peter Chan.
The two were in Guangzhou, China, for the student teaching program at Clifford Schools. Angarola, who is a quarter Chinese, is the only member of The Church of Jesus Christ of Latter-day Saints in her family. None of her relatives in America speak Chinese, so Angarola enlisted Chan to help trace her family history.
Chan tirelessly searched Chinese databases for villages with Angarola's family names and finally found where Angarola's family was from. The very next day, Angarola walked through her ancestral village and met her great­-grandfather's half-siblings. A village leader who knew her family gave her two books outlining her ancestors' history back to A.D. 900. (See Sara D. Smith, "Adventures in Tracking a Name," BYU Magazine, Winter 2013, 19.)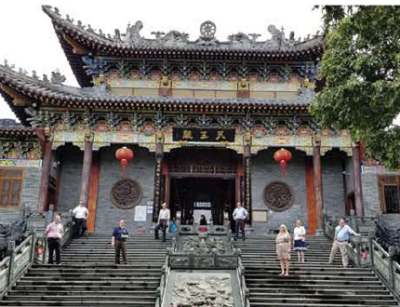 China in Provo
Since 2015, BYU students have organized annual China confer­ences in Provo under the faculty mentorship of Yee Kong Peter Chan. These conferences have hosted Chinese leaders in education, business, health care, government, media, academics, and other areas. These conferences allow students to develop leader­ship skills, network with outstanding Chinese individuals, and learn about issues relating to China. Dean Prater and university administrators have been pleased to initiate these conferences.
School Leadership Internship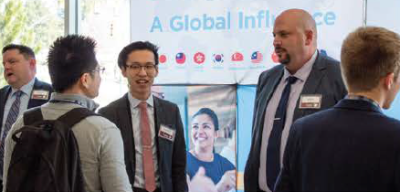 In 2017 the master's degree in educational leadership began offering aspiring school administrators a one-month intern­ship shadowing seasoned administrators in the Clifford International Schools and visiting other schools.
Heather Bali, a 2017 administrative intern, said, "I was impressed by the Chinese teachers' dedication to helping stu­dents. I was also impressed with the diligence of the students."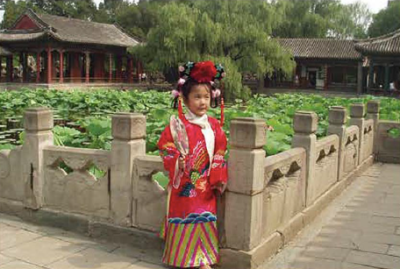 Where will McKay School and China relationships go from here? The McKay School's commitment is continuing. A growing number of McKay alumni have fond memories and professional connections to the "Middle Kingdom." Chinese students and faculty continue to study on our Provo campus and return to their beautiful homeland, taking with them degrees, friendships, and new ways of looking at the world.
Gradually we will come to know each other better. Collaborative exchanges will endure, enabling greater understanding. These connections will continue to bless lives and widen the horizons of all who participate.
Written by Yee Kong Peter Chan and Cynthia Glad