Read Time: 8.5 minutes
In the fall of 2015 the Educator Preparation Program (EPP) at BYU, consisting of all programs that prepare educators across campus, began a significant reorganization. Prior to that time the McKay School had assumed a significant role in gathering and reporting the accreditation and compliance requirements for the EPP. New positions of director and associate director were established to oversee and assist each of the seven colleges that collectively manage 27 majors, 23 minors, and three graduate programs in educator preparation. The new team will ensure that the McKay School and all other teacher preparation programs comply with state and national accreditation standards.
"This is a significant commitment from the university to dedicate two full-time positions and other significant resources to the EPP," said Brent Webb, BYU academic vice president.
Aaron Popham, a McKay School veteran with expertise in accreditation and assessment and a doctorate degree in instructional psychology and technology, was selected as the first director effective August 2015. Terri Summers began as the associate director in January 2016.
"The creation of the EPP gives visibility to the work of the colleges and departments in their preparation of educator candidates and their efforts to comply with various professional standards and regulations," Popham said.
Many things will stay the same, with the McKay School remaining very involved. "The McKay School of Education has traditionally produced about half of all educators at BYU. The new EPP structure does not change the McKay School's significant contributions to all teacher preparation programs on campus. We will continue to work closely with our colleagues in the arts and sciences colleges to ensure BYU prepares excellent educators for our K–12 public schools," said McKay School dean Mary Anne Prater.
Aaron Popham, Director
Image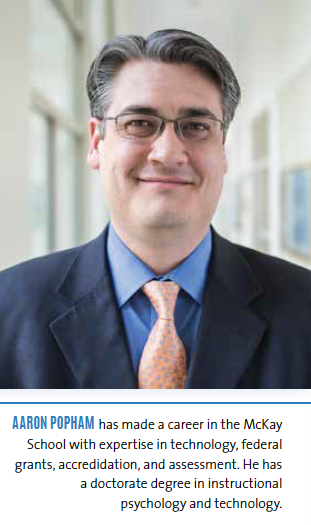 Aaron Popham is uniquely qualified to be the first director of the EPP. His education and experience in the McKay School aligned almost perfectly with what the position required.
While earning his bachelor's degree in exercise science, Popham became the research assistant for a professor in the Department of Teacher Education and found himself drawn to the field of education.
After graduating, Popham worked for a year in the McKay School dean's office as an administrative assistant. He then became a technology specialist on two federally funded grants, spending three years helping faculty become comfortable using technology.
Because of his experience working with externally funded grants, Popham became the grants and research coordinator for the McKay School. He worked with the faculty and the BYU–Public School Partnership to prepare and submit state and federal grant proposals, then monitored compliance.
As part of grant preparation, Popham learned about protection for human subjects used in research. He received national and international certification as an Institutional Review Board specialist. This gave him the opportunity to manage a college-based IRB in the McKay School, which was unique on campus at the time.
Because of his background in compliance, Popham also became involved with the process of accreditation. At this time he was asked to manage students maintaining a computer program called LiveText, which was the data and information system that allowed education administrators and students to track progress through educator preparation programs. This was also the tool used to collect the assessment data needed for accreditation. This assignment evolved, and Popham became the McKay School accreditation and assessment director.
Alongside his career, Popham has continued his education. In December of 2014 he earned a master's degree in instructional psychology and technology. In August of 2015 he graduated with a doctorate in the same field. These degrees, combined with his accreditation and assessment experience, made him the most qualified applicant and the natural choice for the director's position.
Popham has been a member of the Utah Teacher Education Accreditation and Assessment Council for six years. He is involved in the American Association of Colleges for Teacher Education and participates in several research projects. He is a lead site visitor for the Council for the Accreditation of Educator Preparation, which is the accrediting body for the entire EPP. He has visited colleges all over the nation as part of this responsibility.
Popham is originally from South Carolina. He and his wife, Robyn, have five children. He enjoys football, hiking, backpacking, camping, and being with his family.
Terri Summers, Associate Director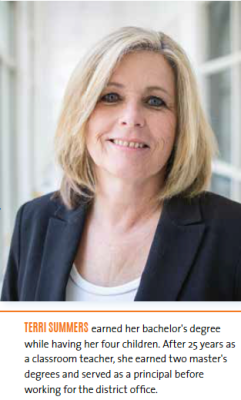 Terri Summers, newly appointed associate director of the EPP, worked on her education part-time after serving a mission and getting married. She had four children while in school and graduated from BYU in 1990 with a bachelor's degree in elementary education and early childhood education. She also received an English-as-a-second-language endorsement from BYU.
Summers worked for the Jordan School District for 25 years. During her time as a classroom teacher, she taught kindergarten through sixth grade.
In 2001 she finished a master's degree in teaching and learning from the University of Utah. In 2004 she earned another master's degree, this time in educational leadership from BYU. She also earned National Board Certification in 2005.
After earning her administrative degrees, Summers was hired as the assistant principal of Southland Elementary in Riverton, Utah, and almost immediately became the principal. After serving for seven years there, she opened the new Fox Hollow Elementary School in West Jordan, Utah, and spent a year there as its principal.
Summers was then hired in the district office's curriculum department, where she served as the staff assistant to the director for three years. In that position she helped develop the evaluation system and student learning objectives for both elementary and secondary schools in the district while continuing to work with secondary teachers and the district mentoring program. One responsibility was ensuring that the new teachers coming into the Jordan School District had the support they needed to be successful during their three years of provisional licensure.
As she had been with the Jordan School District for a long time and in many different roles, she began looking to broaden her horizons and applied for her current position. Her experiences with state law and the operations of the state office of education, as well as her connections with many national education professionals, made her well suited for the associate director post. Her skills and experience work-ing with student learning objectives, compliance issues, and evaluation are ideal for the job.
Summers works with the BYU–Public School Partnership school districts as a facilitator in the Associates program. She is also a member of the American Association of Colleges for Teacher Education and the Association for Supervision and Curriculum Development.
Summers loves to travel with her husband, Gordon, and family. She enjoys quilting and crocheting. She also loves reading, hiking, four-wheeling, and participating in other outdoor activities.
Image