Read Time: 27 minutes
The issues and questions surrounding racism have echoed in classrooms across this country as students have returned to school this fall. Brigham Young University has formally begun a process of better understanding the hurtful impacts of racism, privilege, and bias on campus, and recommendations are being made to address those harms. The same process is happening at the McKay School. Here is some of what we know and some of what we are working on to make positive change.
"Brothers and sisters, please listen carefully to what I am about to say. God does not love one race more than another. His doctrine on this matter is clear. He invites all to come unto Him, "black and white, bond and free, male and female" [2 Nephi 26:33]. I assure you that your standing before God is not determined by the color of your skin. . . . I grieve that our Black brothers and sisters the world over are enduring the pains of racism and prejudice. Today I call upon our members everywhere to lead out in abandoning attitudes and actions of prejudice. I plead with you to promote respect for all of God's children." —President Russell M. Nelson, "Let God Prevail," Ensign, November 2020
"How is This Equity?"
BYU Graduate and Researcher Shares Challenges That Children of Color May Face at School
"Agency is the ability and privilege God gives us to choose and to act for ourselves. Agency is essential in the plan of salvation. Without agency, we would not be able to learn or progress or follow the Savior" —Gospel Topics, S.V. "Agency and Accountability," Church of Jesus Christ, churchofjesuschrist.org
 
To people of faith, agency is so fundamental a principle that it is taken for granted. "We often talk about [agency] as something that just exists," said Jennifer Adair, associate professor of education at the University of Texas, who delivered the McKay School's 2020 Cluff Lecture this past spring. "Agency, or at least the enactment of our agency, has as much to do with power as it does our own choices and accountability. . . . Racism, to me, is one of the great evils that prevents white people from progressing," Adair said. "White people are largely responsible for the perpetuation and horror that racism brings, and we are responsible for stopping it."
Adair, a 1999 BYU anthropology graduate, has spent years studying hundreds of school classrooms in several states. Her work has been influenced by economist Amartya Sen, who argued that people's freedom to use their agency and their ability to live meaningful lives should be considered as important as national income in measuring a country's development.
Adair wanted to test this idea in schools. She knew she could find classrooms brimming with choices—classrooms in which students were allowed to hold discussions, move around the room, and help direct their own learning. She also knew she could find classes full of students of color and/or immigrants.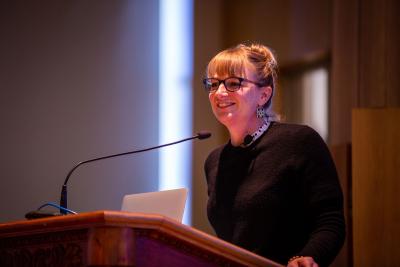 The trick? Finding a classroom that contained both. Most of the dynamic, engaging classrooms Adair observed in California, Arizona, and Texas were made up of "predominantly white and middle- or upper-class kids." But in most classes of immigrant children and students of color, the children were "walking in strict, rigid lines, hands behind their backs, 'bubbles' in their mouths, and sitting down for 30 minutes. . . . There is so much control in those spaces. And I thought to myself, and have been thinking ever since, how is this equity?"
Adair and her team finally found a class in which first graders of color were also allowed to fully express their agency. And what a classroom it was: students talked and sang while they worked, initiated inquiries, experimented, and worked through conflict. They were eager and engaged. And they did this without direct intervention from their teacher.
Adair and her team spent a year observing the class, ultimately producing a 20-minute "day-in-the-life" film. They then showed the film to parents, faculty, and first graders at other demographically similar schools.
"We thought, naively, that when people watched the film, they would respond with, 'Oh, this is so amazing! I wish we could do that at our school,'" Adair said. "That is not what happened. And what happened was relatively shocking to us."
Teachers who viewed the film liked the children's ability to solve problems on their own. Parents admired the students' kindheartedness. Then there were the reactions of the children in those racially diverse first-grade classrooms: "One hundred kids in many cities, different regions, different schools, and different class-rooms all had the same exact reaction to this scene, and their reaction was that those kids were very bad," Adair reported.
Children thought the filmed students were misbehaving, Adair said. "They reacted with, 'No, sit down! . . . The teachers tell us what book to take out! They are not following the rules! He needs to sit down!' Over and over they would say these little phrases that you know they did not make up on their own."
It did not make sense, Adair thought. Why would adults express admiration for the class while children were horrified? She followed up, exploring the roots of the students' reactions. Those were revealed in chats with children such as the one Adair calls Diego: he told her that students in his class could not teach and help one another "because our teacher gets mad."
This type of response was "so dominant," Adair said, that she and her fellow researchers decided to go back to the children's teachers.
"We found something we had missed the first time through, analytically," she said. "It turns out that what [the educators] said was, 'We like the practices in the film, but they will not work in our school. They will not work for our kids.'"
To explain this, the teachers said "relatively negative" things about their own school communities: that students did not have the "right vocabulary" or that their families were lacking.
"The craziest part is that they made positive assumptions about the families in the film that they watched for 20 minutes," Adair said. "They never met the parents. They assumed by what the kids were doing that they must have amazing families that were super educated."
The bottom line, Adair said, was that teachers in many school systems she studied behaved as if they did not see agency as a basic right of certain students but as something they must earn.
"Agency is something that if they get certain training or they prove that they are ready, they will be able to use it," Adair said. "But . . . that never really turns out to be true. You are in a constant cycle of proving you are worthy of being able to use your agency and your learning, but you almost never get there if you do not start out that way."
This is a function, Adair said, of what philosopher Charles Mills calls the personhood-subpersonhood line: an impenetrable societal barrier between persons, who are assumed to have full rights and privileges, and subpersons, who are forced to prove they deserve those same rights and privileges. The most pernicious aspect of this division, she said, is that powerful members of a society continually "move the line" to ensure that power stays concentrated with one group.
"Those children [in this study] are super compliant, and yet they still do not get to use their agency," she said. "And because of that, in this early developmental stage, they think being a learner means being quiet. . . . It means not sharing your ideas, not asking questions, not being a leader, and not having different ideas than the adult in the room. Learning is something that is completely passive. And somehow all of these kids having these different learning experiences in these early grades are supposed to compete with each other."
If this pattern continues throughout children's school years, Adair warned, students will grow up with vastly different experiences than those of their peers who are able to express their agency at school. They will see education as controlling, even punitive, rather than as an opportunity to fulfill their full potential in life.
Adair said that when she saw the personhood-subpersonhood line in schools, she felt angry. She had to work through that and find a way to approach the subject lovingly.
"It seems weird in a research talk to talk about love, but maybe not here [at BYU]," she said. "I had to change my attitude about the teachers and educators I was trying to understand, and I had to build love for them instead of [anger]. When those two things shifted, every-thing opened up to me."
Adair feels that achieving equity is "relatively simple" for individual teachers and larger school systems: recognizing agency's importance and supporting the fact that all students, not just privileged ones, have the right to exercise agency at school.
"What does removing the personhood-subpersonhood line look like?" she said. "It looks a lot like this: Do people around us get to . . . share what they really think? Do they get to ask questions? Do they get to be their whole, full selves? Do they get to choose what they are working on? Do they get to choose what they are learning about, how they learn about it, and how they present that information?
"And, really, it comes down to this: Are people in our spheres and in our influence able to expand their capabilities?"
Writer: Stacey Kratz
Free Resource Aims to Help Teachers Build Equity in Classroom
Many teachers want to make their classrooms more nurturing to students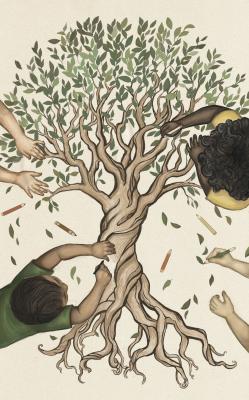 of color, and a team of McKay School faculty and students want to help. 
The McKay team is creating a research-based open educational resource (OER): Making Meaning: Fostering Equitable Learning for All in My Elementary Classroom, at edtechbooks.org/equitable_teaching.
"Culturally responsive training for teachers is sometimes vague and difficult to measure, which makes it hard for educators to improve," said IP&T graduate student Brenton Jackson in a video introducing the project ("Making Meaning" in the Classroom: Developing an Open Ed Resource for Equitable Teaching, 18 June 2020, youtu.be/pdDo2OeGUAo). "Making Meaning . . . breaks up equitable teaching into a series of practices that are defined and measurable."
The free online guidebook will consist of nine chapters, or dimensions, gathered into three domains: Life Applications, Self in Group, and Agency. Based on the Classroom Assessment of Sociocultural Interactions (CASI), it is a self-assessment rubric developed by a team including Bryant Jensen, associate professor of teacher education at the McKay School. CASI is being adapted into the Making Meaning guidebook by a team of graduate students led by Jensen and IP&T assistant professor Royce Kimmons.
In each chapter of Making Meaning—two chapters plus an introduction are available now, with another set to come online by December—users encounter a central practice (say, language use), see the benefits of building equity into that practice, and find example practices to try themselves. The team is recruiting teachers, particularly those in Title I schools, to help create and update the guidebook.
"Culture is more than just holidays and recipes," Jackson said in the video introduction. "Culture is a central part of each of our identities—part of the invisible backpack that students and teachers carry to school each day. We believe that equitable teaching practices help to bridge the culture gap and remove barriers to learning for all students. And we hope this resource will help to make those practices a little more accessible as teachers invest in a more equitable future."
"Public schools exist to provide access to education for all, which  includes both academic mastery and personal development for the purpose of maximizing students' potential to participate fully and productively in society. . . . The Partnership develops educators who are committed to and actively provide equitable access to academic knowledge and achievement." —From the Vision and Commitment Statement of the BYU–Public School Partnership
Professor Aims to Defeat Prejudice with Practice
Bryant Jensen's Work Focuses on Practical Solutions to Classroom Inequities
Researchers around the world have been wrestling for years with issues of race in classrooms, Bryant Jensen among them.
But for Jensen, it is not enough to understand the problems. He wants to provide solutions.
"The field in general in equitable education has not grappled enough with the implementation challenge," said Jensen, an associate professor of teacher education in the McKay School. "It tends to position teachers as somehow barriers to implementation when they are not."
Jensen said his career has had two major areas of emphasis: (1) "What is equitable teach-ing and learning and what does that look like in different contexts?" and (2) providing better supports for teachers and schools as they seek to build more equitable classrooms.
"A lot of people have written about what culturally responsive, equitable, culturally sustaining pedagogies look like, but what schools have not engaged in as much is the challenge of sustaining the implementation of those practices," Jensen said. "It is not a 'won't do' problem; it is a 'can't do' problem. Teachers need support and resources and evidence and guides to help them sustain implementation of equitable practices."
The challenge is easy to spot. According to a 2017 U.S. Department of Education report, 77 percent of teachers are women—almost 90 percent for primary school and just under 66 percent for secondary school—and 80 percent are white.
"Like lots of things in life, more of teaching is 'caught' than 'taught,'" Jensen said. "Our institutions were designed using privileged white, upper-middle-class ways of talking and thinking and socializing. We teach inequitably not because we are bigoted people but because we are cultural people, inevitably. We are part of the culture."
Most credentialed teaching programs, such as BYU's, require that students "engage in diversity" in their coursework, he added. But this cannot fully equip students to teach equitably—that is something that may need to be "caught" on the job, with novice teachers seeing examples of equity, applying them in their own classrooms, and passing on their knowledge in turn.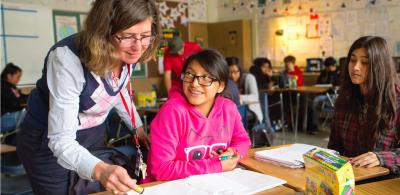 "There are so many pressures on teachers right from the start," Jensen said. "The things I try to offer are more like in-service and ongoing support. The most meaningful professional teacher learning experiences happen on an ongoing basis in regular settings in which teachers can plan with their colleagues for ongoing practice."
With colleagues across the nation, Jensen has developed several rubrics to help identify different aspects of equitable teaching, explain their importance, and provide concrete examples of best practices. These rubrics, he said, allow collaboration, idea sharing, and peer-to-peer learning among teachers. Teachers can see what works for colleagues
and choose which dimension of equitable teaching to
work on first.
One rubric is the Classroom Assessment of Sociocultural Interactions (CASI), an observation system that helps pre-K and elementary teachers measure the cultural aspects of interactions with students. CASI is broken into nine dimensions of student-teacher interaction—language use, peer collaboration, equitable expectations, and the like—so that teachers can target specific practices.
"Teachers should get to decide," Jensen said. "The professional learning required to implement equitable practices requires agency in teaching."
"As citizens and as members of The Church of Jesus Christ of Latter-day Saints, we must do better to help root out racism. . . . One reason the recent protests in the United States were shocking to so many was that the hostilities and illegalities felt among different ethnicities in other nations should not be felt in the United States. This country should be better in eliminating racism not only against Black Americans, who were most visible in the recent protests, but also against Latinos, Asians, and other groups. This nation's history of racism is not a happy one, and we must do better." —President Dallin H. Oaks, "Love Your Enemies," Ensign, November 2020
Jensen sees great promise in the idea of schools building communities of expertise in equitable learn-ing and empowering teachers to implement those experts' best practices.
"The communal features of the CASI . . . are conversations with students that are much more dialogic. 
Students can share from their own lives and can ask unsolicited questions. They are positioned as authorities and are allowed to lead a discussion," he said. "Teachers should be able to do those same things! . . . They should be able to offer their insights and should be bona fide discursive partners. If teachers experience that with colleagues, they are much more likely to be able to sustain that with their students."
Implementing best practices for equitable classrooms is important work, but that is only part of Jensen's focus. He also is working on merging CASI and other rubrics with best practices in subjects like reading comprehension and STEM instruction. A curriculum in, say, science could be built equitably, with "culturally meaningful, socially just" practices an inherent part of the approach. This effort also helps Jensen open up more ways to "support teachers in implementing and learning those practices over time."
"In most schools they are not organized to have those opportunities. It is not just on teachers; it is on systems," he said. "This is all about building capacity, and that is hard work. And it is something that takes time."
Teachers must be a part of this process, he said, and "acknowledging that [inequities exist in education] does not mean teachers are not bona fide change agents. They have certain degrees of freedom, and those are expanded when institutions are expanded to support teacher learning.
"And I do not mean bringing in the expert and having a one-day workshop. I mean embedded teacher development in which teachers are studying their practice together in grade-level and subject-area teams."
Jensen is currently working with colleagues on an adaptation of CASI that includes socially just practices aimed at providing a more nurturing classroom experience for Black students—particularly Black boys. He also has worked with UCLA researchers on integrating equitable classroom practices and effective science instruction into one rubric. He said, "This work splinters and takes on other paths. It is wonderful!"
On a more personal level, Jensen has reached out to his fellow Church of Jesus Christ members on topics relating to race through essays and articles published in the Ensign, LDS Living magazine, and Deseret News.
"Once in a while I will feel a spiritual nudge to write for the Church of Jesus Christ community," he said. "I try to do so in a way that is consistent with Christ's gospel and to do so in a way that is reflective of Christ's love.
"We need to be anxiously engaged in this effort. We need to better understand the complementarities and synergies between gospel principles and the challenge and opportunity of eradicating racism."
Writer: Stacey Kratz
Ethnic Identity in Curriculum
A Path to Wholeness.
Ethnic identity and physical activity may seem unrelated, but to physical education teacher education (PETE) graduate student Nathan Kahaiali'i, they contribute to the same goal: helping adolescents become confident, healthy adults.
This work represents the culmination of Kahaiali'i's journey toward embracing his own ethnic identity. As a child in a mostly Latino neighborhood in Arizona, Kahaiali'i assumed he was also Latino. When his family moved to Hawaii when he was six years old, he began to get acquainted with his own heritage.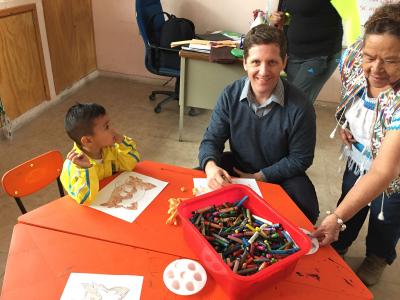 The transition was not easy. Kahaiali'i said, "Uncles and aunties I had no memory of meeting before were giving me hugs and kisses, or honi honi—which made me feel extremely uncomfortable, not knowing that this was the common cus-tom of Hawaiian culture. My culture."
"[In Hawaiian], hapa means half—in other words, not complete. And I definitely did not feel complete during my adolescence and into my young adult life." 
As an undergraduate at BYU–Hawaii, Kahaiali'i took a Hawaiian studies class, gaining appreciation for his culture and for himself as a "real" Hawaiian. Later, as he pursued a master's degree at BYU in physical education teacher education, he incorporated ethnic identity into his research.
Kahaiali'i studied more than 300 Hawaiian adolescents of various ethnicities. The teens wore pedometers to track their physical activity and responded to surveys with statements such as "I have often done things that will help me understand my ethnic background better."
The study determined that students who embraced their ethnic identities were more positively motivated toward physical activity. Hawaiian teens in the study reported low participation in Hawaiian activities such as hula or surfing.
If physical education teachers incorporated these activities, Kahaiali'i concluded, students might feel more desire to be active and also connect to their heritage—something Kahaiali'i missed during his own adolescence.
Writer: Jenny Mehner
Illustrator: Melissa Tshikamba