Read Time: 2.5 minutes
Image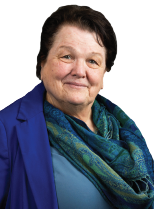 Stefinee Pinnegar, associate professor of teacher education, recently received BYU's annual Creative Works Award, which honors faculty or staff who have demonstrated outstanding achievement in nationally or internationally impactful creative works. Pinnegar received the award for more than twenty years of work developing a video-anchored training course that prepares teachers to work with second-language learners.
The project began in the early 1990s, when the McKay School's five partnership school districts (Alpine, Nebo, Wasatch County, Provo City, and Jordan) asked for courses to train teachers on working with bilingual learners. Early work on the courses was done by McKay School faculty member Winn Egan, now retired; Annela Teemant, now a faculty member at Indiana University–Purdue University Indianapolis; and Bob Patterson, a former McKay School dean.
The team worked jointly with the BYU School of Family Life and with the BYU Linguistics Department's Teaching English to Students of Other Languages (TESOL) program to build on existing TESOL content.
In 1996, Pinnegar joined the team, and her background in research about the ways teachers think soon made the training of teacher mindsets a core part of the curriculum. "There are two parts to teaching second-language learners," said Pinnegar. "First, the sheer amount of content you have to teach them; second, the teacher's practice has to adjust—it has to change drastically."
In 2000 the team received 15 years of funding to train teachers in the McKay School's five partnership school districts. By 2010, 4,000 teachers had completed the courses.
With help from Pinnegar and Patricia Draper, the Teaching English Language Learners (TELL) program practicum manager, the program is moving 100 percent online and being offered to English-speaking teachers throughout the world. The courses, now condensed from 10 to eight weeks, can be found on the McKay School web-site as the TELL program.