Read Time: 15 minutes
Today's Teacher Shortage and the Supply of Future Educators
Is this teacher shortage different? As BYU education administrators and alumni work to handle the shortage, some are concerned that it may be deeper and more serious than past educator deficits.
Administrators cut programs, increase class sizes, and coach non-credentialed teachers. They sacrifice program improvements, professional development, classroom supplies, and even retirement dollars, all while trying to attain the main goal: student learning.
And through it all there is a looming concern that this teacher scarcity is more serious than past shortages and that something more needs to be done. But with such a multifaceted problem, can there ever be enough solutions?
"The teacher shortage affects everyone in education—students, parents, site administrators, collaborating teachers, district administrators, and support personnel—absolutely everyone!" said Karen Strong (BS '96, MEd '05), director of teaching and learning in California's Napa Valley Unified School District. "Every time a teacher leaves the profession or when a position is not filled due to the shortage, there is a domino effect across our entire system."
Nationwide the supply of teachers is low and expected to remain so, as shown in figure 1. But demand is projected to increase over the next decade, creating an ever-widening shortfall, according to data collected by the U.S. Department of Education.
Image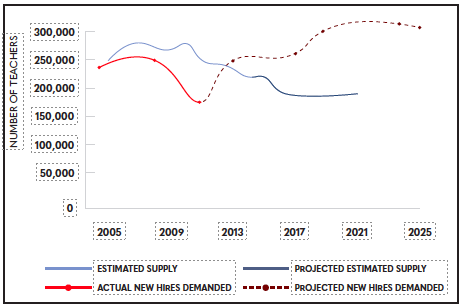 The Situation in Utah
The universities in Utah have experienced declining enrollment in educator programs, as shown in figure 2 (below).
At BYU some of the decline coincided with decreased enrollment caused by the LDS missionary age change, so it was difficult to determine the true trend for a time. But now the rest of the university has returned to normal enrollment, and education programs have not kept up.
Image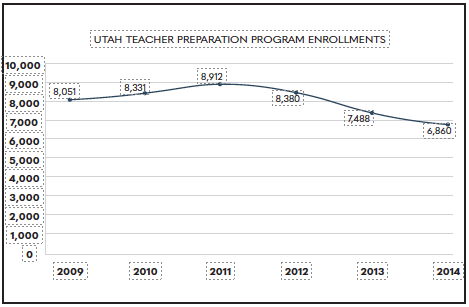 "Fewer university students are choosing education as their career," said McKay School dean Mary Anne Prater. "The number of applicants for the teacher preparation programs at BYU is down by about one-third. This is not just a BYU issue but a state and national trend."
McKay School administrators have been monitoring teacher demand nationwide, especially in the five school districts within the BYU–Public School Partnership, where most students gain experience through student teaching or internships. All are near BYU—Alpine, Jordan, Nebo, Provo City, and Wasatch County School Districts.
"My observation is that the districts involved in the Partnership tend to be more successful at finding higher numbers of candidates and higher-quality candidates to fill our teaching positions than many of our peer districts across the country," said Rick Nielsen (BS '90, MEd '95), Nebo School District superintendent and chair of the Partnership's governing board. "But everybody is struggling to find math and science teachers, speech-and-language pathologists, psychologists, and special education teachers. As beneficial as the Partnership is, we still struggle in those areas. BYU and Utah Valley University are simply not producing enough teacher education candidates in those areas."
Even within these five districts, the effects of the shortage vary. Wasatch County School District has been fortunate enough to fill all positions so far but has noticed that both the number and experience level of applicants have been drastically reduced. Math and science teachers have been the hardest to find.
Only a few miles away, in the Alpine School District, the story is different. For the first time the district is offering interns a stipend on top of the yearlong contract. Some school counselors work under the direction of a school psychologist while completing their degrees, and some teachers are in the Alternative Route to Licensure program.
Provo City and Jordan districts also offer some signing bonuses in critical areas. Jordan encourages promising students and funds scholarships for graduates who pursue education degrees.
Alumni and the Shortage Across the Country
For a fresh graduate with one of those in-demand teaching licenses, there are some good things. Signing bonuses? Yes! Career adventures await in Alaska, Hawaii, and other exotic places. Need a flexible schedule? You might be able to find just what you are looking for.
Teacher fairs are busy places. Recruiters come from across the country to hire for their home districts, and McKay School students are interested—26.2 percent of June and August graduates accepted jobs outside of Utah.
Jacqui Abbott ('13) is happy with her situation. She is teaching part-time, but only because her school got creative. She had been teaching history at Union Middle School in Sandy, Utah, but she was thinking about quitting to stay at home with her baby. Abbott had earned a reading endorsement, so she switched to teaching reading, and her schedule was arranged so she could come in every other day. "My principal created the perfect schedule for me to balance working part-time and spending more time at home," she said. "If there was not a lack of teachers, the administration might not have been so accommodating to keep me in the classroom, especially since it was only part-time."
California, where more than 4,000 McKay School alumni reside, has experienced a more than 70 percent drop in enrollment in educator preparation programs over the past 10 years, according to the Learning Policy Institute. As of 2016, the state's schools have not been producing enough graduates to meet the estimated need.
"In Napa Valley, it has led to more non-credentialed teachers in our classes, meaning that more new teachers are enter-ing the classroom with very little to no student teaching experience," said Karen Strong. "They have little more than a bachelor's degree and a love of kids. While these are two critical prerequisites, they are often not enough to sustain new teachers through the challenges of managing, directing, and encouraging the learning of 30-plus students in one classroom at the same time!"
Jacqui Abbott sees the effects of inexperienced educators firsthand. "The hiring of unskilled teachers hurts the students," she said. "I hear them complain about these teachers often. There are more management and behavior conflicts within those classrooms, which often affect other classes. I have seen this as kids come agitated into my class because of a situation in the previous classroom."
Karen Strong also worries about the impact on curricula. "The teacher shortage has hindered the full development of some programs and opportunities for students. For example, many students and families would like even more access to dual-immersion programs, but there is a severe shortage of teachers who are fluent and credentialed in both Spanish and English to provide instruction. We have recruited as far away as Mexico and Spain and have several teachers working on special visas who are teaching in our classrooms so that we can continue to provide this dual-immersion experience for our students."
So far in Jo Fudge's ('82) Chalker Elementary School in Kennesaw, Georgia, school administrators have been able to fill the vacancies. "Our classes are larger," she said, "but it is hard to know if that is because there are fewer teachers to hire or if it is because of budget cuts due to the recession ending in 2009. I have 25 kindergartners with a full-time paraprofessional."
Image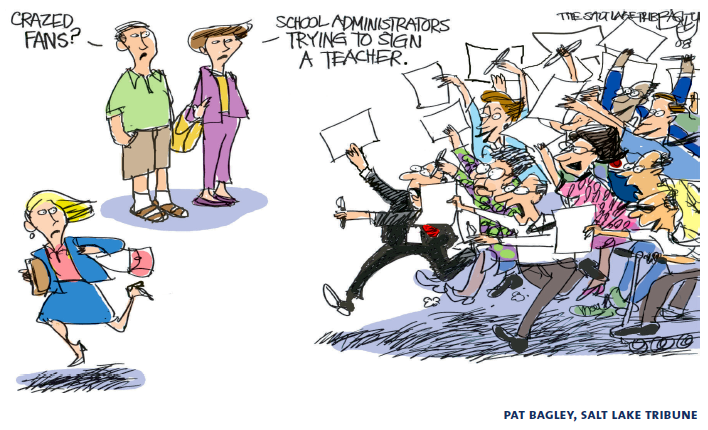 Concerns About the Complexity
"I believe these decreases are occurring because of the generally low salaries and high stresses of the job," Prater said. "Another contributing factor is that the general public has over time devalued education as a profession. Many politicians and community members believe teaching is an easy job. They have no idea of how difficult it is and how important it is to have a qualified professional in the classroom."
Alumni agree that the answers aren't easy. "This shortage is different because of the recession that preceded it, the years of teacher layoffs, and the slashing of district budgets across the state. In addition, teachers are expected now, more than ever, to do more with less," Karen Strong said.
Jo Fudge feels like she is just holding on for the six more years until her retirement in the Georgia system. "This short-age seems to be caused by discouragement, disillusionment, or even despair," she said. "Who wants to be a teacher these days? Not even the teachers! The mandates and regulations have been multiplying with great rapidity. Keeping up with them takes away from the more important task of helping our young learners. I am glad to hear that there are still young people will-ing to head off into education."
Image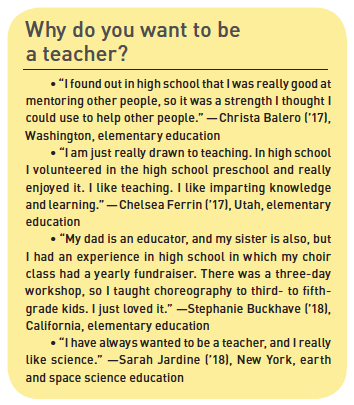 Image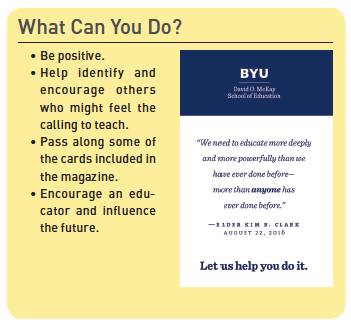 Strategies for Recruiting
The McKay School works with the other colleges of education across Utah through the Utah Council of Education Deans. Together they tackle common educational issues, including the shortage. They coordinate joint advertising, promotional activities, and other efforts to improve the situation.
Dean Prater explained the school's efforts. "The McKay School has initiated a recruitment committee charged with identifying and implementing ways to recruit students into the profession," she said. "We have focused primarily on enter-ing students at BYU, since they have already met the qualifications to be a student here."
School districts are getting creative with their recruitment strategies. Derek Jack, an associate director of BYU Career Services who handles McKay School career advancement, and Brandan Beerli, interim manager of the McKay School's Education Student Services, learned that 76 percent of the recruiters coming to BYU fairs have made changes to their recruiting methods by
recruiting teachers outside the state their school resides in, including internationally (22 percent).
hiring teachers who have obtained a degree through alternative routes to licensure (15 percent).
engaging in online outreach (15 percent).
increasing pay (10 percent).
lowering their standards (6 percent).
starting earlier in the year to recruit (6 percent).
Hope for the Future
Derek Jack, who also serves as president of the American Association for Employment in Education, is concerned that the solution to the crisis is complex. He said, "The issues surrounding the shortage won't become resolved until school systems, state and federal entities, and universities across the nation utilize their resources to address the issues that have contributed to the shortage and put into action the solutions needed to improve the teacher education landscape."
Prater feels that BYU will be able to sustain a strong group of young educators. "Given the value the Church places on education and teaching, we are hopeful that we can encourage more students to choose education as their career," she said.
Walking through the halls of the McKay School helps one understand Prater's optimism. There are many strong McKay School students who are excited about their selected fields.
"I love kids," said early childhood education student Carlee Horan ('18). She credits her choice to a career exploration class. "I thought I wanted to be in education, but I wasn't sure until I took that class and saw all my other options and realized that this is what would make me the happiest and would be the most fulfilling for me."
Students like Horan offer hope for the future of education. They remind us that there will always be good people who feel called to the education profession.
Image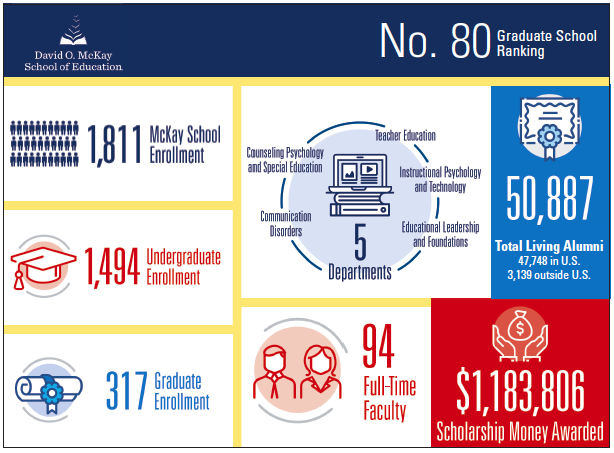 Written by Cynthia Glad
Illustrated by Wendy Heim