Bango Gancinia is graduating with his PhD in counseling psychology from the McKay School of Education this year. In some ways, it's a long way from Honoka'a, the sugar cane plantation town where Gancinia grew up on the Big Island of  Hawai'i, but in others, he's right at home wherever he is due to his deep connections to Hawaiian culture and focus on healing through cultural traditions. His Filipino grandmother was a traditional healer, as were some of his Hawaiian ancestors, and their practices guide Gancinia's work in counseling.
Gancinia has been completing his doctoral internship at the University of Oregon Counseling Services, using a therapeutic approach that respects Western practices while incorporating humor, spiritual elements, and cultural traditions of Pacific Islanders. In his research, he has found that young Pacific Islanders responded positively to humor in their counseling—a hopeful finding given that Polynesian males show high levels of depression and anxiety as well as a stigma against seeking help.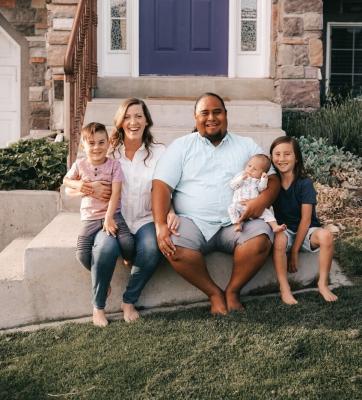 "A part of my dream is to inspire young people to be proud of their culture and heritage and know they can bring pieces of themselves into their work," Gancinia says, "Heavenly Father gave us culture. Heavenly Father gave us our heritage. When we don't have diverse representation in our education and training, we fail to believe that we can integrate them."  
This dream drove Gancinia's decision to come to BYU. He has worked with Professor Kawika Allen, whose pioneering work with Polynesian people attracted Gancinia to the McKay School. Allen sealed the deal when he welcomed Gancinia's wife, Kristine, and their young child into his office rather than expecting to speak with Gancinia alone. "He said, 'I want all of you to come in!' Right when he said that the Spirit told me this is where I needed to be. In that moment I knew that my culture and views would be respected."
Gancinia's belief in the gospel of The Church of Jesus Christ of Latter-day Saints and his Hawaiian culture are inseparably intertwined. For example, he notes that the Hawaiian term wai ola, or "living water," is another name for Jesus Christ. "To be piko (connected) with Heavenly Father and our kūpuna (our ancestors) is what heals us." 
As he finishes his studies, Gancinia is letting his three sons help decide, through thought and prayer, where he will work as a reward for the years they've been "dragged around" to grad schools. His dream is to one day run therapy practices in underserved Hawaiian areas that are centered around healing and uplifting communities, with classes in hula dance, lua martial arts, lomi lomi traditional massage, la'au lapa'au herbal medicine, and ho'oponopono conflict resolution, plus opportunities to work the land—along with best practices in counseling care. 
"The world says the degree I'm earning is mine; but in my culture, this degree belongs to my people," Gancinia says of his PhD. "My community has gifted me this. It's an honor."
Writer: Savannah Nichols
Contact: Cynthia Glad