An Amazing Student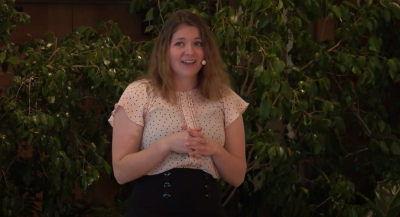 Semiannually, Brigham Young University's major donors gather at the Hinckley Center for the President's Leadership Council, where they hear from President Worthen, learn about campus initiatives, and enjoy presentations from student scholarship recipients. One of the student presenters at the last October meeting was the McKay School's very own Jamie Schroeder, an elementary education major. Watch her presentation (8 minutes).  
Jamie discussed her research (led by teacher education faculty member Brandon McMillan), shared her personal experience as a convert to the Church, and told the story of her unlikely journey to BYU. Her presentation, "The New Way of Math Teaching," was thought-provoking, personal, and insightful.  
Jamie exhibits the best of the McKay School: In addition to being focused and well-prepared, she exemplifies the characteristics of a true disciple and is taking full advantage of her years at BYU. Plus, she's a "cheese head" from Wisconsin—a solid Midwesterner, as my wife, who is also from Wisconsin, would say!  
It was all Dean Rich Osguthorpe and I could do not to stand up and cheer when Jamie had finished. As we spoke with McKay School donors in attendance following her presentation, we found them to be quite touched and thankful; these conversations reminded us that while our students certainly benefit from generous donations, our donors also benefit from the work that the McKay School produces and the interactions they are able to have with exemplary students such as Jamie. 
This relationship among students, faculty, and donors is something we pay close attention to at the McKay School and at BYU. Such relationship building helps further the mission of BYU by preparing students to "go forth to serve," which can lay the foundation for a beloved community on the BYU campus and beyond. 
Michael Leonard