Read Time: 2 minutes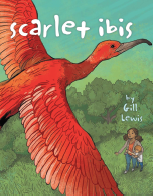 McKay School dean Mary Anne Prater presented the 2020 Dolly Gray Children's Literature Award on January 22, 2020, to Gill Lewis, author of the book Scarlet Ibis. The Dolly Gray Award, given biennially since 2000, recognizes authors, illustrators, and publishers who contribute books that authentically portray individuals with developmental disabilities. To create the award, Prater and associate dean Tina Taylor coordinated with Sharon Cramer, a professor at Buffalo State University as well as with the Division on Autism and Developmental Disabilities (DADD) of the Council for Exceptional Children (CEC).
"Our goal was to show the positive but authentic and realistic portrayals of these kids inter-acting with other kids—not just with those who have a similar disability," said Taylor.
The book Scarlet Ibis certainly accomplishes that goal. The book tells the story of a girl named Scarlet and her little brother, Red, who has autism spectrum disorder. Scarlet tries continually to keep her family together by caring for Red and for her troubled mother. Scarlet and Red—who loves birds—dream of visiting Trinidad to see thousands of scarlet ibis flying through the sky. But then a house fire separates the siblings into two different foster homes. Scarlet's life changes for the better, but she can't stop thinking about her brother and planning ways to be reunited with him again.
The Dolly Gray Award, presented in Sarasota, Florida, this year and sponsored in part by the BYU Mc Kay School of Education , has lofty goals: to increase the general public's recognition of positive contributions by individuals with developmental disabilities, promote greater understanding and acceptance of students with developmental disabilities by teachers and peers, and encourage authors and illustrators to publish more literature that includes characters with developmental disabilities.