Read Time: 3 minutes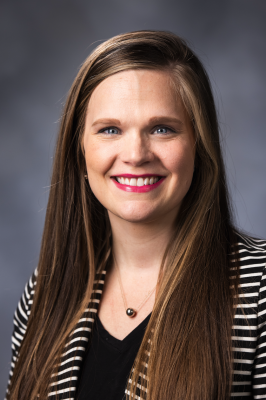 When it comes to creating better educational institutions through policy change, new Educational Leadership and Foundations faculty Heidi Erickson, PhD, values experiences and community.
Erickson first found her passion for the academic process while studying political science as an undergraduate student at BYU. When asked how her love for academia was born, Erickson shared, "I was a research assistant for two of my professors at BYU, and I remember sitting around a table and talking about research questions. I remember I walked out of that meeting, and I thought, people can do this [research their passions] for a living?"
After graduating from BYU, Erickson worked for education policy groups in Utah. She then decided to pursue a PhD in education policy at the University of Arkansas, where she discovered a love for researching and working with students. Midway through her PhD program, Erickson was offered her dream policy job but couldn't accept it. "I hesitated and realized; I don't think I want it anymore. I think I want to stay at a university. It won my heart over."
She believes that creating a sense of community in "how we structure academic institutions matters, and the incentives that we create in those institutions through policy and practice make a difference for students."
After graduating with her PhD, Erickson joined the Education Economics Center at Kennesaw State University and continued her research on education policy. She knew the only thing that could convince her to leave Kennesaw State would be the opportunity to return to her alma mater, where she first fell in love with the academic process. So, when an EdLF position opened at BYU, she applied for the job.
Erickson feels that teaching and researching at BYU gives her a chance to combine the spiritual with the academic. She was inspired by President Kimball's 1975 address, "The Second Century of Brigham Young University," in which he urged BYU professors to be bilingual, proficient in the gospel, and proficient in their chosen expertise. She hopes to incorporate this counsel by integrating her "love for the Savior and desire to help people" with her research and her interactions with students.
Writer: Alysha Rummler
Contact: Cindy Glad