Read Time: 13 minutes
When the World Went Viral
by Hannah Mortenson and Megan Palmer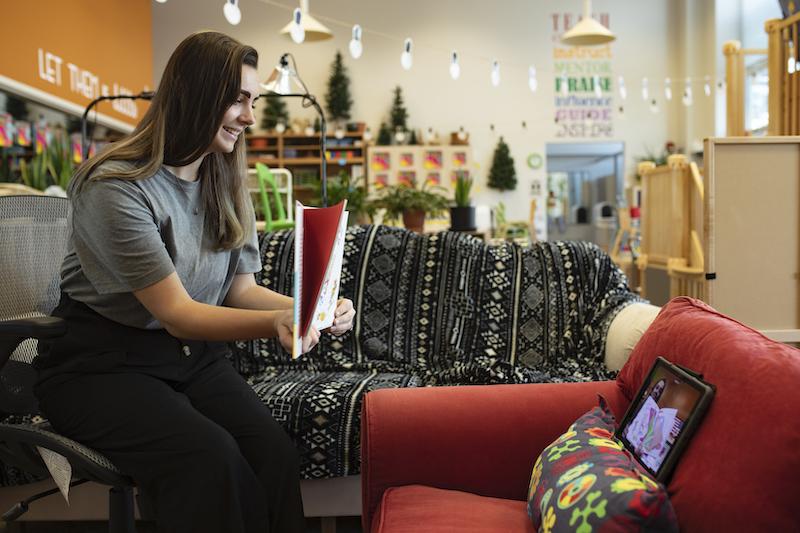 "On Thursday, March 12, I remember driving to campus early in the morning and listening to the news. We had already started hearing announcements of college commencements being canceled and the possibility of transitioning to online learning. I prepared a short PowerPoint presentation regarding COVID-19 to present to my 8:00 a.m. class. By the time my next class . . . ended at 10:50, I remember looking at my students and saying that if we were not able to meet together again, we would continue to learn, grow, and adapt to whatever was recommended." —Julie Schow, '92, '93, assistant clinical professor, communication disorders 
"I was right in the middle of my practicum experience in a sixth-grade classroom. During the last day I was there, I was informed that we wouldn't be able to return. The class was so much fun to be with, help, and teach. I felt like I was being ripped away from the students." —Taylon Mann, '21, elementary education 
"For thesis/dissertation defenses, my students and colleagues didn't miss a beat in utilizing the new Zoom resources. I have participated in a half-dozen defenses during the shutdown, and they have all worked out well. We use a breakout room to have the faculty "step out" to discuss the student's thesis/dissertation/ project in private and then all come back to the main room when ready. We have also been able to approve the student's progress by signing electronically." —Peter Rich, associate professor, instructional psychology and technology 
"Luckily I have recently taken college courses in which we learned how to teach using technology. I created a website for my mentor teacher that would be user friendly for both her and the students. We spent hours recording lessons and making packets to send home." —Alyssa Lou Haslam, '20, elementary education 
"The immediate impact on my work was isolation. I love coming to campus to interact with my students and colleagues. I felt frustrated that I didn't have anyone to run ideas by." —Sarah Clark, associate professor, teacher education 
"COVID-19 completely changed my work and my education. When BYU went online, . . . I packed up my apartment and drove 19 hours to Texas. Adjusting to online classes has been difficult. Assignments that were supposed to take place in the school had to be cut, and papers were added. . . . I have experienced many heart-wrenching emotions during this time, but I have tried to rely on the Savior. Even with these constant changes, the Savior remains the same, and He will never leave my side or anyone else's." —Emily Hunter, '22, special education 
What the Twitterverse Teaches Us 
by Anessa Pennington 
In the midst of colleges transitioning to remote learning, instructional psychology and technology assistant professor Royce Kimmons and his coauthor, George Veletsianos, scraped thousands of public tweets that used the wording "my professor" to gauge how college students are adjusting to online learning. "We have seen many articles about faculty experiences in this transition," they wrote, "but to date we have heard little from students." Here are some of their tweet-based takeaways. 
Perspective
Students appreciated when professors were calm, empathetic, and flexible. Professors can send positive vibes in a variety of ways, from sharing their own experiences with the adjustment, tweaking coursework and class times, or accommodating students who have been acutely affected by COVID-19. "If a student is being forcibly evicted," they wrote, "it should be okay for that student to pack while listening to a faculty lecture—or not join the live lecture at all." 
Professionalism
Shirtless students, professors yelling at their kids, students falling asleep on Zoom calls—none of these help create a comfortable, safe learning environment. "Faculty and students need to structure their learning environments while participating in remote educational efforts." Professors should explicitly state expectations for dress, communication, and behavior. 
Technology
Professors should practice using new technology before they use it in the classroom or should consider other options that would limit real-time technical difficulties (e.g., recording a lecture instead of holding a live one). That being said, professors should not assume that all students are tech savvy and should find ways to accommodate students of all digital literacies. Navigating the online classroom is new for a lot of people, and both professors and students are bound to make mistakes. But by tweaking a few things, virtual learning can be an engaging and rewarding experience. 
From George Veletsianos and Royce Kimmons, "What (Some) Students Are Saying About the Switch to Remote Teaching and Learning," Data Bytes (blog), EDUCAUSE Review.
How Our Children Bounce Back
by Stacey Kratz and Emma Smith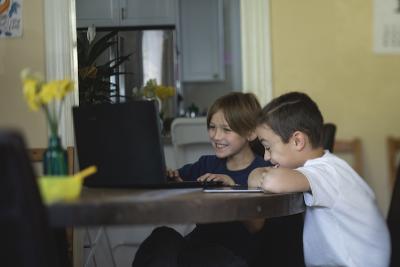 Melissa Heath knows that resilience is a skill that can be learned—even for a child going through a challenging time. "As a child I cried really easily," said Heath, a professor in the McKay School's Counseling Psychology and Special Education Department (CPSE). "My parents helped me become a resilient person, . . . but I didn't start out that way." 
The importance of building resilience in kids takes on new urgency when upheaval— say, a worldwide pandemic—occurs. "Resiliency is moving forward through diversity with choices that improve the situation," said Cally Flox, director of the BYU ARTS Partnership. "When a person is aware of how they feel and aware of their surroundings so [that] they can make reasonable choices for themselves, they are responding with resiliency." 
Building that awareness is possible for anyone. Here are some ideas to help. 
Be Social. Making video calls drives face-to-face connection, Heath said. Or meet in groups online, said Flox: "The chorus that I sing with is holding rehearsal via Zoom each week. I feel uplifted and less isolated each time we meet." 
Be Active. Change the scenery and get some exercise, said Heath. Take a drive. Work or play in the backyard. "Have fun in the house: reposition the furniture and have exercise time." 
Be Purposeful. Take time every day for activities that help kids "know [they] can do hard things," Heath said. These can be anything that helps a child feel challenged, gain confidence, work through problems, or achieve a result: cooking, chores, learning new skills, creating art, and more. 
Be Mindful of Media. Heath recommended rationing news intake while Flox suggested extending mindfulness to all media: "Choose uplifting music, movies, books. Turn up the music and dance!" 
Be Routine. Make routines but make them manageable. Many kids are not up to working steadily at schoolwork for hours, Heath said. "You can encourage, but put a time limit on it. . . . Let them have a break and then come back to it. It gives them a feeling of completion even if they're not done with the whole task." 
Be Playful. Heath recommended finding ways to have fun: play cards, do a puzzle, build a fort. "Any of those escapes are good right now so [that] this [pandemic] isn't staring [kids] straight in the face all the time." 
Kids might express themselves by drawing, writing, playacting, or dancing, Flox said. "The arts access emotions—some that we are aware of and others we are not aware of. . . . Art-making invites people to be fully present in the moment to feel and express emotions and ideas." 
Above all, Heath said, reassure kids that their emotions are valid and help them look ahead to a bright tomorrow. "It will be okay. Believe that, and repeat it to the kids, especially when they're going to bed at night. That's the time some anxiety might come out if they've been holding it in all day. Tell them it's going to be fine, and tomorrow we're going to find something fun to do." 
What Corona Did for the Classroom
by Stacey Kratz
Becky Gerber and Tim Logan, McKay School alumni and district administrators, helped education remake itself on the fly after nationwide school dismissals. But as the unexpected has become routine, these educators have found their thoughts turning to the future.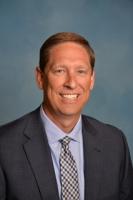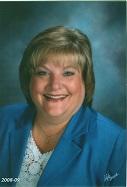 Gerber, '90, administrator of schools for Utah's Jordan School District, said, "Teachers who were really wanting to run with new ideas, who we were holding back, are now able to do those things. . . . It's going to propel education forward in ways we can't even imagine." 
Logan, '00, deputy superintendent of Nevada's Lyon County School District, said teachers' approaches are evolving. "[Kids] have different levels of accessibility to education. . . . I like how teachers are having to adapt and teach to every kid rather than [having] just one broad sweep of the brush." 
Logan and Gerber aren't the only ones thinking this way. Peter Rich, associate professor of instructional psychology and technology at BYU, said the following about his experience: "This shutdown has made me consider how I can make better instructional videos for my different classes so that I can spend synchronous time attending more to students' specific project needs." 
Logan said future students may need more distance learning, and Gerber agreed. She pictured counselors holding Skype calls with absent students or a sick child "attending" school via teleconference. Students may spend half the day in high school and half "in class" at home, and perhaps schedules and calendars will adapt to students' needs rather than the other way around. 
"We need to keep asking what we've always asked," Gerber said. "Are we meeting individual needs? Is there equity in access? Are the kids mastering the standards? We also have to look at grading. . . . Those are issues that we need to work through. The whole country's going to work through it together!" 
Photography by Bradley Slade