Read Time: 8 minutes
McKay School faculty are contributing research, reason, and recommendations to the national conversation about educational challenges posed by the COVID-19 pandemic. Here is a look at some of their latest work.
How to Act When Any Action Carries a Cost
Without adequate science-based preparation for a pandemic, educational leaders risk "making uninformed and unwise decisions," concluded a group of authors studying the dilemmas faced by educational leaders when these types of crises arise.
"The Leaders' Dilemma: P-20 Response to the Threat of a Pandemic" appeared in the Journal of Education Human Resources and was written by McKay School associate professor Spencer Weiler with Matthew Birnbaum of the University of Northern Colorado and Philip Westbrook of George Washington University. 
Drawing on research from previous pandemics and epidemics, plus work on crises like school shootings, the article showed that schools face wrenching choices in times of sustained crisis: take proactive action to try and avert the emergency (overreact) or take little action in the hope that crisis warnings are overblown (underreact).
The key is to have plans that provide not only specific pandemic responses but also warnings to avoid potential but identifiable pitfalls. "Act based on clear guidance from public health officials rather than responding to stakeholders' emotional and political pressures," the authors wrote. "Leaders should also limit actions that focus on specific individuals, thus mitigating the potential infringement of individual legal rights."
Scaffolds of Support Build Online Learning
Educators planning online or blended courses for this fall have scrambled to engage with and support students in these formats. As described in "Academic Communities of Engagement" in Educational Technology Research and Development, to maximize success, a student must have support from a "course community" of peers, teachers, and administrators and a "personal community" of family, friends, and social contacts.
Written by McKay School IP&T professors Charles Graham and Richard West, doctoral student Kristian Spring, Jered Borup ('13) of George Mason University, and Leanna Archambault of Arizona State University, the article examines blended and online learning through the Academic Communities of Engagement (ACE) matrix.
"Specific sources of the academic support, though important, are secondary to ensuring an appropriate level of support for all three dimensions of student engagement," the authors wrote.
Here are the article's key suggestions:
▶ Specifically invite parents to engage in students' online and blended learning.
▶ Boost support for non-tech-savvy people in the student's personal community.
▶ Recognize that needed support "can vary substantially, based on characteristics of both the student and the course."
▶ Plan extra support for students inexperienced in online learning and for those who "lack self-regulation abilities."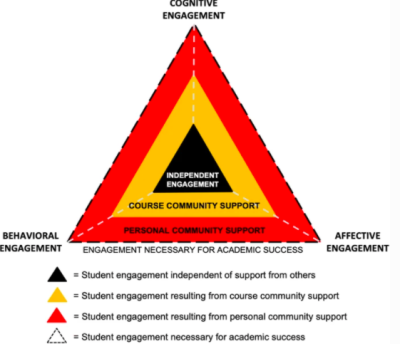 In a related article in the Journal of Technology and Teacher Education, "Supporting Students During COVID-19," Graham, Archambault, and Borup, along with McKay School instructor Cecil Short and Alpine School District learning coach Michelle Jensen, shared two case studies showing that during the pandemic, the ACE framework helped teachers focus on support that truly promotes student success.
For example, the researchers found that mass emails, while informative, did little to drive engagement. On the other hand, personal contact—via email, phone calls, or video—was highly effective. Asking meaningful questions, giving parents reports on student engagement, and even making whimsical efforts such as hosting Zoom scavenger hunts, were also effective.
"One legacy of the COVID-19 pandemic should be increased efforts to not only prepare teachers to meet the current demands but also a recognition of the importance of creating a teacher workforce that is prepared to support students in blended and online environments," the researchers wrote.
Non-Live Video Drives Student Connection
When education rushed to online learning this year, many assumed that school would look like it always has, just from a distance. In reality, online classes were different: a blend of live meetings, recorded resources, and communication tools.
One of the most effective of these, found researchers in "Thinking Beyond Zoom" in the Journal of Technology and Teacher Education, is asynchronous video—think Marco Polo rather than Zoom. Authors West, Borup, Archambault, and Patrick Lowenthal of Boise State University outlined the limits and potential of using asynchronous video in teaching. 
Asynchronous video—Flipgrid, VoiceThread, EdConnect, and so on—offers easy access, even on mobile devices. Instructors can create "threads" centered on course content, student well-being, frequently asked questions, and progress updates. Seeing these threads on video helps instructors to increase connections and "to easily sense frustration and excitement"— vital insights that boost teacher effectiveness.
"One student described that this was exactly what she needed at that moment— the ability to reach out, see each other, and support one another," the authors wrote.
Tweets Sub in for Faculty Support
What do teachers do without the faculty lounge? Who do they approach to vent, ask questions, or philosophize when that colleague they are used to nudging during faculty meetings is behind a Zoom screen somewhere?
They might go on Twitter, according to researchers in the article "#RemoteTeaching and #RemoteLearning" in the Journal of Technology and Teacher Education. McKay School IP&T professor Royce Kimmons, Jeffrey Carpenter of Elon University, Daniel Krutka of the University of North Texas, and Torrey Trust of the University of Massachusetts at Amherst analyzed more than 10,000 teacher tweets posted in March and April using the hashtags #RemoteTeaching and #RemoteLearning.
These hashtags, both massively popular this year, are "affinity spaces" for educators to access emerging knowledge, find emotional support, and "develop their distance pedagogies," the authors wrote. Tweets are "a potential treasure trove of resources, ideas, and insights."
The authors suggest schools create online spaces to support teachers' growth and well-being and offer opportunities for teachers to expand their learning networks.
"Teaching is inherently emotional work, and this has been accentuated by the strain COVID-19 has placed on educators and students," they wrote. "Sometimes what educators need most are spaces to support each other."
A Peek in a Pandemic Classroom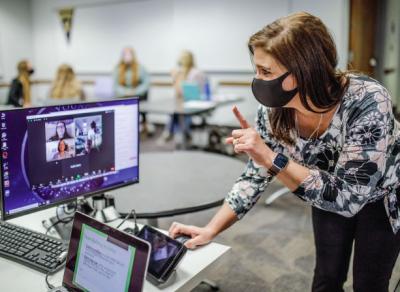 Assistant professor Cecilia Pincock, '92, checks in with her online students during group discussions in a teacher education class this fall. Conducting fall semester classes during a pandemic altered the mechanics of teaching across the McKay School, with instructors using technology—and creativity—to connect with and nurture students, whether in person, through a screen, or, as in this classroom, both at once.