Read Time: 3 minutes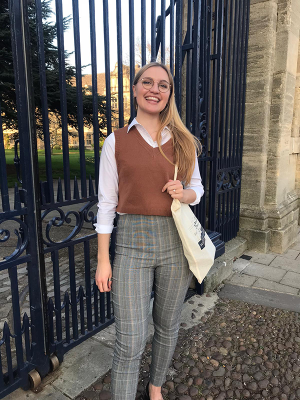 Imagine playing Kanye West and Pink Floyd for a group of education professionals from across the world at a prestigious conference at Oxford University. For Avery Barnes, elementary education undergraduate student at BYU, it was a chance to share the research she has done under the direction of EdLF professor Isaac Calvert, PhD.
Their research, Barnes said, focuses on "education as it's represented in music." Their presentation, "'We Don't Need No Education': a Qualitative Analysis of Popular Song Lyrics About Anglo-American School Experience," identifies common education themes in popular music, including social aspects of school, attitudes towards education, and sexualization of teachers.
This unique topic is likely the reason Calvert and Barnes were selected from hundreds of applicants to run a workshop at the Annual Conference of the Philosophy of Education Society of Great Britain. This conference was an opportunity to share their findings and receive feedback from an international perspective as they move towards publication.
Barnes and Calvert flew to England for a whirlwind weekend, which Barnes described as "surreal." After watching keynote addresses and attending lectures, they presented their workshop, sharing the purpose of their research, playing popular songs that mention education, and analyzing the themes and meanings in the songs.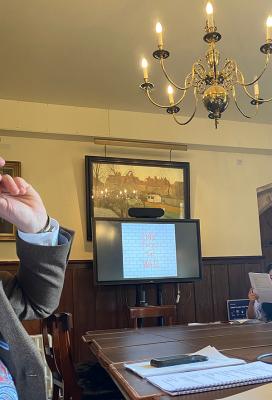 Workshop participants were enthusiastic listeners and thinkers, taking the lyrics and the analysis seriously while enjoying the music. Thanks to their diverse backgrounds, Barnes said, the discussions were eye-opening. One scholar shared how a song they discussed impacted her schooling experience, while another sang along as they played a favorite song. "We got these great ideas, people really emotionally connected with the songs and shared personal experiences," Barnes recalled.
While the presentation at Oxford was insightful, it isn't the finish line. Barnes and Calvert will use what they learned at the workshop as they work towards publishing their thematic analysis. They also plan to explore educational perspectives in other forms of pop culture, particularly the sexualization of teachers in media and literature.
For Barnes, whose main goal is to be in a classroom as an elementary school teacher, this research has opened her eyes to potential opportunities. "I was surprised by how prepared I felt as a BYU student to be engaged in that kind of conference. Doing research has been a great opportunity to realize how expansive the realm of working in education is. You are not just a teacher; you can be a part of the discussion."
Writer:  Alysha Rummler
Photos courtesy of Avery Barnes
Contact: Cindy Glad