Not every teacher started their career path in education, and some, like licensure-only student Paul Finlayson, seem to have made a big jump. Finlayson's career began in the hunting business.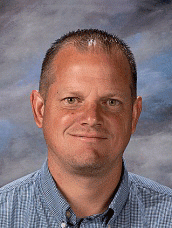 Finlayson graduated from BYU in 1996 with his bachelor's degree in conservation biology with an emphasis in wildlife biology and minors in both botany and range science. He got his certificate in fisheries technologies from the College of Southern Idaho the next year.
With a bachelor's degree in wildlife conservation and a fisheries technology certificate, he ran a pheasant-hunting preserve, and following that, he managed a hunting club.
After five years at the hunting club, Finlayson decided he wanted to teach elementary school. To pursue that dream, he enrolled at the University of Phoenix and, in 2002, received a master's degree and a teaching certificate.
After he obtained his master's degree, Finlayson taught fourth and fifth grades at Alpine Elementary in Alpine, Utah, for 11 years and is certain he made the right career choice.
"As I have been able to get to know the kids, the more I know I chose the right profession for me," Finlayson said. "Each one is unique and helps me see the world in a different way. I can't imagine doing anything else with my life."
Finlayson has always been interested in the administration side of education, but he loved being able to teach his own children as they came through Alpine Elementary. When his youngest son moved on to middle school, Finlayson felt the time was right for him to make a move of his own.
Since he already had a master's degree, Finlayson enrolled in the McKay School's LO (licensure-only) track, which offers an administrative licensure to students who already have a master's degree. He also moved to Deerfield Elementary in Cedar Hills, Utah, to work as a facilitator, which allowed him to work with the BYU–Public School Partnership.
While he's attended BYU, Finlayson has enjoyed the opportunity to share his academic experience with his daughter, who started at BYU at the same time.
"It has been fun to be able to talk with her about what we are learning and support each other when things get rough," Finlayson said. "It is an experience that not many fathers and daughters get to share."
Surviving the challenges of working and going to school is tough. Finlayson credits his success to his supportive wife, Cortney.
Finlayson has been appointed as the assistant principal of Traverse Mountain Elementary in Alpine School District starting in the 2016–2017 school year.
Finlayson, his wife, and their six children live in Alpine, Utah. They have a dog, 15 chickens, two goats, a horse, and two hives of bees. Finlayson enjoys biking, fishing, playing basketball, and spending time with his family.
Writer: Kirsten Clancy
Contact: Cynthia Glad (801) 422-1922