Read Time: 2 minutes
Image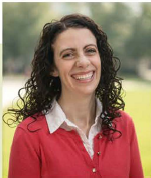 For Heidi Vogeler, education is more than a degree—it is five of them. Vogeler is on track to finish her academic career at BYU in August 2020 with one undergraduate degree in human development, a master's degree in public health and another in social work from the University of Utah, and two PhDs—one in educational inquiry, measurement, and evalua­tion (EIME) and the other in counseling psychology.
During her time in the EIME program, Vogeler took a class from counseling psychology and special education chair Lane Fischer. He told her, "There is more to you. There is more to you than what you are doing. You are not just a numbers person. You are a people person. You are a counseling psychologist."
As a result of the conversation, Vogeler ended up in two McKay School PhD programs at the same time: EIME and counseling psychology. Fischer encouraged Vogeler to compete in the three-minute thesis competition held at the McKay School, where she presented on trauma in partners of those with a sexual addiction. She won the competition and received second place at the university level.
"I have been so blessed by my education at BYU," Vogeler said. "The gospel has been so much a part of my education, and they are so intertwined. I have just been so grateful to be at BYU to be able to integrate the gospel into my own academic path. It has been awesome, and it has been a really huge privilege."