Read Time: 5.5 minutes
Award-winning teacher Lily Bueno is elevating Portuguese immersion in Utah and across the country.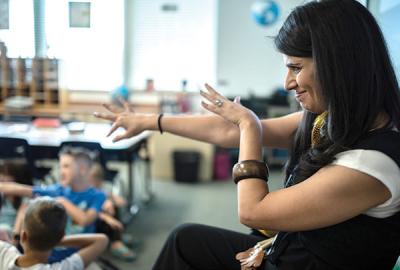 Lily Bueno's Portuguese classroom at Lakeview Elementary is an English-free zone. "My classroom is a little piece of Brazil," said Bueno, who is native to São Paulo. "I don't ever, ever, ever speak in English, and my kids are not allowed to speak English." Even when parents visit her classroom during an open house, Bueno speaks in Portuguese and her students—as young as first grade—translate for them.
For Bueno, teaching never felt like a choice—it was something she had to do. And she was destined to teach Portuguese immersion, as her contributions to immersion education have been felt both in her classroom and in classrooms across the country.
DISCOVERING IMMERSION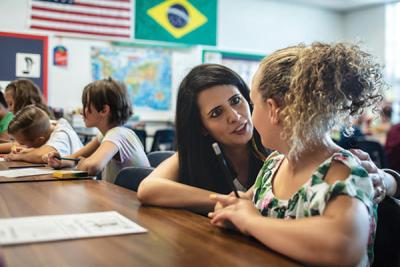 Bueno knew teaching was her calling the first time she stepped into an American classroom. "I cannot even tell you what I felt that day. It was like [the class] got every single fiber of my soul and my body," said Bueno. "I almost cried. I was like, 'I need to be a part of this.'"
Because of that experience, studying elementary education at BYU was an obvious choice. Studying Portuguese teaching, however, wasn't part of the plan until her practicum professor encouraged her to pursue a Portuguese teaching minor. Bueno then added two more minors (TESOL K–12 and dual-language immersion K–12 teaching), even though doing so delayed her graduation date. "I remember seeing all of my cohorts graduating, but something in my heart said you have to do it. You have to do Portuguese and immersion. You just have to."
The timing was perfect. When Bueno graduated with her bachelor's degree in 2012, a Portuguese immersion teacher position opened up in the Provo City School District.
FLYING WITH NO WINDOWS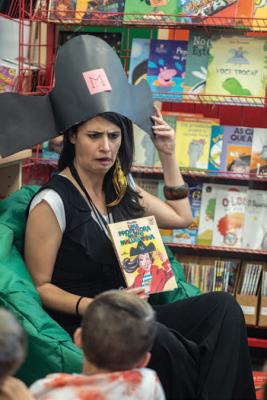 Bueno soon became an asset to the Utah dual-language immersion program, not just as a native Portuguese speaker but also for her knowledge of linguistics. She began working closely with the Portuguese director Jamie Leite to improve the state's curriculum. According to Bueno, Utah had become the reference point for dual-language immersion programs throughout the U.S. She and Leite were pioneering Portuguese immersion—or, as Leite described it, flying a plane while still installing the windows.
In 2014, Bueno returned to BYU, pursuing a master's degree in Portuguese pedagogy. During that time she collaborated with Silvia Juhas to update Utah's Brazilian literacy program, Linguagens, incorporating the best theories in language acquisition. With her sister-in-law, Bueno also wrote Português de A a Z, a phonics program now used in Utah, California, Massachusetts, and Rhode Island.
In addition to writing curriculum, Bueno has personally mentored almost every Portuguese immersion teacher in the state of Utah. When Utah began its Portuguese immersion program in 2012, it had only two classes and 100 students. As of 2018, the program had grown to include 13 schools, 44 teachers, and more than 2,000 students. Bueno's curriculum development and leadership played a significant role in that.
BILINGUAL, BILITERATE, BICULTURAL
Bueno's goal isn't just for her students to know Portuguese; she wants them to know the culture that surrounds the language, a framework she learned from her mentor, Blair Bateman. She finds ways to weave remnants of her native country into every lesson. When they talk about rocks and minerals in her science class, for example, Bueno teaches about the mountain Pão de Açucar in Rio de Janeiro or shows her students a song about a famous sidewalk in Brazil made of limestone and basalt.
"Teaching my culture gives me an opportunity to live my childhood all over again," said Bueno. She also said that introducing children to other cultures is preparing them to become citizens of the world. Bueno's commitment to teaching culture led her to win the 2018 Consortium of Latin American Studies Programs (CLASP) K–12 Teaching Award, a national award that recognizes exceptional teaching of Latin American and Caribbean culture.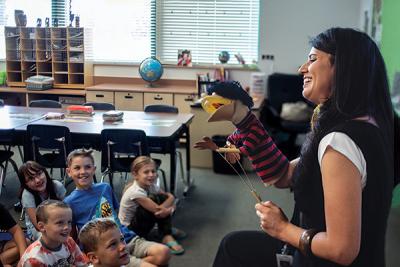 Bueno's strength is not that she is different. It is that she is the same as her students, navigating a foreign place with a foreign language and culture. "If I was a regular teacher, I would be one of the struggling ones with my English," said Bueno. "As an immersion teacher, as a Portuguese teacher, . . . my weakness became my strength."
Written by Anessa Pennington
Photography by Bradley Slade