Read Time: 3 minutes
Image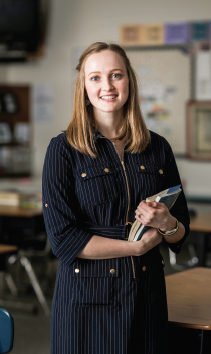 Do you remember when you heard the call to teach—when you realized your purpose on this earth was to help others become their best?
For Allie Fellows, that moment came when she was waist deep in rippling blue pool water in the Texas heat with a trusting child cradled in her hands. As she was teaching swimming lessons to young children every summer, she realized she belonged in the elementary school classroom. Although she had swimming scholarships waiting at a number of prestigious colleges, she based her college decision on where she could become the best teacher she could be—the David O. McKay School of Education at BYU.
Allie met her husband on the swim team and found triumph in the pool and in the classroom. But as she wrapped up her course work and as her swimming eligibility—and scholarship—came to an end, she still needed a semester of student teaching.
"When you are student teaching from 8:00 a.m. to 3:30 p.m. every day, it is pretty hard to also have a job that will pay the bills." As a fifth-year student, Allie was ineligible for many under-graduate scholarships, so she put in an application for a donor-funded scholarship. When she discovered she had been awarded the scholarship, she was overcome with emotion.
"It made a huge difference in my life and in my family's life, and it helped me focus on pursuing my education." With financial worries behind her, Allie concentrated on what was most important: making a difference for the young people in her classroom.
"I have grown so much this past year through my final classes and through student teaching," Allie says. "It has been such a huge blessing for me, and I am going to give back too." Student teaching is an important part of an education in pedagogy; it is a necessity that helps students become teachers. When generous donors give to the McKay School, they help students complete the journey and achieve their goals.