Read Time: 4 minutes
Dawn Wright, '90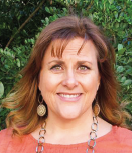 The idea of becoming an educator first began when Dawn Wright was a student in Mrs. Wixom's sixth-grade class. Mrs. Wixom was the first teacher Dawn remembers as caring about her as a person and not solely about what she was learning in the classroom. It was that sixth-grade year that inspired Wright in her life's goal and passion, which was again confirmed when she was in high school. The classes that made the most difference in her life started with teachers who connected with her, discovered how she learned, and recognized what interested her.
"I decided I wanted to be that kind of teacher, the one who connected with her students and made them feel like they really have a place in this world," Wright said. "Everyone should have an educational experience like that!"
Wright graduated from BYU's David O. McKay School of Education in elementary education. After a few years of teaching, Wright earned her master's in educational administration from Texas State University in 2005.
Wright has spent a total of 22 years in the education profession. She has taught fourth and fifth grades as well as sixth-grade language arts and science, and she now works as an elementary assistant principal in Leander, Texas. "It has been stressful and a lot of hard work," Wright said, "but I wouldn't change it for the world!"
Wright believes teaching is a unique profession and related it to a bowl of mixed fruit: every year a teacher is given a new bowl of mixed fruit, and he or she is asked to make an apple pie—and sometimes there are no apples in the bowl. There was one "apple-free" year that was very difficult for Wright. "I recall one particular year teaching fourth grade. I had been assigned a few 'prickly pears' in my bowl," Wright said. "I just could not connect with one of my students and was quickly running out of ideas, patience, and energy. I am sure all educators have hit this moment, the one where you lay your head in your hands and ask, 'What am I doing wrong?'"
It was at that moment that Wright realized she had transitioned from the attitude of "this is my job" to "this is part of who I am!" It became her personal mission and responsibility to help every child that she taught succeed.
"I absolutely love it when I see former students as adults who still remember my class and share with me the positive impact they felt that I had on their lives," Wright said. "It's gold! It's what I strive for every day."
As an assistant principal, Wright now impacts and connects with all children in the school, not just those assigned to her in a class. She most enjoys watching the children grow and learn from their choices. She loves building them up and making them feel important and understood. She is also able to help teachers who have "prickly pears" in their classroom and assure them that they are making a difference.
"I am honored to have a part in their life's journey," Wright said. "I am blessed to be an educator."