Read Time: 3 minutes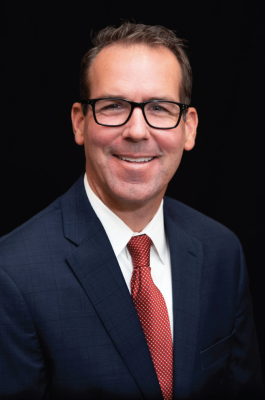 The spirit of the Y has carried Cort Monroe, '99, far. As a McKay School elementary education graduate, Monroe has had the opportunity to work as a bilingual teaching aide, a teacher, a high school coach, a student council director, an assistant principal, a principal, and an assistant superintendent. On January 1, 2021, he began a new position as the superintendent of the Cave Creek School District in Arizona. 
Monroe's desire to teach and work with children was first inspired by his missionary service in Argentina. After returning home, Monroe realized that he wanted to do something that would influence people for good, and studying at BYU helped build that foundation. 
After teaching for a few years, Monroe pursued a master's degree at Arizona State University and later an EdD at Northern Arizona University. This allowed him to pursue work as a principal and later as an assistant superintendent—a choice that felt like a natural extension of his work as a teacher. "You are part of these great programs and systems that are going to benefit people and families and then the greater community," he said. "That's what motivates me to do it." 
People—both the children he serves and his fellow educators—make the difference for Monroe, and his connections with fellow McKay School graduates are particularly important. Monroe helped establish the McKay School alumni chapter in the greater Phoenix metropolitan area a few years ago. "Whether you're talking about singing in the tunnel, LaVell's Vanilla ice cream, being a freshman in the dorms, or the 'rabbit hutches' or whatever," Monroe said, "whenever you meet someone who went to the Y . . . , that is always an extra bonus." 
Monroe is "optimistic that education will go forward," even despite a year of challenges. With a desire to help children gain "wings to fly," Monroe will push Cave Creek School District into the future with flexibility and vision. Amid the pandemic, the district has worked to provide options for all students, both at home and in person. Monroe firmly believes that the pandemic has provided an opportunity for the system to evolve into a better "normal" for students coming out on the other end. 
With new possibilities on the horizon and a determination to give all he has, Monroe is confident that "there are better days ahead" for his school district and for the state of Arizona.