Image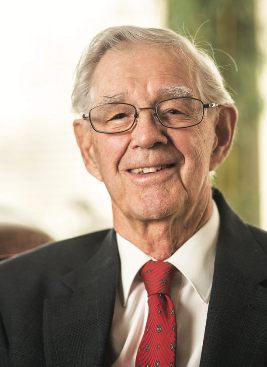 Gareth William Seastrand, former BYU lab school teacher and Alpine School District educator, has a rich pioneer heritage. Like his ancestors, he isn't afraid of hard work and challenges. At age 91 he maintains a positive outlook, a great sense of humor, and continual involvement in writing, reading, gardening, and serving. In "retirement" he has sold real estate, served on the Orem City Council, chaired Orem's bicentennial celebration, traveled, and been instrumental in establishing the Orem Heritage Museum. He has served as a bishop, stake presidency member, and temple worker. This summer he was released as stake patriarch, having served in that position for more than 42 years.
Seastrand was born and reared in American Fork, Utah. After high school he joined the U.S. Navy as a member of the World War II generation, serving in Japan in air-sea rescue as part of a medical unit. With the G.I. Bill and medical experience, he returned home intending to pursue dentistry, but after teaching a church class he decided on education.
Teaching positions were difficult to find following the war, but with his degree from BYU, Seastrand was hired to teach sixth grade in Lyman, Wyoming, although his major had been teaching secondary science. During his two years of elementary teaching in Wyoming, he returned to BYU each summer and earned his elementary teaching certificate. Relocating to Utah, he then taught in Provo for a year before he was invited to be the fifth-grade teacher in BYU's laboratory school on what was then Lower Campus (the Provo City Library today). While at the lab school he earned his master's degree.
Seastrand's career shifted again when he accepted a teaching principalship at a two-room school in Cedar Valley. He taught the upper grades and served as principal and secretary. He also instituted a lunchroom and library at the school.
Moving on to larger schools, Seastrand taught and served as principal in several schools in the Alpine School District, later becoming a supervisor of teachers and eventually director of elementary education in the district office—serving for a total of 30 years as an Alpine educator. He established school libraries and influenced development in many areas, including remedial reading, handwriting, individualized learning, and team teaching.
As an educator, Seastrand taught and lived by the ideal that teachers must truly care for their students and concentrate on helping individuals reach their potential no matter where they might be in the learning process. He said a child who is comfortable and wants to go to school will learn.
Seastrand's advice for life is to keep things in perspective. Character, attitude, and covenants are what we take with us. Gareth and his wife, Dorothy, are the parents of six children. Three of them are educators, including their son Gary, who is the director of CITES in the McKay School.