Read Time: 8 minutes
Brigham Young University has seen it all: the poodle skirts, the bell-bottom jeans, and the eighties hair. Although social trends have certainly evolved since the university was established in 1875, BYU has upheld its traditions and values throughout each unique generation.
Persons born within a certain time span have been given different genera­tion labels such as the Baby Boomer Generation, Gen X, or Millennials. While names and dates may vary depending on the source, these generations repre­sent people born at the same time and influenced by the same values, character­istics, and preferences. People born during a certain generation experienced the same notable social, political, technological, or economic events in their world. Whether individuals fit a stereotype or not, all generations are influenced by the key events that occurred during their lifetimes.
What were BYU students up to throughout the decades? Were the cultural trends that they grew up with reflected in their activities at BYU?
Traditionals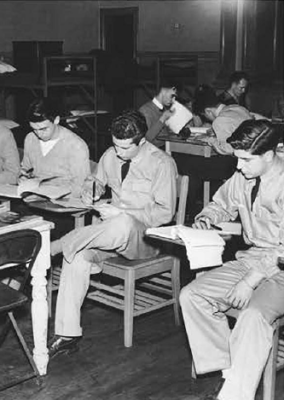 First, take a look at the Traditional Generation, also known as Veterans, the Silent Generation, or the Greatest Generation, born between 1925 and 1945. Influenced by the Great Depression and World War II, it was a time of healing and great patriotic efforts. Because they lived through these events, this generation is characterized as loyal, patriotic, self-sacrificing, family-focused, rule-oriented, and respectful of authority.
One of these traditionalists, Beverly Scott, who graduated from the College of Education in 1955, was a family-focused student during her time at BYU. She recalled being a sopho­more at BYU when her husband was called to New Zealand on a mission. She added, "Yes, they were calling married young men on mis­sions back then!"
Army Specialized Training Unit soldiers attached to the BYU program are housed in a ward recreation hall converted to barracks during a lack of housing in World War II. 
Baby Boomers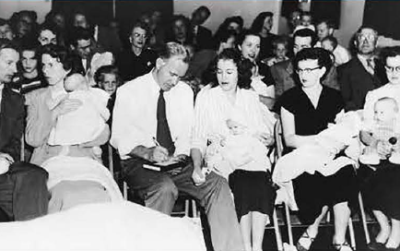 The Baby Boomer Generation, born between 1946 and 1964, lived in a more optimistic time. As the nation was beginning to thrive, so were they.
This generation lived through the Vietnam War under the presidencies of John F. Kennedy, Lyndon B. Johnson, and Richard M. Nixon. This generation is characterized as one full of diligent workers who are competi­tive in nature, who are loyal to organizations, and who value material success.
Boomer Linda Dominguez-Gasson, another education alumna, showed her diligence through her own BYU experience: "I graduated from BYU in 1978 and was enrolled in one of the smallest, least known, and most challeng­ing fields of study offered at BYU at the time. The initial introduction to the speech pathol­ogy and audiology class began with 63 hope­ful students. Only 12 remained by the time we had each completed our master's degree in communication disorders."
Grace Chumley, another Baby Boomer and a 1983 education graduate, found a way to integrate her personal values of accountability into her professional life. "One of my favorite classes was working in the Early Childhood Lab. I remember that feeling of knowing people were behind the glass mirrors watch­ing me as I worked with the children. I felt I needed to do a great job, never knowing who was behind the glass. When I finally landed a real job in a daycare center, I remember feeling the relief that no one was behind the mirror watching me. I then realized I was still being watched. Heavenly Father was watching me as I took care of his precious children. It always helped me keep things in perspective as to how I interacted with children. I have spent my life working with students from two to 18 years old and still love and respect them. The most difficult student to work with just needs more love and experience."
Many babies await blessings in a fast meeting of the Wymount Branch, which was formed in June 1947 to accommodate the flood of veterans returning to BYU. 
Generation X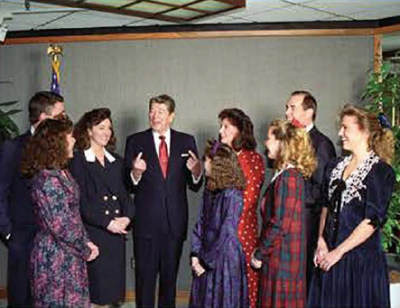 Generation X, born between 1965 and 1979 (years vary depending on the reporting group), lived through many events, including the launch of the Hubble Space Telescope into space, the collapse of the Soviet Union, and the death of Princess Diana in a car crash. They are independent, skeptical of authority, and comfortable with change and diversity. They value their personal lives as much as their pro­fessional lives.
Gen Xer Matthew Felt, a 1997 McKay School alum, shared his own experience with technology in the classroom. He recalled pro­ducing a video in the education lab for his instructional technology class at BYU—not a common experience then.
Benjamin Rich, a McKay School alum of 2002, reflected on his own experience with 9/11. He described the "haunting memory" of that day while he was in class. "It was solemn and scary, but it was somewhat comforting to be surrounded by fellow Saints." He recalls that as his education class ended, Professor "Buddy" Richards bore his testimony. "I was grateful for Brother Richards that day. I fin­ished my degree on the trajectory I was on, but my fate changed that day. Four years later I left my career as a middle school teacher and joined the Air Force."
Former president of the United States Ronald Reagan visits BYU in 1991.
Millennials or Generation Y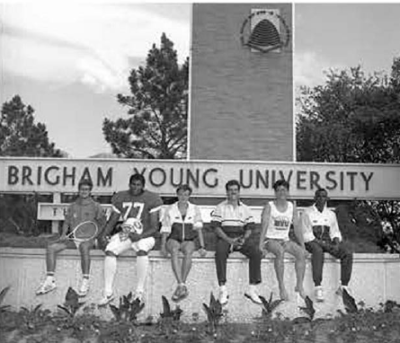 Generation Y, or Millennials, born between 1980 and 1996, lived through the launch of both the Apple iPod and Facebook. This genera­tion was shaped by the personal computer and are a technologically advanced generation. Originally called Generation Y, Millennials were named to denote the new millennium. They tend to have sharper political views and are the most racially and ethnically diverse generation in the nation's history, according to the Pew Research Center. The two largest gen­erations in the workforce today are Generation X and Millennials.
Six of BYU's international athletes pose in front of the welcome signage in 1998.
Generation Z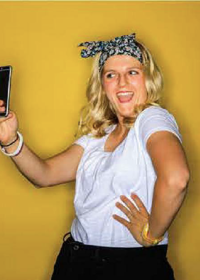 The next generation has been designated Generation Z, for now.
A BYU student poses in 2017 for a BYU feature about Facebook.
McKay School alumni span all of the generations listed above. We would love to hear about your experiences, memories, grow­ing pains, and lessons learned while at BYU and the McKay School. Please share your memories at mckayalumni@byu.edu. 
Written by Hannah Antillon and Shauna Valentine