Read Time: 2 minutes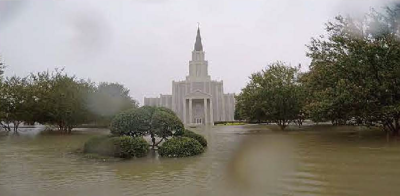 Violent wind and rainfall-triggered flooding provided additional training for several McKay School stu­dent teachers this year
as Hurricane Harvey hit the Aldine Independent School District in Houston, Texas, four days into the school year.
Shelby Ward first heard about the storm two days before it hit. School had not been canceled yet, and her eighth-grade history students were wor­ried. When the storm became a category-three hurricane, the announcement was made that school would be canceled starting August 25 and would reopen once the damages were assessed, repaired, and deemed safe.
McKay School assistant dean Al Merkley was in contact with Ward and her fellow McKay School student teach­ers when they first tried to wait out the optional evacuation. They eventually moved to a relative's recreational vehicle.
Ward claims the experience pro­vided skills she could not have gained anywhere else. Prior to classes beginning again, the teachers in her school were given training about how to handle the hardships their students might be facing as a result of the hur­ricane. When Ward's school reopened on September 7, she was ready for her students, and she was ready to show that even a hurricane couldn't stop students from learning.