Read Time: 2 minutes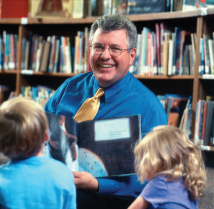 Terrell Young, professor of children's literature in the BYU Department of Teacher Education, has a busy year ahead as he serves as the president of the United States Board on Books for Young People and becomes a member of the prestigious Newbery Medal selection committee for 2018.
Young is filling his new position on the United States Board on Books for Young People through 2020, continuing to spread the board's mission of "promoting the use of children's books to help children deal with issues and problems and promoting global peace."
As part of the Newbery Medal selection committee, Young will help choose the winner of the 2018 Newbery Medal, an award that dates back to 1922. Each year this award designates "the most distinguished contribution to American literature for children."
Over the years, Young has served on many national boards and committees, acting as president of several of them. These include the International Literacy Association, the Orbis Pictus Award for Outstanding Nonfiction for Children, the Notable Books for Global Society, the Aesop Prize, and the American Folklore Society, to name a few. He is also an editor, author, reviewer, researcher, and reading specialist. His latest book is Deepening Students' Mathematical Understanding with Children's Literature, which he coauthored with Eula Monroe. Among his many awards was his induction into the Washington Organization for Reading Development Hall of Fame in 2007.
Young's love of books began as a child. He says, "I can immerse myself into a story, or information, so I can vicariously live someone else's life for a while, but then, when I'm finished, I've learned something more about myself at the same time. I think that's incredibly rich."