Read Time: 5 minutes
Experiential Learning Serves Clients and Students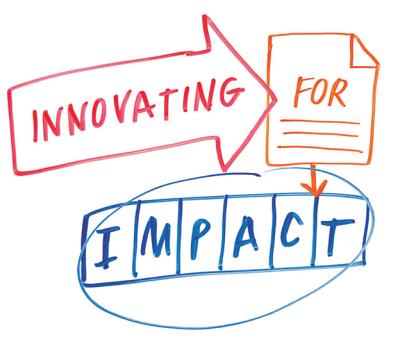 When HP LIFE needed a new online course on growth engines designed, they came to the McKay School's Instructional Psychology and Technology program. With a master's and doctoral program and a minor in design thinking, the department services many real-world clients.
Building a Boat While Sailing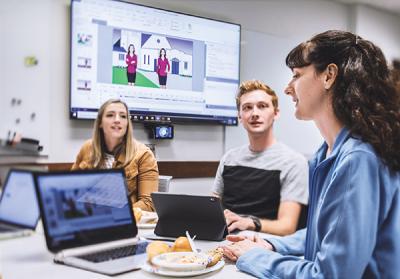 "It is like building a boat while sailing," said Esther Michela, who just finished the master's degree. "I was simultaneously learning project management techniques while trying to implement them with a team." Michela served as project manager for the HP LIFE course while also in a project management class. "I was able to implement principles immediately, and because I had a pressing need to know, I had questions that I needed answered quickly. Having a relevant application made the readings much more meaningful as I tried to work out how the principles applied to my situation," she said. This background will serve her well in her new PhD program in Tennessee.
Guided by Professor Peter Rich, students collaborated with HP LIFE's director of these entrepreneurial skills courses as well as with a subject-matter expert in Germany. They designed the course in the fall, and then students elected one of their own to be the project manager. Michela collaborated with Rich to structure the team into design, development, and evaluation groups, with other students as the leads on each team. According to Rich, feedback from the client was overwhelmingly positive, with responses that the course was much more interactive and effective than prior courses.
Learning Every Aspect of Design and Development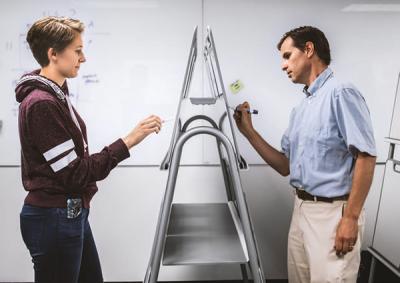 The year before, students designed an online course on managing a restaurant as part of a certificate in hospitality and tourism. BYU–Idaho first offered the course to their own students, and then it went to LDS Business College students. Eventually it will be made available to BYU–Pathway Worldwide students.
"Our IP&T students were involved in every aspect of the course design and development," said Professor Jason McDonald. "They worked with an expert in restaurants to choose a scope and set of learning goals, they designed the learning strategies, and they produced all the course materials, including writing some of the course content. The course was completed in April 2018 and was piloted that fall."
That build-a-boat-while-sailing experience is just what the faculty have in mind. The field identifies and implements improvements in instruction and builds understanding of the principles that influence these improvements. Courses apply these principles to solve instructional problems that occur in educational settings (including public schools and universities) as well as in government, church, military, business, and industry settings.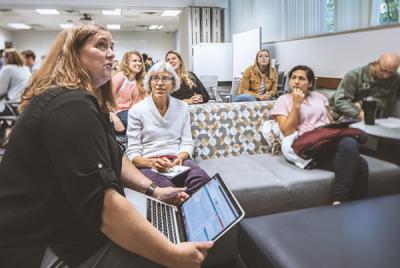 The students use a variety of techniques to maximize interactive learning. In a recent project to enhance the experience in Thanksgiving Point's Museum of Ancient Life, classes used rapid proto-typing for testing out a lot of ideas, including using QR codes, embedding sound buttons, and eliminating verbiage on signage. The feedback at the final presentation was very positive—in spite of the one test project that had museum visitors wondering if the odd box with buttons to push was a bomb.
Justin Evans recalls how one surprisingly simple idea achieved the most interaction with museum attendees. "It derailed a complicated project that we had spent hours developing, which seemed to really frustrate my colleagues," he said. "I can't blame them! But it was an important lesson for all of us, one that I have to keep learning every day. Time and effort don't equal results. Results equal results."
Committed to the Cutting Edge: Designed for Innovation
Instructional Psychology and Technology's new classroom and studio spaces were built to foster creativity and forward-looking ideation. Here is a basic breakdown of their new digs. 

Written by Cynthia Glad
Photography by Bradley Slade
Illustrations by Olivia Knudsen