Read Time: 1.5 minutes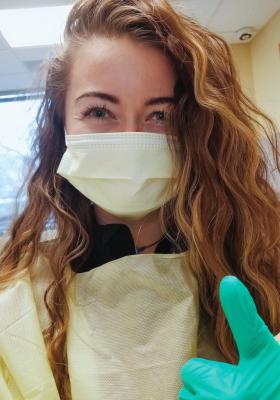 With a global pandemic causing widespread hiring freezes, April 2020 was "a weird time" to be entering the job market, said recent graduate Tristin Hampshire.
Luckily for Hampshire, her time in the Communication Disorders Department prepared her to handle an uncertain future. Her thesis chair, Doug Peterson, taught her to have a "changing-the-world mentality," and her "remarkable" cohort, whom Hampshire calls her "best friends," gave her the support she needed to navigate difficult times.
In addition, patients she met during her externship at the Provo Veterans Center taught her to always look on the bright side. Even as the veterans worked to regain swallowing, speech, and cognition skills, "they were the ones in the room cracking the jokes, lightening up the mood, and putting a smile on your face during therapy," Hampshire said.
Armed with her education, her work ethic, and her positive attitude, Hampshire landed a job as a speech-language pathologist at South Jordan Elementary School, where she started this fall. Though she is unsure what the school year will look like, thanks to her McKay School education, she realizes that she is capable of great things.