Read Time: 4 minutes Three Lesson Plans to Inspire Creativity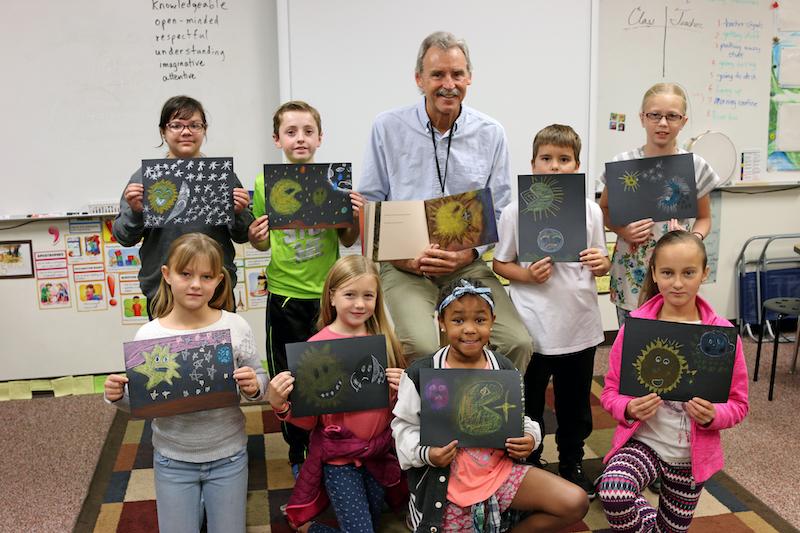 The BYU ARTS Partnership Is Building a Library of Lesson Plans that Combine Core Subjects with the Arts.
Creating an engaging lesson plan is hard. Teaching core standard subjects while finding time for the arts is exhausting. But what if the two were combined? The BYU ARTS Partnership is building a lesson library that blends core subjects with different art forms. From exploring plot structure through drama to identifying weather patterns through music, these lessons help children in grades K–6 learn in diverse and memorable ways. 
The ARTS Partnership was born in 2005, when deans from several BYU colleges noticed a problem: as state core standards became more rigorous and standardized tests more challenging, the arts were disappearing from elementary schools. The ARTS program provides arts instruction to public elementary school teachers through lesson plans and events. The partnership also fosters relationships with Utah's indigenous people through the BYU ARTS Partnership Native American Curriculum Initiative, offering lesson plans that celebrate cultural art forms. These and other lessons are available for free on education.byu.edu/arts/lessons. 
A Funny Thing Happened on the Way to School 
Grades: 4, 5, 6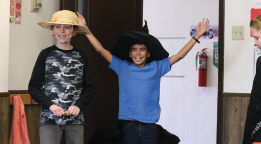 Subjects: drama, English, language arts
Duration: 55 minutes
Author: Haley Flanders 
Students explore language arts by creating and performing their own plays. 
Theater combines many art forms. In this lesson, students explore language arts by creating their own small productions using this prompt: a funny thing happened on the way to school. While going over the elements of a plotline, students write their own stories with an exposition, inciting incident, rising action, climax, and falling action. Using a script template, students create a play to perform for the class, providing opportunities for team building and creative expression. 
Why the Moon Paints Her Face Black 
Grades: 2, 3, 4, 5, 6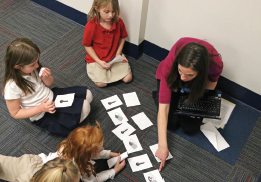 Subjects: English, language arts, science, social studies, visual arts
Duration: 45 minutes
Authors: Brenda Beyal and Chris Roberts 
Using a Paiute story, students combine myths, art, and natural phenomena. 
Part of the Native American Curriculum Initiative, this lesson uses Eleanor Tom's book Why the Moon Paints Her Face Black—a Paiute story about the creation of the sky—to explore how myths explain natural phenomena and pass on cultural values. During the lesson, students close their eyes and listen to the story, letting images float into their minds. Afterward, students make art depicting those images and then reread the story, seeing it in new ways through one another's eyes. Variations of this lesson have students tell their own family stories, write creation myths, or observe the pattern of the lunar phases. 
Weather in the Seasons 
Grades: K, 1, 2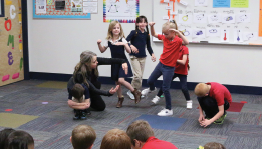 Subjects: dance, English, language arts, music, science
Duration: 60 minutes
Authors: Emily Soderborg and Miriam Bowen 
Music becomes weather forecasts, dances, and poetry in students' imaginations. 
Students learn to identify weather patterns and the corresponding seasons using music, dance, and poetry. While listening to sections of Antonio Vivaldi's The Four Seasons, students sort pictures of different weather patterns into the seasons they represent. Harsh violins capture a building summer lightning storm while sweeping notes represent a gentle winter snowfall. By listening for changes—high to low, fast to slow—students create a musical forecast. Students then create dances for each type of weather. A language arts option involves reading the four sonnets Vivaldi wrote to complement his composition.
Written by Emma Smith
Photography by James Huston